2014 Cars We Love for 2-14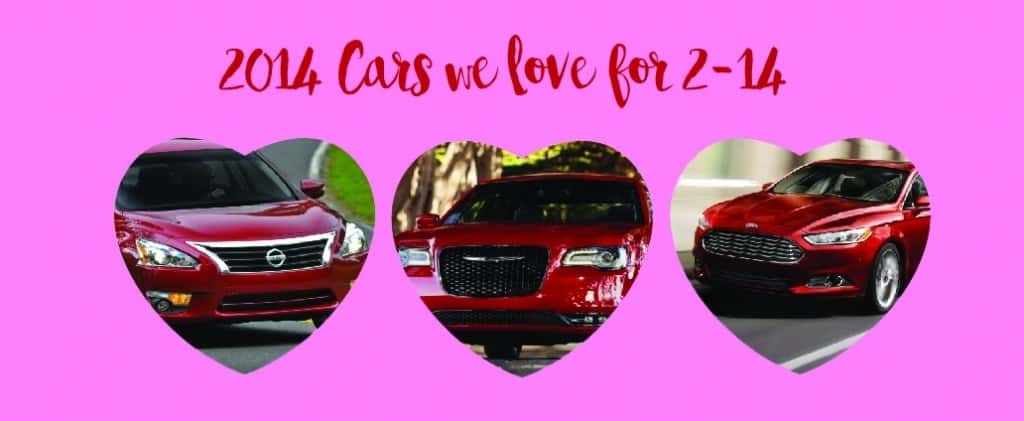 With Valentine's Day on 02-14, here's a list of some of our excellent pre-owned 2014 cars that are currently available at Driver's Auto Mart.  Each of the cars we have available have under 45,000 miles, so they feel and run like new.
Nissan Altima
IIHS Top Safety Pick
As one of the top 5 best-selling cars in America, the midsize 2014 Nissan Altima was a safe, affordable and fuel-efficient vehicle. In addition to being a 2014 IIHS "Top Safety Pick" the Altima was also given this title for the 2013 and 2015 model years. The 2014 Nissan Altima was sold in two different trim levels and the base trim was equipped with a 2.5-liter, 182-horsepower four-cylinder engine.
Click here for inventory.
Chrysler 300
Car and Driver's "Editors' Choice Award" for full-size sedan
The 2014 Chrysler 300 didn't change much from the 2013 model year but still won an "Editor's Choice Award" by Car and Driver. The 300's standard engine is a Pentastar 3.6-liter V6 which generates 292-horsepower engine that is paired with an eight-speed automatic transmission.
Click here for inventory.
Ford Fusion
Car and Driver's "Editors' Choice Award" in for family sedan category
IIHS "Top Safety Pick"
The Ford Fusion's great safety ratings and award as an IIHS "Top Safety Pick" helped the Fusion make various lists ranking it as a top-pick in the family sedan category. From various reviews the Fusion was consistently referred to as "comfortable and roomy" and received praise for its modern entertainment features, like the satellite radio.
Click here for inventory. 
Interested?
Come by Driver's Auto Mart and test drive them today. You can make an appointment to visit us here or just come in to the store located at 5355 S. University Dr. in Davie, Fla.