2016 Dodge Charger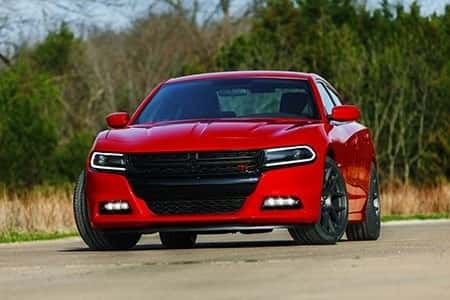 In 2006 the Dodge Charger was reintroduced to the auto market and over the past decade it has held a great presence among muscle cars. Among the numerous muscle cars available on the market today, drivers can expect a lot from the Dodge Charger.
Since its comeback a decade ago, the Dodge Charger model lineup has evolved into a larger line of trims that offer a variety customizations which help make it easier for everyone to find the right Charger for them. The most basic Charger trim is the Charger SE, and it packs plenty of power and convenience features that make it a great choice for all modern drivers.
Engine Basics
The 2016 Dodge Charger SE is equipped with a 3.6-liter V6 engine that generates 292-horsepower. As a car built for speed and horsepower, the engine is equipped with a standard duty engine cooling that transfers extra heat to the outside air, so drivers don't need to worry about the vehicle getting to hot. Though powerful, the Charger SE receives a great fuel economy among American muscle cars. Drivers can expect an average fuel-efficiency of 19 MPG in the city and 31 MPG when driving on the highway.
Interior
The Dodge Charger SE has a great set of standard features that help it stand out from other muscle cars. Buyers have the option of three different interior colors for the cloth seats and accents. Entertainment features include a 5-inch touchscreen display, a media hub that includes a USB 2016 Dodge Charger interiorhookup and auxiliary outlet, and integrated voice command Bluetooth. The car is fitted with six speakers and the 5.0 UConnect system.
While built for power, the Charger also includes many comfort and convenience features that enhance the ride for both drivers and passengers. The air conditioning system has dual-zone temperature control and an air filtering system. The car is equipped with two power outlets so drivers and passengers can charge their devices at the same time.
Exterior
Even without looking under the Charger's hood, the Charger's roots as an American muscle car are just as obvious in its chiseled exterior. The Charger SE's wheels are outfitted with 17-inch painted cast aluminum rims, low rolling tires, and buyers have the option of adding on all-season performance tires. The Charger has dual bright exhaust tips, lower body side cladding and black headlamp bezels. Buyers have the option of choosing eight different colors, including the current special-edition color, 'Go Mango.'
Safety
Chargers include several safety features to keep drivers and passengers safe even while traveling at high-speeds. Some of the car's most notable safety features can be seen in its braking capabilities which include rain brake support, front and rear-wheel disc brakes, and an alert braking system which helps to prepare the brakes for full application and can help to reduce stopping distances.
Price and Warranty
The Dodge Charger SE has a starting price of $27,995. Though the Charger is priced slightly higher than one of the leading muscle car competitors the Ford Mustang, the Charger SE offers more horsepower, is a 4-door vehicle and has seating for five passengers, and the Mustang only has seating for four.
All Dodge's are backed by a 3-year or 36,000-mile limited warranty, 5-year or 60,000-mile powertrain warranty and 5 years or 100,000 miles of roadside assistance.