2016 Dodge Grand Caravan Near Ft Lauderdale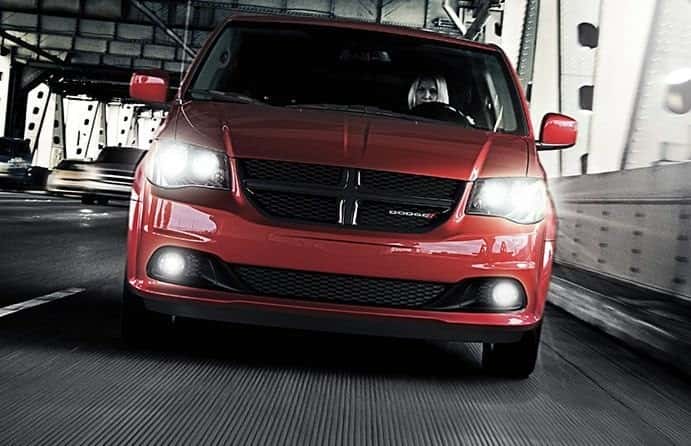 The Dodge Grand Caravan is still one of the few minivan options on the market and it is popular for people that often travel with families, friends and animals. The Dodge Grand Caravan is lovable for many of its interior and exterior features.
The Grand Caravan has seating for seven passengers and it also has 143 cubic feet of accommodating cargo space. The Grand Caravan also has Dodge's signature Stow 'n Go seats that fold down easily to create extra room for storage. Some of the Grand Caravan minivan trims also come with a BluRay DVD player, so your kids will no longer be bored in the car.
Reviews on Edmunds and Car and Driver by both professionals and everyday drivers say that this minivan is fun, accommodating, and has an easy to use infotainment system. Reviewers also say they appreciate the affordable pricing, which starts around $22,595 for the Grand Caravan American Value Package (AVP).
Trims and Engine
The Dodge Grand Caravan is available in several different trims and the major differences between the trims are seen in the car's interior and exterior features. The AVP is the Grand Caravan's base model, and there is also the SE, SE Plus, SXT, SXT Plus, and the R/T trims. All Dodge Grand Caravan models come with the same standard 3.6-Liter V6 24-Valve VVT engine. The Grand Caravan AVP gets 17 an average MPG in the city, and 25 MPG when on the highway.
Interior
Standard interior features differ between trim types. The base AVP model comes with high-quality cloth seats and five different color options. Three rows of seating and extra cargo space in the trunk and back rows are standard on all Grand Caravan options.
Upgraded Grand Caravan models are equipped with leather seats and a leather trim steering wheel. Also available, is interior LED lighting, and high quality entertainment options. Entertainment options include: wireless headphones, a HDMI connection, and two rear USB ports for phone charging.
Exterior
A big difference between the Grand Caravan's and other minivans on the market is that buyers can choose from many different paint colors, even bright red for those who like standing out. Also, the Grand Caravan is equipped with sliding doors with glass windows on the driver and passenger sides.
2016 Dodge Grand Caravan interior
Standard exterior features include 17-inch wheels, daytime running halogen lamps and Yokohama brand tires. Buyers also have the option to choose from five different tire styles, depending on the buyer's needs and wants.
Safety
The National Highway Traffic and Safety Administration (NHTSA) have the Dodge Grand Caravan a 4-star overall safety rating. Some included safety features that contribute to this safety rating include: electronic stability control, auto-on headlights, daytime running headlights, integrated turn signal mirrors, night vision, adjustable pedals, traction control. These are just a few of the many standard safety features that come with the Dodge Grand Caravan.
Price and Warranty
Pricing for the Grand Caravan starts at $22,592 and goes up to $31,495 for the most premium trim option, the R/T.
All Dodge vehicles are backed by a 3-year or 36,000 mile basic warranty, and a 5-year or 60,000-mile powertrain warranty, as well as roadside assistance for up to 100,000 miles or 5 years. So, drive on.