2017 Chevy Suburban vs 2017 Ford Expedition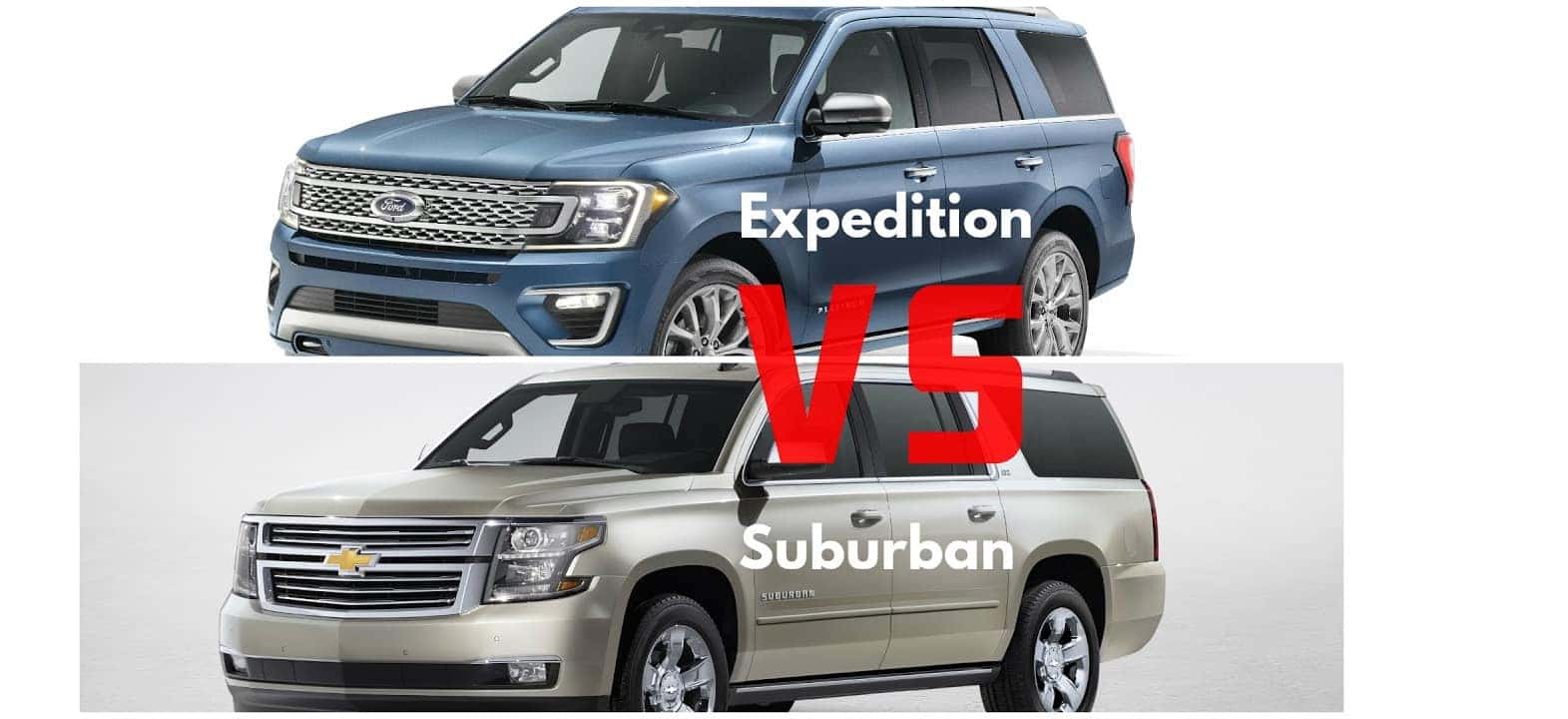 When it comes to researching vehicles it is important to determine which one benefits you and your needs the most. Are you going for comfort or having technology features? Is vehicle performance a make-it or break-it deal? If you're looking between a Chevrolet Suburban and a Ford Expedition here's what each can offer in the seating, technology, safety, and performance categories.      
SEATING:
Chevy Suburban: The 2017 Chevrolet Suburban, has luxury written all over them. It also has plenty of room with three rows of seats (anywhere from 7 to 9 passengers depending on seat configuration) and more cargo space than its other competitors. The Suburban cargo capability is just over 39 cubic feet of cargo space behind the third-row seats and with both the second and third rows down, it is just over 121 cubic feet.    
Ford Expedition: The 2017 Expedition has standard cloth upholstery (leather upholstery is an option) and it seats eight passengers. It drops to seven with the available second-row bucket seats. All seats offer plenty of legroom for adults. The Expedition cargo-hauling capability is just over 55 cubic feet with the third row folded, and over 108 cubic feet with both the second and third rows down.  
TECHNOLOGY:
Chevy Suburban: When it comes to technology, as a buyer, you have the option to activate MyLink (the infotainment system) by syncing your phone to your car. If you choose to activate MyLink, you can make and receive calls and get text message alerts. MyLink can also be customized with the Chevrolet Shop and you can browse and install apps (think music and audiobooks) directly onto Chevrolet MyLink.  
Ford Expedition: To stay connected the 2017 Expedition is available with several advanced technologies such as voice-activated SYNC, infotainment system, touchscreen and voice command. With all of these included it lets you stream music, make calls, or even access your favorite apps. It also offers a rearview backup camera.    
SAFETY:
Chevy Suburban: Drivers will feel safe knowing all of the safety features the Chevy Suburban brings. Included are airbags (driver, passenger, front head, rear head, and front side) and brake assist (to help drivers come to a stop more quickly). Included is also Traction Control (helps vehicles make effective use of all the traction available on the road when accelerating on low-friction road services) and Lane Departure Warning (designed to warn the driver when the vehicle begins to move out of its lane).
Parents can feel safe knowing that the safety feature includes Child Safety Locks. Chevrolet offers a built-in system to help encourage safe driving habits for teenagers who are learning to drive. Chevrolet calls it Teen Driver Technology, an"industry-first in-vehicle report card".  
Ford Expedition: The Expedition only has two standard driver-assistance features – a rearview camera and rear parking sensors. More features available are front parking sensors and rear cross traffic alert. Blind spot monitoring is available as well.   
PERFORMANCE:
Chevy Suburban: The 2017 Suburban's muscular 355-horsepower V8 engine feels plenty powerful, even when the SUV is loaded with passengers and cargo. A smooth-shifting and responsive six-speed automatic transmission is standard. For an SUV of this size, it's quite easy to maneuver.
Its towing capacity for a rear-wheel-drive has an 8,300-pound maximum and the four-wheel-drive models can tow up to 8,000 pounds. What about the gas mileage? The base Chevy Suburban gets 16 mpg in the city and 23 mpg on the highway.
Ford Expedition: The Expedition has a twin-turbo V-6 with a horsepower of 365 while maintaining the SUV's strong 9,200-pound tow rating. As for gas mileage, the expedition gets 15 mpg in the city and 21 mpg on the highway.  
PRICE:
Chevy Suburban: The 2017 Chevrolet Suburban first came into the market it had an MSRP of $51,000 (plus destination fee).
Ford Expedition: The 2017 Ford Expedition had an MSRP starting at $47,420 (plus destination fee).
In Driver's Auto Mart Davie, Florida location you can find the finest quality and low mileage pre-owned cars and trucks. If you have any questions call us at 954-745-7740 or stop by 5355 S. University Dr, Davie, Florida.  
Let Driver's Auto Mart be the store of your choice for your next purchase.
Photo Credit: carsandlife.com