2017 Model Vehicles in Fort Lauderdale at Used Car Prices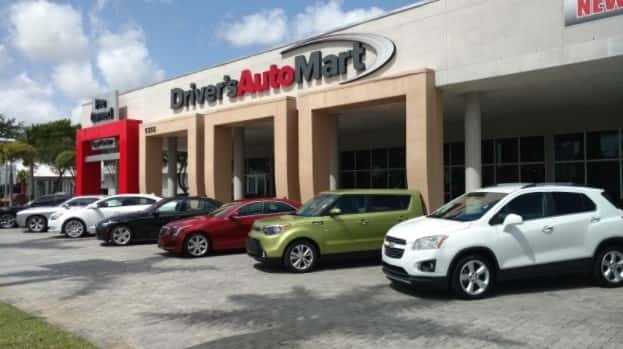 Looking for a new car with a used car discount? Driver's Auto Mart is one of the top Fort Lauderdale used car dealers, but used doesn't necessarily mean, worn at Driver's Auto Mart, we even have used 2017 model year vehicles.
Why buy a 2017 model year vehicle at a used car dealership?
Used car dealers like Driver's Auto Mart have a variety of makes and models available. Since Driver's Auto Mart isn't a new car dealer, we have a diverse selection of inventory in comparison to new car dealers where the majority of inventory is limited to one or a few brands.
In addition to the diversity of brands, we also have a large selection of types of vehicles. Luxury, minivan, small pickup truck, SUV, 4×4 vehicle, sedan, coupe, convertible, we have it all.
Buying a "new" used car, like a 2017 model with low miles on it retains its value than a car that is brand new. Once a brand new car is driven off the lot, it immediately depreciates.
From luxury to affordable, there are plenty of options to test drive all at one location.
2017 makes and models available at Driver's Auto Mart:
Chevrolet is one of the most trusted brands in the industry and they have a variety of cars available and we have plenty of 2017 model year options including the Impala, Traverse, Camaro and Tahoe.
Driver's Auto Mart even has the 2017 Chrysler Pacifica, which had the highest initial quality rating in the minivan segment in the 2017 J.D. Power I.Q.S.
We have seven 2017 model year Dodge vehicles available. Out available models include the Dodge Durango and Journey.
Are you a Jeep person? We have the 2017 Jeep Patriot and 2017 Jeep Renegade in stock.
Looking for a SUV? We have a 2017 Kia Sorento with your name on it.
The Mercedes-Benz CLA 250 is available brand new at our dealership, so act fast to get a "new" used luxury vehicle and save tons of money.
We are currently offering over 40 brand new 2017 vehicles! Check them all out online here or come on down for a test drive.