2017's Best Selling Models Available at Driver's Auto Mart
It's the classic tale we've all seen before – a new car or truck comes out and a crowd of people swarm to dealerships looking for the latest model. Surprisingly enough, most of those customers are actually investing in full-size pickup trucks or SUVs. According to Autoblog.com, eight of the 10 most popular vehicles sold in November 2017 were SUVs or trucks. Not only do these monster machines allow for passengers to ride comfortably, but they're also incredibly convenient for moving cargo and can take on pretty much any weather condition, well depending on the tires and drivetrain of course. Luckily, here at Driver's Mart, we've got some of those best sellers available. Take a look…
2017 Ford Explorer Limited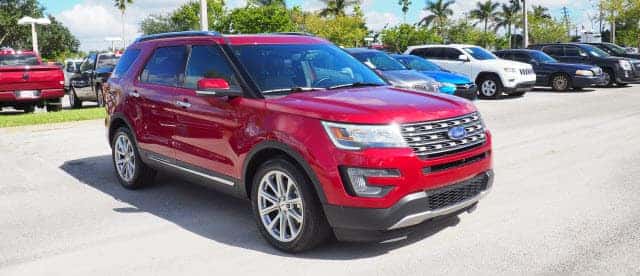 Standard equipped with a six-cylinder 3.5-liter V6 turbocharged engine that produces 365 horsepower and 350 lb-ft of torque, the Ford Explorer Limited is powerful yet convenient. Offering a generous amount of cargo space behind the third row, the entertainment system is high tech and easy to use.
Buyers can purchase the 2017 Ford Explorer for less than $35,000 and with no more than 13,000 miles.
2017 Ford Escape SE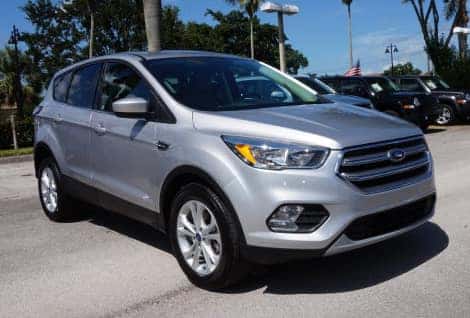 Another big winner for Ford – the Ford Escape SE.
Offered standard with a six-speed transmission, the SE comes equipped with a 2.0-liter I4 turbocharged engine with EcoBoost. A sync 3 infotainment system is included with Apple CarPlay and Android Auto.
Luckily for buyers, Driver's has TWO 2017 Ford Escape's available!
While sharing the same 2.0-liter I4 turbocharged engine with EcoBoost, this model also comes equipped with the sync 3 infotainment system.
Both are available for less than $40,000 and with no more than 16,000 miles.
2017 Toyota RAV4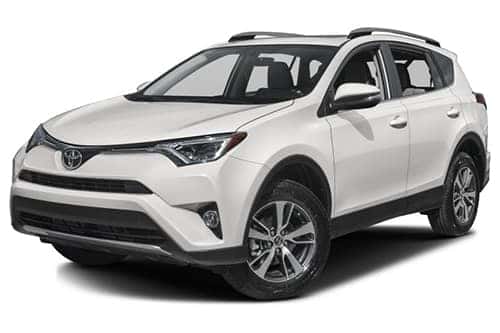 According to Autoblog, the Toyota RAV4 is one of the compact SUVs that created the compact SUV class and includes many outstanding features that make it an even more useful family vehicle. Offered in the XLE trim, the Toyota RAV4 was on IIHS Top Safety Pick for 2017 and includes advanced safety features, six-speed automatic four-cylinder 2.5-liter engine, easy to use infotainment system and generous cargo space.
Buyers can purchase this model for less than $21,000 and it has less than 13,000 miles.
2017 Ram 1500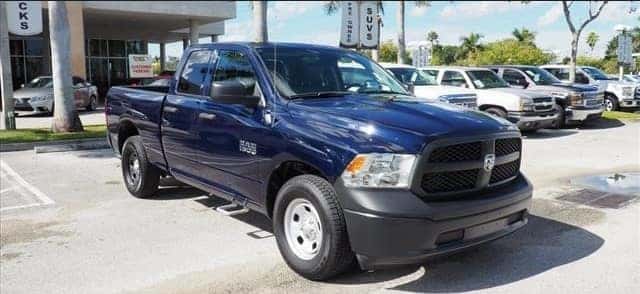 Ram trucks are incredibly versatile for everyone while offering three different cab styles (regular, Quad and Crew cabs). Additionally, the interior cabin space offers plenty of room for passengers, ABS brakes, 3.6-liter V6 engine paired with two wheel drive and eight speed shiftable automatic transmission and a 6.3 ft. Quad Cab.
Buyers can purchase the Ram 1500 Tradesman/Express for less than $25,000 and with no more than 10,000 miles.
Driver's also has the 2017 Ram 3500 Laramie available for purchase. With less than 25,000 miles, this Laramie trim comes equipped with 4WD six speed automatic cummins 6.7-liter I6 Turbodiesel engine and an 8 ft. Crew cab. Available for less than $55,000
2017 Chevrolet Silverado 2500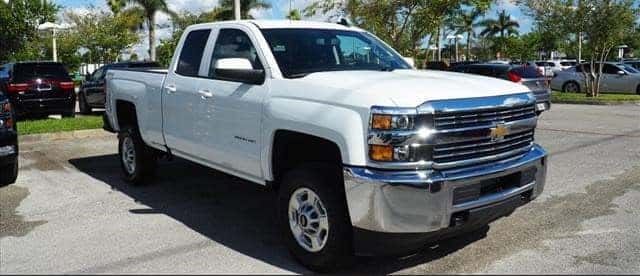 Chevrolet Silverado's are known for the ability to take on pretty much anything thrown its way. While combining big and bold style, the Silverado's are also incredibly fuel efficient. Offered with less than 400 miles (YES, that's correct), this LT 2500 trim offers 4WD 6 speed automatic HD electronic with overdrive 6.0-liter eight-cylinder engine, cloth seats throughout the interior cabin and exceptional entertainment and safety features.
This is a steal and won't be around for long! Purchase this 2017 Silverado for less than $40,000
Whether it's a pickup truck or SUV, both offer incredible amounts of conveniences and comfort. Interested in taking one of these available models for a test drive? Check out the huge selection of used SUVs and Trucks Driver's Automart has available near Fort Lauderdale.
Photocred: Driversautomart.com