2018 Chevrolet Cruze vs. 2018 Ford Focus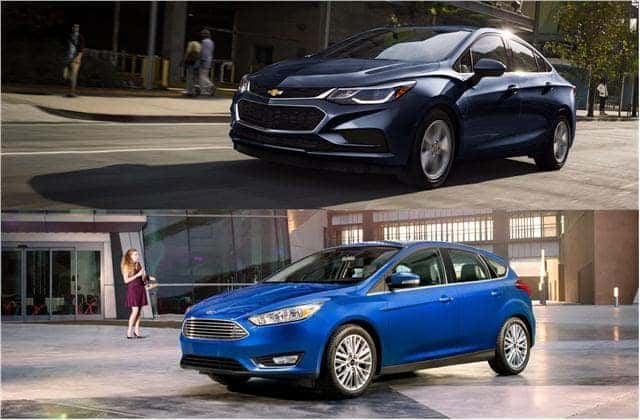 The Chevrolet Cruze and the Ford Focus are both affordable and somewhat roomy compact cars – so much so that consumers tend to cross-shop them against each other. Both of these cars are available in sedan and hatchback body styles with several engines to choose from. Follow along as we compare these two vehicles and see if one of them is deemed a champ in their class.
Let's start with a big deciding factor, the price. The Ford Focus has a starting MSRP of $17,950 (plus destination fee), while the Chevrolet Cruze has a starting MSRP of $17,995 (plus destination fee). This round is a draw,  as the starting MSRP for the Cruze is $45 more than the Focus – a price difference so small it's inconsequential in distinguishing one from the other.
Another big selling point of a car? Just how dependable it is. Buying a car is a considerable financial commitment, and consumers will be looking for a car that's going to last with as little as mechanical problems as possible. Potential buyers should be able to feel as if they're getting their money's worth. In a J.D. Power and Associates Vehicle Dependability Study, the Ford Focus scored well below average, while the Cruze has one of the highest ratings in its class with great predicted reliability. Both automakers offer a three-year/36,000-mile bumper-to-bumper warranty and a five-year/60,000-mile powertrain warranty.
When it comes to the interior, both cars seem to be even with one another; cloth seats and manual adjustments are standard for both models. The case for interior space is similar, with the Cruze providing more room for adults to stretch their legs in the rear row, while the front seats in the Ford provide good comfort. As for the respective infotainment systems – the Chevy Cruze is a clear winner with its impressive list of standard features. Every Chevy Cruze comes standard with a 7-inch infotainment touchscreen with a backup camera, Bluetooth hands-free connectivity, and Apple CarPlay and Google Android Auto capabilities. The Ford Focus, on the other hand, includes a 4.2-inch infotainment touchscreen with a rearview camera, Bluetooth connectivity, and wireless charging. Users that would like the convenience of Apple CarPlay or Android Auto will have to upgrade their infotainment system to Ford's SYNC 3 unit.
Ford has a clear winner when it comes to power and acceleration; in fact, some of the other Focus trims are performance-oriented. Standard on the base trim of the Ford Focus is a 2.0-liter four-cylinder engine capable of generating 160 horsepower and able to be paired with either a six-speed automatic transmission or a five-speed manual transmission. The Focus ST has a turbocharged four-cylinder engine capable of 252 horsepower, while the RS Hatchback trim has a turbocharged 2.3-liter four-cylinder engine that revs up to 350 horsepower. The base Cruze offers a 1.4-liter four-cylinder engine paired with a six-speed manual or automatic transmission on all trims – an efficient turbo diesel engine is available as an option as well on the LT Diesel trim.
And last but not least, these two models offer modest fuel economy, with the Cruze coming out as the clear winner by a few miles. The base Chevy Cruze gets good ratings for a car in its class with a fuel economy of 29 mpg in the city, 40 mpg on the highway, and a combined 33 mpg. The Focus severely underscores in this area with a fuel economy of 24 mpg in the city, 34 mpg on the highway, and 28 mpg combined.
Of course, making a choice between these two vehicles is entirely up to the potential buyer, but lucky for you we've got plenty of gently-owned Ford Focus models in our inventory, along with many Chevy Cruze models as well. Come by Driver's Auto Mart and let a test drive be your guide.
Have any other car comparisons in mind you'd like to see? Let us know on Driver's Auto Mart social media.
Photo Source/Copyright: cars.usnews.com