2018 Hyundai Model Lineup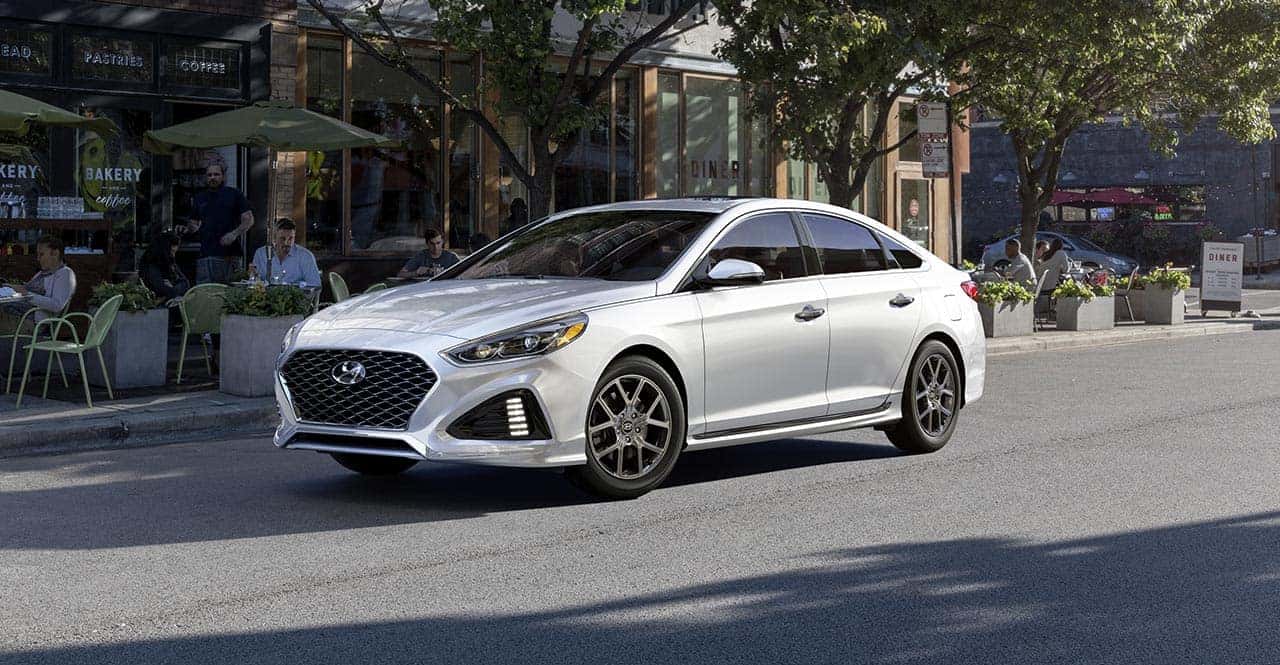 For many drivers, having a spacious and comfortable ride are important. If that sounds like you, you're not alone and one brand can help with all those requests. Meet the Hyundai sedan options at Driver's Auto Mart.
Hyundai Accent is the most economical sedan offered by Hyundai. The Accent also has a great fuel economy averaging 26 mpg in the city to 36 mpg on the highway. The interior supplies owners with a 5.0-inch touchscreen standard and there is an available 7.0-inch touchscreen, total compatibility with Android Auto and Apple CarPlay and Limited models receive forward collision warning, automatic emergency braking, alloy wheels and keyless entry/start.
Hyundai Elantra is the second-most economical Hyundai. There's no denying the Elantra's fantastic fuel efficiency at 32 city and 40 highway MPG. Ranging from 128 horsepower to 201 horsepower. From the SE Manual base trim to the Limited highest trim at $19,600 that includes a navigation system with an 8-inch touchscreen, Infinity Premium Audio with 8-speakers and a subwoofer, with Lane Keep Assist System, Smart Cruise Control and Automatic High Beam Assist that helps drivers see the road ahead clearly in dark areas, automatically turning off the light.
Hyundai Sonata is the choice for many due to it's inexpensive costs and well-rounded features for drivers (smooth ride, wide interior, large trunk size and great fuel economy). The Sonata introduces a six-speed automatic transmission for the 2.0T trim and available heated steering wheel, lake keep assist and pedestrian detection. The Hyundai Sonata provides great value and is a safe ride for owners. Expect to gain 24 city and 35 highway MPG with the Hyundai Sonata.
Hyundai Sonata Hybrid is available to get owners fantastic gas mileage. Powered by the 2.0-liter Nu engine that produces 154 horsepower and 140 lb-ft of torque coupled with the lithium-polymer battery holds 1.76 kilowatt-hours of energy and the hybrid offers 39 city and 42 highway MPG.
Hyundai Genesis is a wonderful sedan that provides drivers with 19 city to 29 highway MPG and LED daytime running lights are now standard, roomy and high-quality interior with a hushed cabin and comfortable seating for five. There's no doubt owners of the Hyundai Genesis enjoy their ride.
2018 Hyundai Sonata Plug In  provides drivers with 27-mile range on battery alone with 39 city and 42 highway on gasoline alone. There's a federal tax credit of $4,919 for owners and charging takes less than 3 hours with a Level 2 charger. The Hyundai Sonata Plug-In model will be available in the second quarter of 2018.
Where To Find Your Own Hyundai Vehicle
Come to Driver's Auto Mart and find a wide selection of nearly 300 pre-owned vehicles. Arrive with your best offer or trade-in and we'll help secure you a quality used vehicle. All our Hyundai vehicles are ready for you to test drive today.
Driver's Auto Mart is located in Davie, Florida and we treat all our customers with respect and ensure they remain our top priority. Feel free to reach out to us at (954) 945-7618 or stop by at 5355 S University Dr, Davie, Florida. Come say hello to our friendly and professional staff as we'll help make your car buying experience wonderful every time!