2019 Hyundai Elantra vs. 2019 Honda Civic: Double Trouble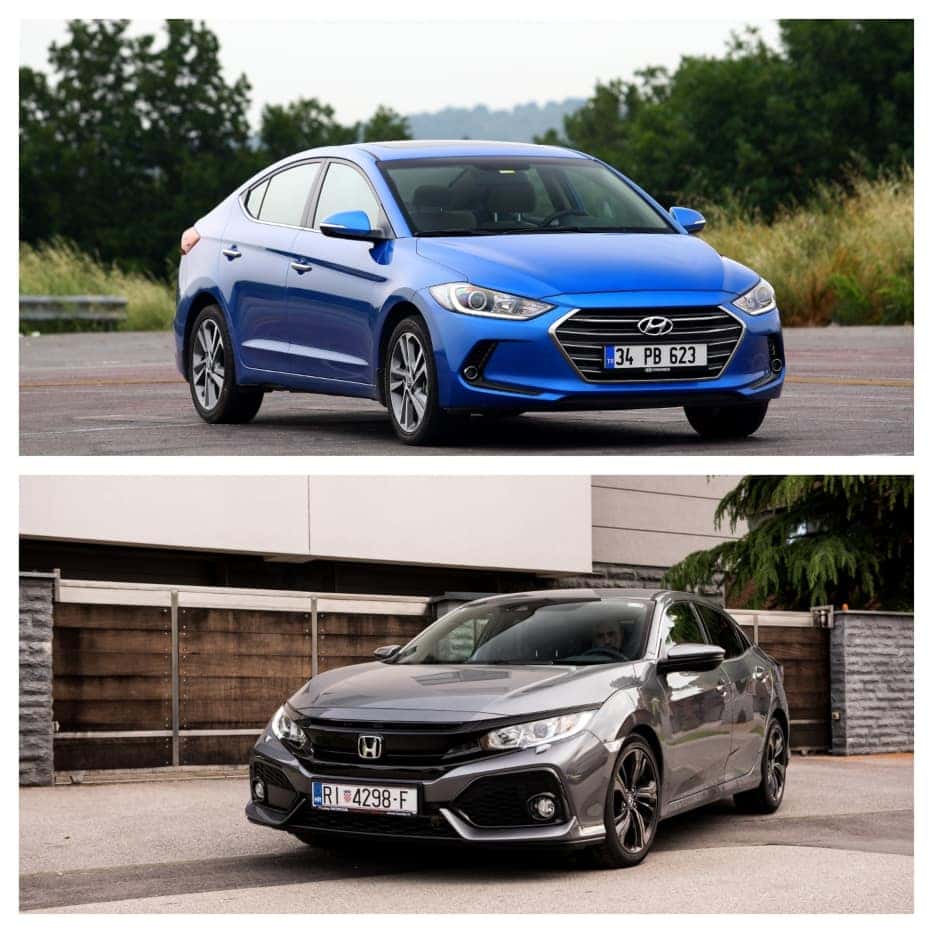 Each year, the automotive feud between Honda and Hyundai rages on like BK and McD's. With comparable attributes on their vehicles like affordability, efficiency, reliability, and the most obvious being that "H" logo. These types of brands require one to read between the lines in order to know what makes them stand out, especially with their sedans. This week, we're comparing the 2019 Hyundai Elantra with the 2019 Honda Civic cars as these two vehicles could be mistaken for siblings due to their likeness and nature, but their differences really show off what these brands are made of.
Ride and Handling
In its segment and model year, the Honda Civic is one of the most magnetic cars. It captivates drivers with its quick and responsive handling, it also proves to be a delight to drive. The Si and Type R trims increase driving performance significantly with more power and efficiency.
While the Elantra is adept in refinement and comfortability, when compared to the competition in its segment, it may seem a bit disappointing.
The entry-level engine of the Civic is a 2.0-liter four-cylinder engine and musters up 158 horsepower, it's also paired with either a manual or continuously variable automatic transmission (CVT). The base engine of the Elantra is comparable in size but underperforms with 147 horsepower. This vehicle also makes use of either a manual or automatic transmission.
Comfort and Quality
Similar in their pros and cons, the Civic and Elantra are both 5-seaters and their front chairs are also spacious, however, headroom in the rear-seating area is a bit restricted. Although these sedans are on par in terms of comfort, the Civic still stands out a bit more with its cabin space.
The Civic also outshines the Elantra with its quality. First off, the Civic interior is far more welcoming and the materials seem to be of better quality all throughout. This brand is highly skilled in making even plastic materials look posh. The Elantra also has a nice cabin and makes use of first-rate materials but misses the mark with their use of hard plastics.
In terms of the features, buyers will enjoy wireless device charging, additional USB ports, and a premium stereo in both vehicles, however, we will give the Elantra credit for being far more intuitive and user-friendly with their infotainment system.
Safety
In this category, the Honda Civic comes in swinging with its outstanding safety scores, as it has an overall rating of five out of five stars from the National Highway Traffic Safety Administration (NHTSA). The car also earned a best overall score of Good from the Insurance Institute for Highway Safety (IIHS). However, the Civic loses some brownie points since it's not an IIHS Top Safety Pick ascribed by its Poor rating on the institute's headlight evaluation.
The Elantra, however, does have an IIHS Top Safety Pick, largely owing to its driver assistance features. It also earned a best overall score of Good from the IIHS, but it only earned four out of five stars from NHTSA.
Reliability
The 2019 Hyundai Elantra bagged a J.D. Power predicted reliability score of four out of five, which is something worth getting excited about. Additionally, this car has your back with its five-year/60,000-mile warranty and stellar 10-year/100,000-mile powertrain warranty.
At the same time, the 2019 Honda Civic was only able to acquire a 2.5 out of five, which is below average. It doesn't do much to redeem much in this category with its three-year/36,000-mile basic warranty and a five-year/60,000-mile powertrain warranty.
Driver's Auto Mart
The match-up between the 2019 Hyundai Elantra and the 2019 Honda Civic was a close call in every segment and even comparable in many other categories like cargo, fuel economy, and even their pricing. With that being said, the Civic usually stands out by providing that necessary oomph to really make the driver and passenger experience feel more complete.
No matter your personal preference, Driver's Auto Mart currently both of these models in its possession. Those who are interested in these cars or any of our other vehicles can simply view our online pre-owned inventory and chat with a representative for further assistance.
Photo Source/Copyright: Shutterstock via photographer Otomobil (Hyundai); Shutterstock via photographer Domagoj Kovacic (Honda)