4 Ways To Keep Potholes From Messing With Your Tires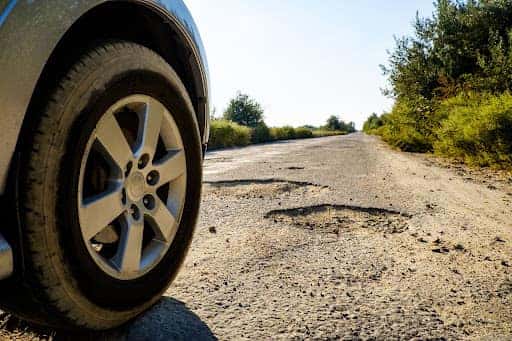 Depending on where you live, potholes in the road may be a nasty part of life, particularly in places where icy or snowy roads are common. Simply put, the more snow and ice on the road, the more potholes there are.
"Potholes occur when snow and ice melt as part of Michigan's seasonal freeze-thaw cycles. The resulting water then seeps beneath the pavement through cracks caused by the wear and tear of traffic. As the temperatures cool to freezing at night, the water becomes ice and expands below the pavement, forcing the pavement to rise. As the weight of traffic continues to pound on this raised section – and the temperatures once again rise above freezing – a shallow divot occurs under the surface and the pavement breaks, forming a pothole. A pothole is typically fixed by cleaning out the loose debris and filling it with hot and cold asphalt patch." As said by the Michigan Department of Transportation.
The question then becomes, "What can we do to protect our vehicles from damage caused by these potholes?" Here are some tips that will hopefully prevent you from spending $300 on repairs.
Dodge Potholes, If You Can
This tip seems rather obvious, but for drivers that are living in areas where these road impediments are rather frequent, this attempt may seem close to impossible. Even if you avoid the miniature potholes, choosing to focus on avoiding the larger ones, wear and tear eventually adds up. If possible, try choosing a new route that has fewer of these obstructions, even if it's just for a little while until the season of pothole repairs is up and running.
If finding another routine simply isn't an option, try your best to monitor the road ahead so that you might have time to switch lanes. It's also a good idea to dodge large puddles because there could be a pothole hiding underneath all that water.
Or…Face Them Correctly
On the other hand, sometimes there is simply no way to avoid potholes, such as the pits located right in the middle of an intersection or at a nearby parking spot. It's also quite possible that you simply don't have enough time to safely switch lanes.
Should you find yourself in any of these situations, tackle the pothole/s head-on…the right way. Slow down as much as possible, then release the brake before actually making contact with the obstruction. The slower that you hit these pits, the less likely you will cause damage to your tires.
If you weren't able to stop, eventually take the time to assess any damage to your vehicle, if the pothole was especially large.
Prioritize Tire Maintenance
According to Jessica Egerton, Director of Brand Development at Cooper Tire, "While it can be easy to overlook tires, it's important to remember that your tires are the only 4 things connecting your car to the road. At Cooper, we encourage everyone to take 10 minutes to check your tires before heading out on the road. It's as easy as 1,2,3—check the pressure, tread depth and the overall condition of the tire."
This step is quite simple: Check your tires while putting fuel in your car. Before leaving the pumping station, check the tires with a digital pressure gauge, access the treat, and give the tires a good look-over for any spots that may appear worn.
Check The Tread Depth
"Checking tread depth is easy, and can be done with a U.S. Penny. The tread on your tires should be more than 2/32 of an inch deep and can be checked by inserting a U.S. penny into the tread, with Lincoln's head facing down. If the top of Lincoln's head is covered by the tread, there is at least a minimum acceptable amount of tread. If the top of his head is visible at any point around the tire, it is time to replace the tire."
It's important to ensure that your tires have good tread capable enough to withstand potholes, both big and small. Ultimately, it will provide you and your wallet, with peace of mind.
Driver's Auto Mart
All of these tips will certainly come in handy if you plan on buying a new vehicle…or rather close to new, for a reasonable price. At Driver's Auto Mart we have several brands and models to choose from, such as Chevy, Nissan, Toyota, and so much more!
Those who are interested in any of our vehicles can simply view our online new car inventory and chat with a representative for further information.
Photo Source/Copyright: Shutterstock via contributor Youproduction