8 Avant-Garde Car Features That Are Propelling Us Into The Future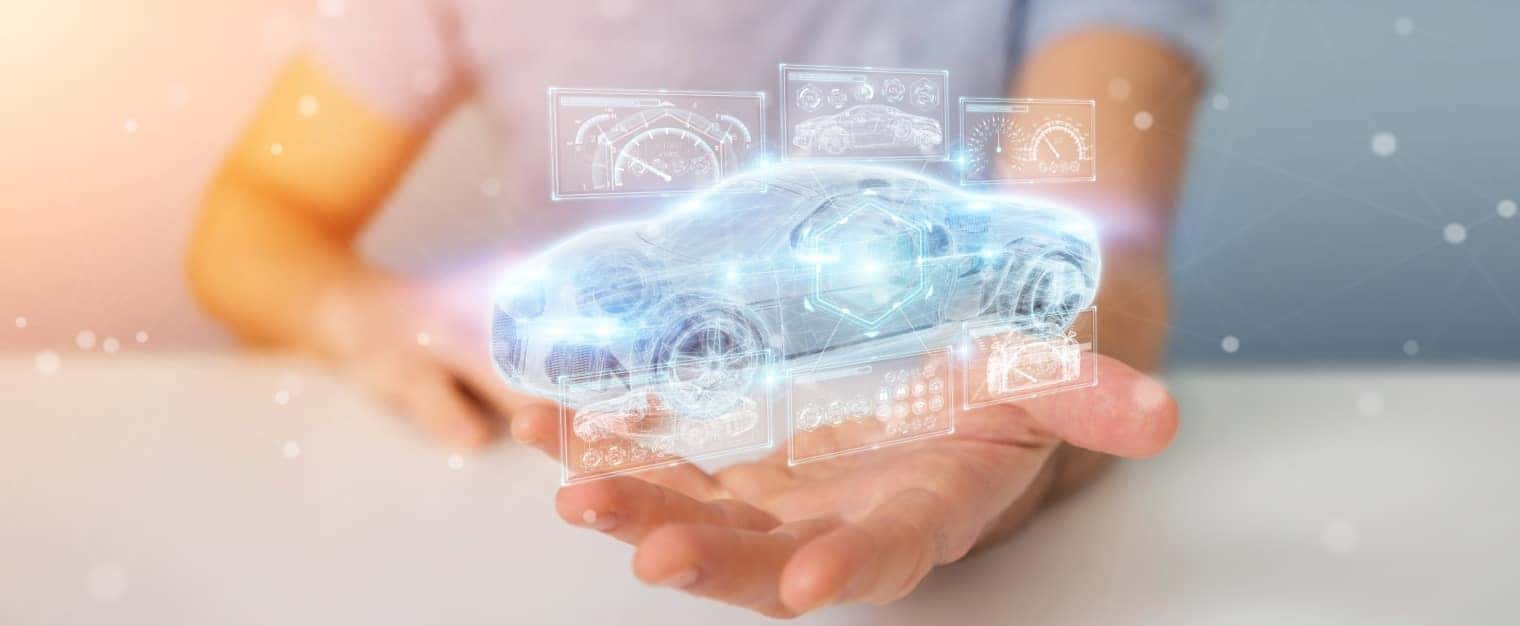 Back in the days of yore, driving a car was meant just for…well, driving. It didn't have any of that fancy tech like a 12-inch touchscreen, Bluetooth, and certainly not a hands-free operating system. These days, a car simply isn't considered a car without the cybernetics involved, and it's only getting better from there. Here are 8 avant-garde car features that are propelling us into the future.
Augmented Reality Navigation
Having a navigation system in the car is a great way to keep your eyes on the road rather than using your phone. However, in the 21st century, simply guiding you from point A to B isn't enough without virtual reality involved.
For vehicles such as Mercedes-Benz's MBUX navigation, this system uses cameras mounted onto the vehicle to allow the driver to see the road through his or her windshield on the monitor. The video game-like elements happen when arrows and other objects are implemented onto the screen. This feature might be especially useful for Uber drivers, as some systems show the house number as they drive by. Other important information regarding the components of the car like the engine and performance may also be implemented.
Vehicle-To-Vehicle (V2V) Communication
One of the downsides to this technological age is the increase in distracted driving, which has led to many fatalities each and every year. On the contrary, one of the upsides is that distracted driving may soon be alleviated with V2V systems.
The concept hatched by the NHTSA (National Highway Traffic Safety Administration) is that situations that could involve an impending crash, such as another vehicle running a red light, enable cars to send signals to the other in order to warn drivers, thus allowing them to act accordingly. This technology is still being tested and developed, but we suspect we'll see a full blossom within the next few years.
External Airbags
Airbags became a standard safety feature for all vehicles in 1998, and we're certainly glad that it was, as it's saved over 50,000 lives since then. Today, automakers like Mercedes-Benz and Volvo have taken this invention up several notches by experimenting with external airbags. These protective cushions are meant to stop the vehicle before the collision, reduce impacts from the crash, and implement a more intense emergency brake system.
Energy Storing Panels
For quite some time, there has been a big push for automakers to create vehicles that rely less on gasoline and are more environmentally-friendly. We've seen an upsurge from many big-timers for electric or hybrid power powertrains in their new models. Another new feature that isn't as popular but still impressive is energy-storing body panels. While it has its perks, manufacturers are trying to find ways to reduce the weight of the bulky batteries, as well as decrease the charging time.
Biometrics
Wallet? Check. Mask? Check. Keys? …sigh. Some day, these mornings will be long gone with the help of biometrics. Rather than digging through your purse for those pesky keys, you can simply use your fingerprints or eyes to unlock the doors. This technology is currently undergoing development, but according to BiometricUpdate, this technology has an annual group rate of up to 11% through 2025.
Driver Health Monitoring
With technologies like the Fitbit or similar functionalities on our phone, wouldn't it make sense to have these capabilities in our car? While a health monitoring feature in the car is certainly the last thing on your mind, it doesn't make it any less important.
Ford recently showcased this feature through its sensors on its seatbelt or steering wheel to record critical health statistics of the driver. You'll really know were living in the future when this technology will be able to effectively send out a vehicle's location to emergency services, should the driver prove to be incapacitated.
Automated Diagnostics
Think of this function as a mechanical inspection before the actual inspection. Automakers like General Motors (GM) and Toyota are developing a diagnostic system that will allow their cars to pick out any issues or faults that the vehicle may have, such as oil running low or engine failure. This is a great way to protect the integrity of your car before it's too late.
Autonomous Driving
We've already seen hints of autonomous driving with features like adaptive cruise control and the automatic braking system. Brands like Mercedes-Benz, Audi, and especially Tesla have been slowly implementing autonomous features in hopes of getting rid of their steering wheels altogether.
The idea is that the main reason behind collisions is human error, therefore, relying on robotics may significantly reduce car crashes once their senses become advanced enough. Though we have ways to go, the testing of these technologies through the subtle adopting of modern vehicles will get us there.
Driver's Auto Mart
The car market has been flooded with those equipped with advanced technology for quite some time. So much so, that it's highly likely that you'll find a used car with the latest mechanics. Driver's Auto Mart sells a plethora of pre-owned vehicles that are incredibly modern and are geared with incredible features.
Those who are interested in any of our models can simply view our online pre-owned inventory and chat with a representative for further assistance.
Photo Source/Copyright: Shutterstock via photographer sdecoret