A Battle of two SUVs: Ford Escape vs. Ford Edge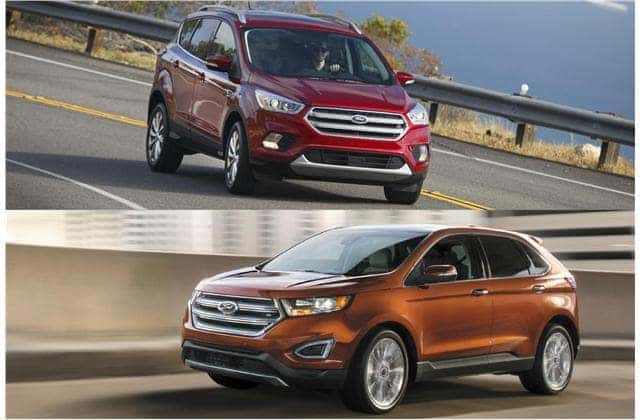 When it comes to shopping for a used vehicle, potential buyers can sometimes be a little wary of what they're buying. Other times, the options of used cars are so many, that narrowing down the choices can be a little frustrating for consumers. We've broken down two vehicles from the same automaker in terms of price, features, safety, performance, technology, and other attributes. The Ford Escape is a compact SUV that's more inclined towards sporty handling and above-average cargo space, while the Ford Edge is a slightly larger SUV that offers car-like handling and smoother design lines.
Price
The Ford Escape has a starting MSRP of $23,850 (plus destination fee), a price that's relatively competitive for its class. The Ford Edge has a base MSRP of $29,220 (plus destination fee), a starting asking price that also sits below many similar SUVs that rank higher than it.
Comfort
Plenty of SUVs on the market that focus on family hauling offer three rows of seating, but fewer vehicles in this segment offer two rows. Both the Escape and Edge are two-row vehicles. As a family hauler, the Edge offers comfortable seating with plenty of legroom thanks to its increased space for five passengers instead of limited space for seven or eight. The Escape also has seating for five, but is a more compact SUV and not as spacious as the Edge – legroom is definitely downsized in this case.
Cargo Space
There is very little difference when it comes to cargo space between these two SUVs – the Edge has 39.2 cubic feet of cargo space (73.4 cubic feet with the back seats folded down), while the Escape offers 34 cubic feet of cargo space (68 cubic feet with the back seats folded down).
Interior
Both models share a similar level of interior fit-and-finish, with an abundance of accents and options that range from cloth to stitched leather. Ford is very generous with consumers when it comes to other interior perks – both the Escape and the Edge come standard with voice-controlled SYNC, Bluetooth capabilities, a USB port, a six-speaker stereo, a rearview camera, and Ford's MyKey system. Optional features for both also include a household-style power outlet, push-to-start, a panoramic sunroof, and Apple CarPlay and Android Auto.
Fuel Economy
The best fuel economy of the two is the Escape. When powered by a 1.5-liter turbo four-cylinder engine with front-wheel drive, the Escape has an EPA-estimated fuel economy of 23 mpg in the city and 30 mpg on the highway. A 2.0-liter turbo engine with front-wheel drive under the hood of the Edge follows closely with an EPA-estimated fuel economy of 21 mpg in the city and 29 mpg on the highway.
Safety
Both models earned a five-star overall crash test rating from the National Highway Traffic Safety Administration (NHTSA) and come equipped with a full array of front- and side-impact airbags. Advanced safety features optional on both include forward collision avoidance, adaptive cruise control, lane departure warning, and blind spot monitoring.
In this case, both vehicles are so evenly matched when it comes to quality, interior features, safety, and reliability that it's difficult to pick a clear winner. Ultimately it's a matter of taste – yes, there will be more cargo space in the Edge, but it also costs more and has less fuel economy. It all depends on what's important to the prospective owner, but either choice is an excellent one.
Have other models you'd like for us to compare? Let us know on Driver's Auto Mart social media. If you're in the market for a new car, our varied inventory of gently pre-owned vehicles is a great place to start your search.
Photo Source/Copyright: US News