Best of the 2019 Detroit Auto Show
Detroit's North American International Auto Show (NAIAS) has long been the dominant U.S. Auto Show. Often ahead of its time, the Detroit Auto Show has been the launching pad for some of the industry's biggest changes in recent years. As SUVs, CUVs, and pickups take over American roadways that sedans and coupes once ruled, the Detroit Auto Show signals another revolution expected to transform the way we drive over the coming decade with plenty of electric and hybrid vehicles on display. Here's a look at five of the most exciting debuts.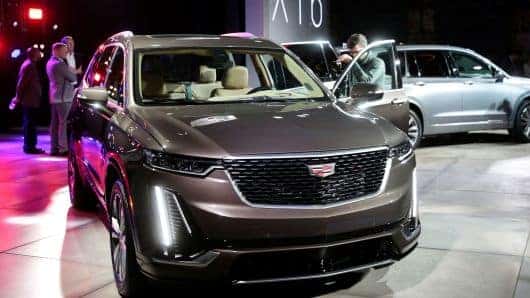 2020 Cadillac XT6
Kicking off our list is a contender that's been trying to regain its status as the self-described "standard of the world," luxury brand Cadillac. Aiming to replace the existing CT6 sedan, the large and luxuriously-equipped utility vehicle is supposed to be the first model based off the automaker's new all-electric "architecture," although details are scarce for the time being. The XT6 rides on 20-inch wheels and borrows many of its design cues from the existing XT5, with its boxy exterior and its spacious interior that's laden with most of the luxury trimmings people have come to expect from the brand.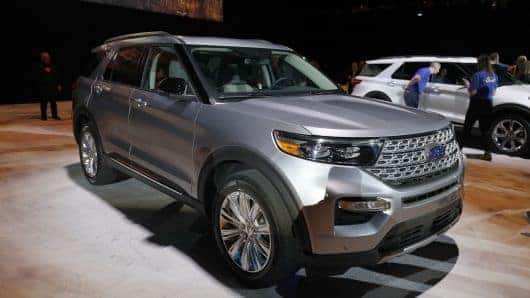 2020 Ford Explorer
Often lauded as the model that kicked off the massive shift to utility vehicles, the Ford Explorer enters a new era with its latest redesign. With over 7.7 million sales in over the last quarter century, the Ford brand was challenged to retain what makes the Explorer such a best-seller while adding the latest automotive features that technology can offer. The latest additions to the Explorer lineup? A hybrid variant that's powered by a 3.3-liter naturally aspirated V6 and a 35-kilowatt electric motor, while those looking to go fast should look no further than the Explorer ST- a new trim that features a powerful twin-turbocharged 3.0-liter EcoBoost V6 engine. The new Explorer will also add a wide array of near-autonomous driver assistance technology features, as well as more common features like Apple CarPlay and onboard WiFi.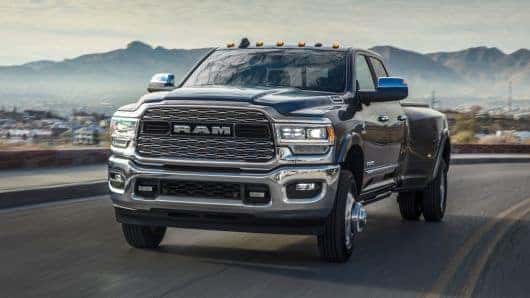 2019 Ram HD
Harnessing the same magic that brought us the all-new Ram 1500 in 2018, Ram decided to debut their bigger and badder 2500 and 3500 heavy-duty pickups while at the 2019 Detroit Auto Show. Consumers in need of massive levels of cargo and towing capabilities will be impressed when they learn that Ram's new heavy-duty pickup now boasts a 1,000 lb-ft of torque and is capable of towing up to 35,100 pounds and can haul a 7,680-pound payload. All this power comes from a reworked 6.7-liter Cummins High Output Turbo Diesel engine, available as an upgrade from the standard HEMI V8 engine that Ram places under the hood of every heavy-duty pickup. Fiat Chrysler also states that the all-new Ram HD is the "most technologically advanced heavy-duty pickup ever" thanks to its combination of the latest Uconnect infotainment system, Apple CarPlay connectivity, and a massive 12-inch touchscreen display that can even display two windows simultaneously.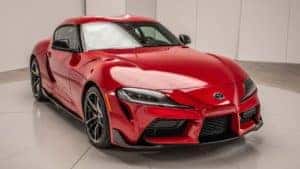 2020 Toyota Supra
Toyota is getting in on the reboot action by bringing back their beloved Supra for the 2020 model year. Developed with the help of German automaker BMW, the Supra returns after a 20-year absence with a 3.0-liter  turbocharged inline-six engine that's capable of generating 335 horsepower and can hit 60 mph in just 4.1 seconds. Said engine is mated to an 8-speed automatic transmission while the car achieves a perfect 50/50 weight distribution and also has rear-wheel-drive. Additionally, the all-new Supra also comes standard with a computer-controlled suspension and an active rear differential that continuously shifts power accordingly from side to side for better handling.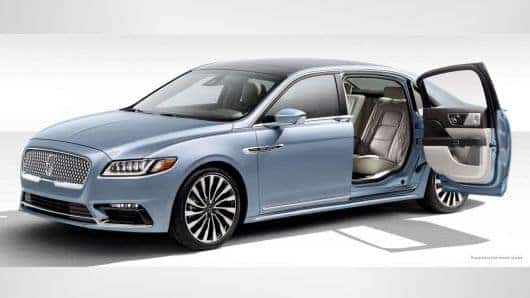 2020 Lincoln Continental Coach Door Edition
Lincoln is celebrating 80 years of their iconic Continental model so the automaker decided to celebrate by producing just 80 units with the suicide doors feature. The venture was intended to pay homage to the brand's vehicles over the years, including the Continental of the 1960s, the last ones to feature doors of this type.  Given the fact that only 80 cars will be initially produced, it's safe to assume these cars will be nearly handmade and loaded with the best luxury features that Lincoln offers. There's even a choice of Black Label interior themes! As for the rear doors, they'll be able to open a full 90 degrees, making passenger entry and exit a breeze, while a stowable tray table with tablet holders and a wireless charging pad add an air of luxury. Lincoln appears to be testing the popularity of their coach doors as industry insiders report that the brand may consider manufacturing limited editions of other models with suicide doors later this year (2019).
Follow Driver's Auto Mart on social media to stay up to date with the latest automotive debuts. If you are currently in the market for a "new car", search our used car inventory!
Photo Source/Copyright: NBC, Lincoln, Toyota, RAM, Ford, Cadillac