Chevy + Clothing Companies Create Cool Concept Trucks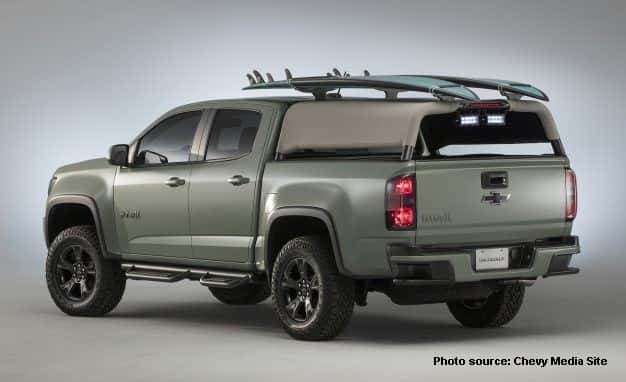 SEMA kicked off in Vegas on Tuesday and Chevy has impressed audiences, but this time it's not only because of horsepower. At this year's show, Chevy partnered up with two clothing companies to create two concept trucks, and it seems like such an obvious and smart idea, that we hope to see these concepts produced.
Chevy Silverado HD Carhartt Concept
It's no secret that trucks are popular among the construction and agriculture industry. Trucks are tough and truck beds are perfect for hauling big and heavy equipment. So it seemed pretty natural when Chevy partnered up with Carhartt, a popular clothing company known for their tough and durable fabrics intended for work and the outdoors.
It's not everyday that automakers partner with clothing companies to collaborate on car design, but it was a pretty great idea. The collaboration merges two popular brands to create a product that is part of a lifestyle and makes the interior of a work truck more appealing to an audience that might not usually care about interiors. But the best part about the collaboration is the fact that durable Carhartt fabrics are used in the truck's interior and on the truck's tonneau cover.
Colorado Z71 Hurley Concept
You know who else likes trucks? Surfers. So Chevy's partnership with the surf clothing and lifestyle company, Hurley, is just as cool. The result of the collaboration is stylish and smart surf-inspired Chevy Colorado concept. More than just nice looking, the concept offers solutions to problems that many surfers face with their vehicles.
The truck comes with a waterproof watch, so not only will surfers know what time it is when they are out in the water, but the watch also unlocks the car! The truck bed is fitted with a surfboard rack to prevent boards from sliding around in the truck bed and the interior seating is covered in a water-resistant material that is similar to the material used on wetsuits.
In need of a truck? Come by Driver's Auto Mart. We have tons of trucks including a few different used Chevy models!
Photo source: Chevy PR