Driver's Auto Mart Presents The 2018 Porsche Cayenne As The Used Car Of The Week: Luxury Car Edition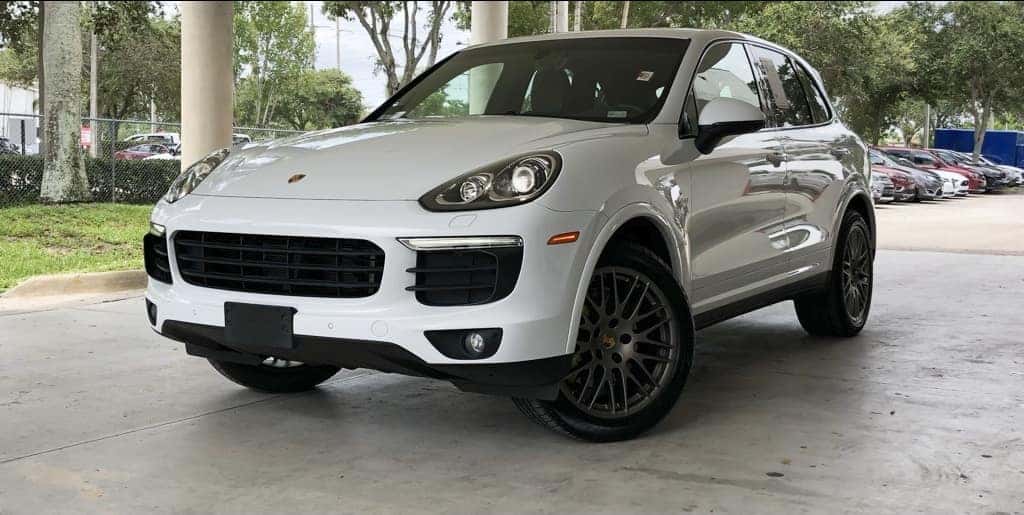 In the realm of luxury vehicles, it's quite difficult to push the 2018 Porsche Cayenne off of its top spot. Each year since its first production, it's smartened up in not just its styling but driving performance. A highlighting feature of this particular Used Car of The Week is its incredibly powerful engine options, one in particular, being the eco-friendly E-Hybrid. On top of this, there are many high-tier interior options that both drivers and passengers will relish in.
Experience luxury without having to pay the price with the 2018 Porsche Cayenne E Hybrid S Platinum Edition AWD. Only at Driver's Auto Mart!
Engine and Performance
Each 2018 Cayenne model is equipped with an 8-speed automatic transmission as well as all-wheel-drive, ensuring an outstanding and efficient ride no matter what trim the buyer opts for. The base model is equipped with a tough and mighty 3.6-liter V6 engine that gives out 300 horsepower, but the more impressive twin-turbo version can zoom up to 420 horsepower on the Cayenne S and tacks on 20 more horsepower with the GTS model.
Following this, the conservationist Cayenne S E-Hybrid uses a 333-horsepower supercharged 3.0-liter V6, but joined with a synchronous electric motor it moves the driving intensity to a fantastic 416 horsepower. Finally, the top-ranking Turbo and Turbo S models bring in a "My Engine Is Definitely Faster Than Yours" 520 and 570 horsepower from their 4.8-liter twin-turbocharged V8 engine.
The engine that the buyer chooses completely depends on his or her preference and need for speed, but one should know that none of these options will give one a lackluster performance. 
Luxury Design
If you've followed the progression of the Porsche Cayenne since its inception in 2002 then it's quite obvious that the German automaker succeeded in making gradual but obvious refinements on the luxury crossover. Starting out as a somewhat attractive look-alike of a soccer mom minivan, to a cool and glamorous made of the movie stars SUV. The reason for this more charming appearance is due to the slow transition to a design that is sleeker as well as more defined curves and edges. Additionally, Cayenne trims can be identified by their color. For instance, Silver indicates the car as either an S of E-Hybrid while red is paired with the fast-paced Turbo and GTS SUVs.
The flair on the inside is no different than it is on the outside. The designers used their artistry to merge thinly stitched leathers, deluxe wood inlays, and metal accents to make for an absolutely exquisite design. Passengers sitting in the back seat will reveal their ability to slide and recline in their chairs and can also binge-watch their favorite show on Hulu from the pair of LCD screens mounted to the backs of front seats. 
Standard Features and Options
All the same, buyers should expect standard all-wheel drive, a height-adjustable power liftgate, 10-speaker audio with 7-inch touch screen, water-repellent front side glass, rain-sensing wipers, and the supplement of power-focused gear for all Cayenne models. Additional standard features include stop/start function, six airbags, a full cluster of electronic stability aids, and roadside assistance (only under warranty).
Lastly, the Porsche company provides plenty of available features such as the brand's Dynamic Chassis Control, which allows drivers to further enhance their handling. It does this by adjusting the anti-roll bars in actual time to increase stiffness in the suspension depending on conditions as well as the selected drive mode.
Another option is the ear-blasting 16-speaker Burmester audio system and an Aha Radio smartphone application which is included with the in-vehicle connectivity. This application offers a personalized news feed, music, and social networking services.
Driver's Auto Mart
The price for a spanking new 2018 Porsche Cayenne can range from $61,000, (plus destination fee)  to well over $100,000, (plus destination fee) but luckily Driver's Auto Mart is selling their pre-owned 2018 Porsche Cayenne E Hybrid S Platinum Edition AWD model for just $52,555, it's no wonder why it's when selected for Driver's Auto Mart's Used Car of The Week! Those who are interested in this model can simply view our online pre-owned inventory and chat with a representative for further assistance.
Photo Source/Copyright: Driver's Auto Mart