Driver's Auto Mart Presents The 2019 Dodge Challenger SRT Hellcat As The Used Car Of The Week: Sports Car Edition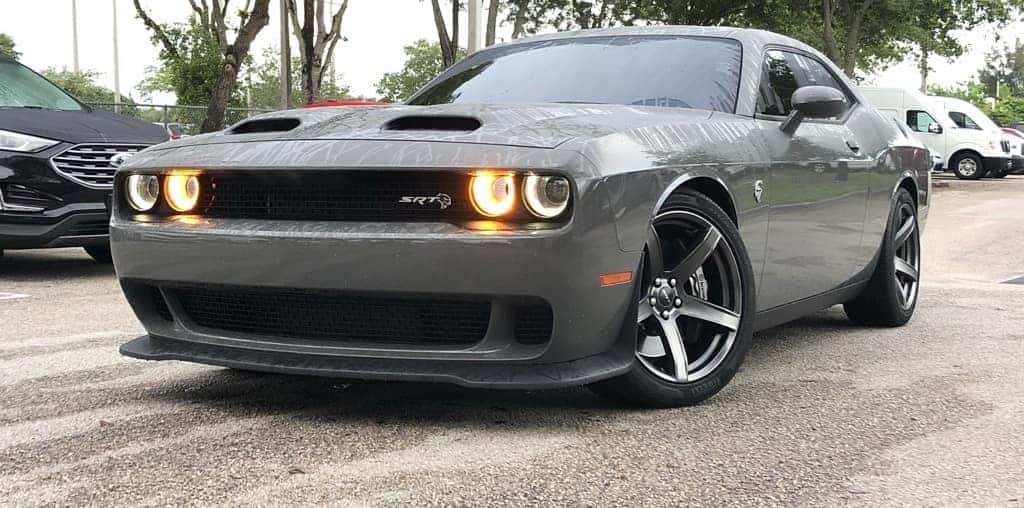 Psychologist David W. Johnson once said "There are no speed limits on the road to success," unfortunately the officer who pulled you over last week wouldn't agree, but on the flip side, you've got to admit that ride was pretty damn fun while it lasted, and speaking of good times…The 2019 Dodge Challenger is one bad mother, as it's said to really knock your socks off with its incredibly high-powered and competent engine options.
This fire-breathing dragon already starts off with an impressive 305 horsepower with its base engine and finally gets up to a melt your skin-off 797 on its highest trim. It also has lots of interior room and is almost as comfortable as it is fast. Best of all, Driver's Auto Mart is selling this Used Car of The Week for the supercharged SRT Hellcat model, but before you buy, let's explore a bit more just why it's our highlighting vehicle.
Engine Performance
Starting off, the base SXT and GT trims receive a standard 3.6-liter Pentastar V6 engine in rear-wheel-drive, clearly efficient on its own since it pushes out an exhilarating 305 horsepower, and also offers all-wheel-drive for both trims.
Moving up to the R/T, it pairs up with the 5.7-liter Hemi V8 engine and provides 72 more brownie points with the 6-speed manual transmission. Meanwhile, the Scat Pack version of the R/T model uses a 6.4-liter Hemi gets 485 horsepower with both the manual and 8-speed automatic.
Upgrading to the SRT Hellcat model will gift drivers with a 6.2-liter supercharged V8 engine that really lives up to its name. It musters up 717 horsepower, which would be considered the top-dog if it wasn't for the Hellcat Redeye…but more about that later. With the exception of the Redeye, all Challenger shoppers can equip his or her car with a 6-speed manual transmission. Furthermore, fuel efficiency isn't necessarily the Hellcat's strong suit, but the V6 model proves to be a bit more wallet-friendly than its other power-packed siblings.
Highlighting Performance Features
All-Wheel Drive
It's well known that the high-performance American muscle cars like the Challenger are made to give potential buyers a performance that is worth their while, but all-wheel-drive (AWD) on the SXT and GT trims are exactly what was needed in order to take it up several notches. Not only does AWD better the car's abilities when it comes to cornering and handling, but also turns it into a beast for tackling difficult weather conditions, which is something uncommon in other muscle cars.
SRT Hellcat Redeye
Taking many notes from the previous year's Dodge Demon, the Hellcat Redeye makes for a once-in-a-lifetime performance, with a neck-breaking 797-horsepower from its 6.2-liter supercharged Hemi V8. This rule breaker can push from zero-to-60 mph in just 3.4 seconds. On top of this, getting a Widebody version of the Redeye provides the car with wider wheels and tires, which aids in increasing grip.
Styling and Interior Features
Regarding the exterior, the Dodge Challenger hardly ever makes dramatic changes, and why would it need to? 9 times out of 10 a buyer isn't even buying this type of vehicle just for its looks. However, one might enjoy the funky color options that this car has such as IndiGO Blue, White Knuckle, and Plum Crazy.
The interior has a design that seems quite retro yet incredibly modern at the same time. The rear-seats allow for three people to fit across, which is a plus. The car is also a driver's best friend for road-trippin' due to its large trunk size.
2019's Challenger uses the front center to host its Uconnect 8.4 touchscreen, which has Apple CarPlay and Android Auto, standard on the base SXT trim. Other features on the base trim include Bluetooth, USB and auxiliary inputs, 2-zone automatic climate control, and remote start.
In terms of safety, the Hellcat offers a few driver-assistance features like blind-spot monitoring and rear cross-traffic alert, adaptive cruise control, and automatic high-beams.
Driver's Auto Mart
The 2019 Dodge Challenger is everything that a performance-driven car buyer would want, it has an incredible selection of engines, it's delightfully comfortable even with all of the fast-paced twists and turns, and best of all its all-wheel-drive makes it a dream when tackling roads while driving through Winter Wonderland.
Driver's Auto Mart is selling this Used Car of The Week for about $56,000 for the SRT Hellcat. Those who are interested in this particular model can simply view our online pre-owned and chat with a representative for further assistance.
Photo Source/Copyright: Driver's Auto Mart