Driver's Auto Mart Presents The 2022 Mercedes-Benz EQS 580 As The Used Car Of The Week: Luxury Car Edition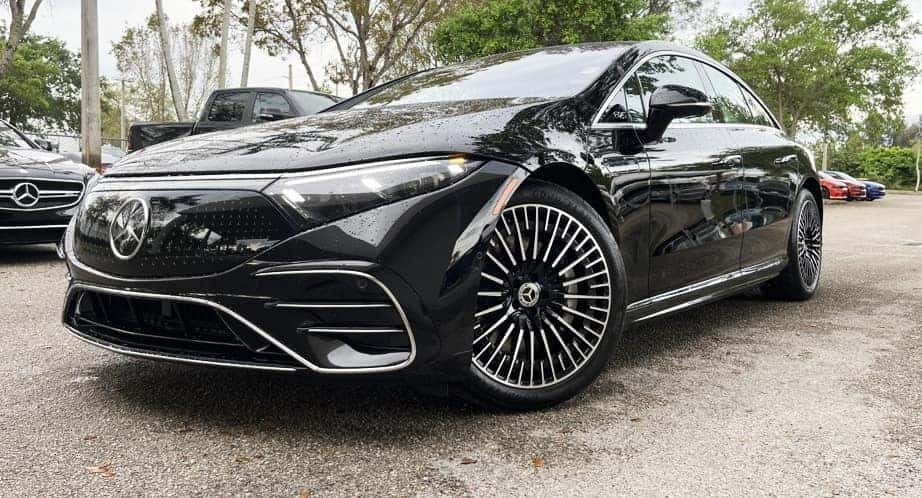 The 2022 EQS sedan is the electrified flagship of the luxury brand, Mercedes-Benz. It's been honored by Car and Driver on this year's Editors' Choice list, and has received stellar reviews from both experts and consumers.
At Driver's Auto Mart, we're proud to have built up a reputation for keeping cars that are like-new in our possession, and this recently has included the full-size EQS. This week, we are highlighting this deluxe cruiser for our Used Car Of The Week: Luxury Edition!
2022 Mercedes-Benz EQS
The 2022 Mercedes-Benz EQS is quite a showstopper with its sleek and defined physique, and signature sloped design. The unique headlights and virtual grille mesh well with other frontal features such as the elongated LED running lights.
The interior welcomes you into another dimension, starting with its sensational Hyperscreen. This giant of a dashboard bears little to no resemblance to one at all, particularly since it's just one large screen. There are actually three displays that separate into their own section, with the 12.3-inch driver display acting as the housing unit for the gauge cluster, offering several pieces of information about the car.  The passenger's side also gets a 12.3 screen that manages Mercedes's MBUX infotainment system.
Those who are already familiar with the brand will easily get acquainted with systems like Apple CarPlay and Android Auto, together with the virtual assistance of the MBUX system, using the greeting "Hey Mercedes", followed by a command.
If the Hyperscreen doesn't knock your socks off, then the heads-up display with augmented reality certainly will. This vehicle has an eye-tracking system that shows emerging turns, increasing the field of vision for the driver as they approach his or her turn. This feature also works like a gem with adaptive cruise control.
When it comes to the drive, the suspension is tuned to perfection and almost makes it feel like you're floating. Whether you're stuck in a traffic jam or zipping in and out of lanes on the freeway, this flagship is too easy to get comfortable with and absorbs any bump or imperfection on the road without missing a beat.
There are two variants of the EQS that seem to personify the word "accelerate". The 450 Plus has an energetic output of 329 horsepower and 419 lb-ft of torque for the rear-wheel-drive (RWD) system. This allows this car to reach 60 mph in just 5.5 seconds. Then, the 580 really turns on the heat with an output of 516 hp and 613 lb-ft of torque, zipping 60 mph in 4.1 seconds.
One prominent driving feature is the EQS's regenerative braking system, sporting four behavior levels: Comfort, Sport, Eco, and Individual. There is even a Smart Mode that adjusts the regenerative system according to different factors like traffic and road topography, along with activating its one-pedal driving system in urban areas. 
According to the company, a 200-watt DC fast charger can get the EQS battery from 10 percent capacity to 100 percent in just 31 minutes. Charging with a 220-volt charger at home, the EQS will reach a full charge in just over 11 hours.
Standard in-car features include a Burmester surround-sound audio system, tilt-and-slide panoramic roof, dual-zone automatic climate control, ambient interior lighting, and an Acoustic Comfort Package that tacks on more insulation for the interior. There is even a Parking Package, surround-view monitor, and a fingerprint scanner for driver authentication.
Driver's Auto Mart
The 2022 Mercedes-Benz EQS has the best of every world in it, with excellent range capacity, augmented ride experience, and a style that is simply captivating. You can purchase this incredible EV on our dealership website, Driver's Auto Mart. We sell a wide range of pre-owned models that are incredibly up-to-date.
Those who are interested in any of our vehicles should take a look at our online inventory, and once you find something that suits your interest, chat with a representative for more information.
Photo Source/Copyright: Driver's Auto Mart