IIHS Top Safety Picks at Driver's Auto Mart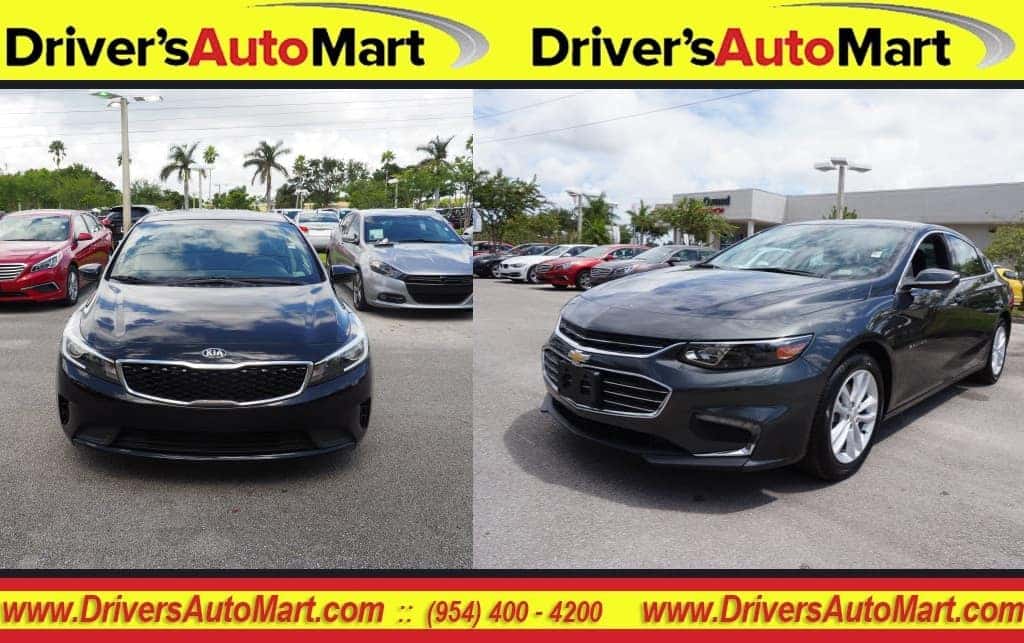 Driver's Auto Mart isn't like other dealerships that only focus on one brand like it's our Golden Goose. We work with all car brands, because just like our name, our dealership is like a market for used vehicles to buy. We have a large variety of inventory, including some older models as well as some of the most current models available. All of our available used vehicles have a clean CarFax report, and we offer a variety of vehicles that offer the most up-to-date technology, entertainment, and safety.
Below are some of our available used 2017 models that have been named a Top Safety Pick or Top Safety Pick+ by the Insurance Institute for Highway Safety (IIHS). Not only have these vehicles received top marks in five crash tests, but many of them also have a variety of advanced safety features as well.   
Named a Top Safety Pick Plus (TSP+) by the IIHS, the Hyundai Elantra is a compact sedan that is in its sixth generation. The Elantra has old school technology such as the Bluetooth hands-free phone system and the newer tech such as touchscreen infotainment systems that support Android Auto and Apple CarPlay. Their notable safety feature is front crash prevention via forward collision warning, an available feature on the Hyundai Elantra Limited, along with several other available safety features.
Kia Motors has been racking up awards lately, and many Kia models, like the Kia Forte, are on the 2017 IIHS Top Safety Pick list. In addition to being considered a protective vehicle in the case of an accident, the Kia Forte is also available with advanced safety features such as forward collision warning and rear cross traffic alert, both available on the Forte S and Forte EX. Kia Motors also has its own dedicated infotainment system, UVO eServices, that goes above and beyond simple things like voice-command navigation or Android Auto and Apple CarPlay capabilities. UVO eServices also comes with apps for roadside assistance (another great safety feature), running vehicle diagnostics, setting service reminders, and even remembering where it's parked via the UVO smartphone app.
Kia Motors has another snazzy vehicle that earned a TSP+, the 2018 Kia Soul. As well as being a safe vehicle, the Kia Soul is loved by college students on a budget because it has a great fuel economy of 30 mpg on the highway. Like other Kia vehicles, the Kia Soul comes with UVO eServices available on all three trims and offers many available safety features. IIHS highlighted its front crash prevention via forward collision warning and its optional High Intensity Discharge (HID) headlights as notable safety feature to look for to keep driving on the road safe, day or night.
Chevrolet has one of the most diverse vehicle lineups on the market and one of their most solid vehicle models is the tech savvy Chevy Malibu. The Chevy Malibu received a Top Safety Pick (TSP) from the IIHS for both the 2017 and 2018 model years. In addition to the TSP rating, it has other safety features such as forward automatic braking, lane keep assist, and blind zone alert, among other advanced safety features. Chevrolet vehicles are also known for their Teen Driver mode, making them excellent vehicles for new drivers that may need a little remote adult supervision while on the road, such as shutting off the stereo if going above the speed limit.
The Honda Accord received TSP+ from the IIHS for front crash prevention with optional advanced safety features such as adaptive cruise control, lane keep assist, and even traffic sign recognition to alert the driver of changes in speed limit so they're not caught off guard when exiting the highway or entering an unfamiliar area. Many of the five trims also come with modern tech such as Apple CarPlay and Google Android Auto integrated into the vehicle.
Although more of a station wagon than a sedan, we're including the Volvo V60 on this list. Also having received a TSP+, it's interesting to note the only comment the IIHS made for improving the vehicle's safety is going with the optional active dual xenon headlights with active bending lights. These babies will boost a driver's vision when driving at night by 90 percent. Now that's a feature every driver could use.
This is just a sample of the tech-savvy and safe vehicles we have at Driver's AutoMart. Looking for one of your own? Check out our used vehicle inventory today.
Photo Source/Copyright: DriversAutoMart.com