Infotainment Systems Offered by Most Popular Auto Brands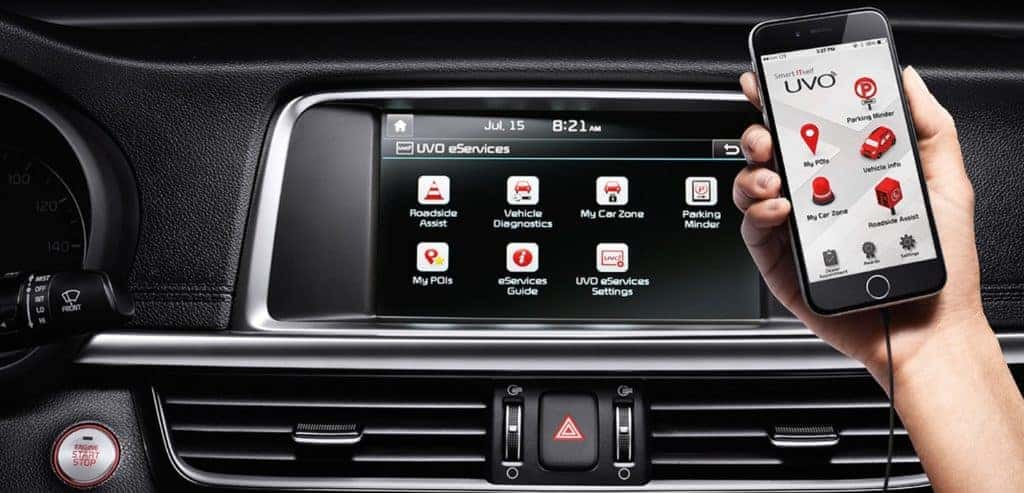 One of the most important features drivers look for now is technology. When it comes to technology and entertainment, the more the merrier for most drivers. Whether it be a road trip, traffic jam or short drive to work, having a good infotainment system  is key to a entertaining, but safe drive. Most automakers have made their own proprietary infotainment system, check out some of the most popular below.
Kia UVO
Kia has an infotainment system called UVO and Kia vehicles equipped with UVO also come standard with a 4.3-inch touch screen, but there are other sizes of touchscreens available. The UVO system is not only loaded with entertainment features, but safety features as well. Technology features of the UVO system include an HD radio, Sirius XM radio, Android Auto, Apple CarPlay Pandora and Bluetooth audio streaming. Safety features available with UVO range from a rear backup camera, 911 Connect, a vehicle diagnostics report and hands-free phone connection via bluetooth come with the system. There is also a premium version of the system with a 8-inch touchscreen and a premium navigation system.
FCA UConnect
Fiat Chrysler Automobiles (FCA) has an infotainment system called UConnect and one of the most popular versions of Uconnect is UConnect 4. Uconnect 4.0 comes standard with a 7-inch touch screen, a WiFi hotspot option and it also available with an 8.4-inch touchscreen. The system comes with Apple CarPlay, Android Auto, Bluetooth voice command, and SiriusXM capability. Just like the UVO system, this system comes with a rearview backup camera and is available with a navigation system.
Chevy MyLink
MyLink is the name of the infotainment system made by Chevy. MyLink has a standard screen size of 6.5 inches, and there is also an 8-inch option. The system has features including Android Auto, Apple CarPlay, Pandora, Stitcher Smart Radio, a WiFi hotspot option and SiriusXM radio. MyLink comes with a backup camera and navigation like the others, but is unique as it offers teen driving technology called Teen Driver as well. Teen Driver technology is a built-in system with features including speed and music volume control, muting audio until the driver seat belt is on and so much more.
Ford SYNC
Ford vehicles come with the SYNC system. This system has a 4.2-inch screen as well as an available 8-inch touchscreen option as well. Ford SYNC has features like App Link, which allows users to connect their phone apps to the vehicle's touchscreen, Bluetooth streaming, a WiFi hotspot option, and so much more. SYNC safety systems features include a backup camera, 911 assist, and navigation.
Looking for a used car with great entertainment features? We have plenty to choose from at Driver's Auto Mart. Check out our used car inventory in Fort Lauderdale!  
Photo source: Kia Motors