It's Time To Play "Heads-Up" With New Cars In 2021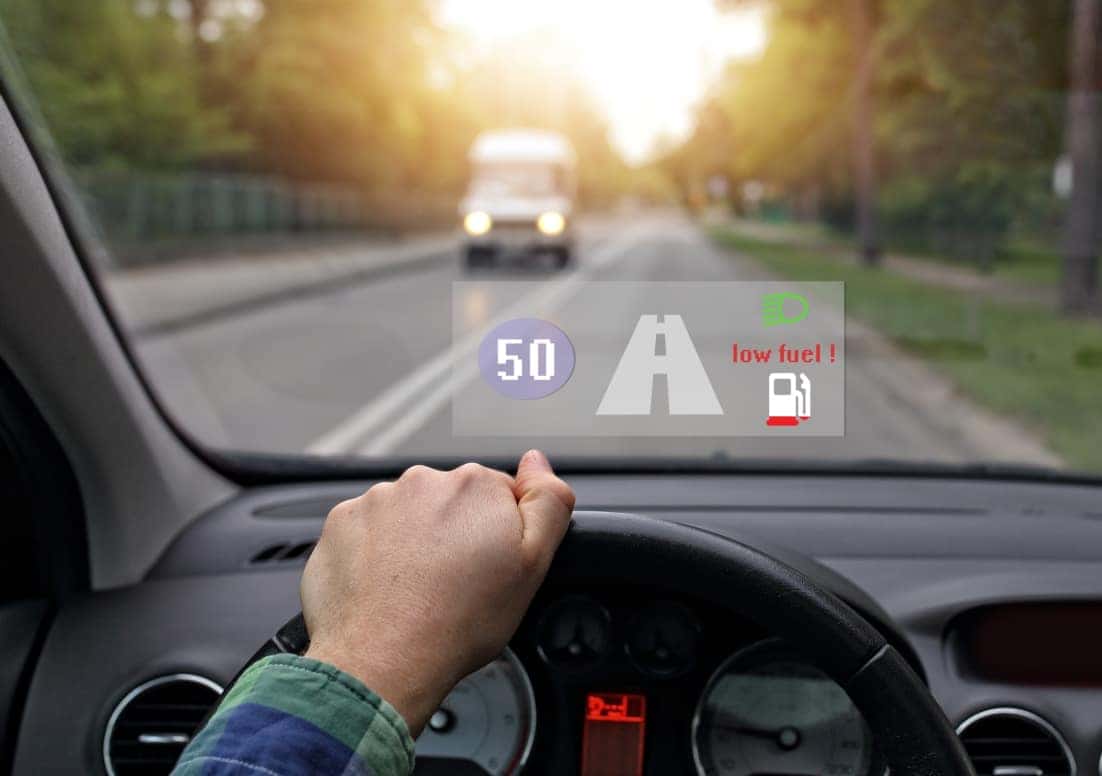 While reading through different car reviews, you might have come across the term "Head-Up Display" or HUD quite a few times. As you can deduce by now, this technology is quite common in modern vehicles and is responsible for showing the driver important information onto its shield. Only visible on the driver's side, this transparent display on the windshield varies from different car companies and provides individual personalizations. With this feature, you'll typically find items that consist of a speedometer, engine rpm, turn-by-turn directions, blind spot warnings, and traffic sign information.
What's The Point Of A  Head-Up Display?
Having HUD technology can prove to be very beneficial, especially regarding safety. First off, it keeps your eyes on the road, something that has been very hard to do in this digital age. As stated by the National Highway Traffic Safety Administration (NHTSA), distracted driving resulted in 3,000 deaths in 2019. Having the head-up technology can lessen the incidents, as it helps keep the driver focused on the road, rather than looking down to check the navigation system or speedometer. On the flip side, the NHTSA has expressed concerns that the images on the display have the potential for its own level of distraction if not designed carefully enough.
More often than not, the HUD is an optional feature and comes either with a package or part of a more expensive trim level. It's worth noting, however, that you'll have trouble seeing the display if you're wearing polarized sunglasses. In that case, it might be best to test this feature first. Those who aren't too interested in the feature, but have a trim level or package with the HUD can always turn it off.
Which Car Maker Has Head-Up Displays for 2021?
Other than EVs, a growing trend in the automotive world is the offering of HUDs in vehicles for the first time or providing it as a new safety feature to new 2021 models. The Jeep company recently added the display to this year's Grand Cherokee, Ram implemented it to the 1500 truck and Toyota brought it on to the Mirai, Sienna, Venza, and RAV4 Prime. Additionally, Nissan's 2021 Rogue has a new HUD on its top-tier Platinum trim level.
There are some manufacturers that have brought along the technology to new 2021 vehicles, such as the Audi E-Tron, Genesis GV80, Mercedes GLA-Class and Porsche Taycan, which now have it as an available feature.
To further explain, all of the automakers that offer the HUD feature either one of their vehicle or various ones include Acura, Audi, Bentley, BMW, Buick, Cadillac, Chevrolet, Ford, Genesis, GMC, Honda, Hyundai, Infiniti, Jaguar, Jeep, Kia, Lamborghini, Land Rover, Lexus, Lincoln, Mazda, Mercedes-Benz, Mini, Nissan, Polestar, Porsche, Ram, Rolls-Royce, Subaru, Toyota, and Volvo.
Driver's Auto Mart
Rather than spend a boatload of doe on a new car, why not spend it at Driver's Auto Mart? We sell vehicles from a variety of different brands (many of which are listed) in various shapes and prices. These vehicles are pre-while but many are like-new, as we have a variety of vehicles that are 2021 models, and some of which have the available HUD feature.
All you have to do is view our online used car inventory, and once you find something that feeds your interest, simply chat with one of our representatives for further assistance.
Photo Source/Copyright: Shutterstock via photographer ambrozinio