Latest Tesla Model S vs Newest BMW i8 Coupe
2018 started with the announcement of the flashy and mesmerizing 2019 BMW i8 Coupe being presented to the public. Available to the public in March 2018 the BMW i8 is already providing customers with fantastic fuel economy inside a beautiful, sleek ride the new BMW i8 has no competition except for the 2018 Tesla Model S. Though the next Tesla Model S is not due to come out this year, there's a fair comparison between these two luxurious, fuel conscious vehicles. Let's examine them together a bit closer.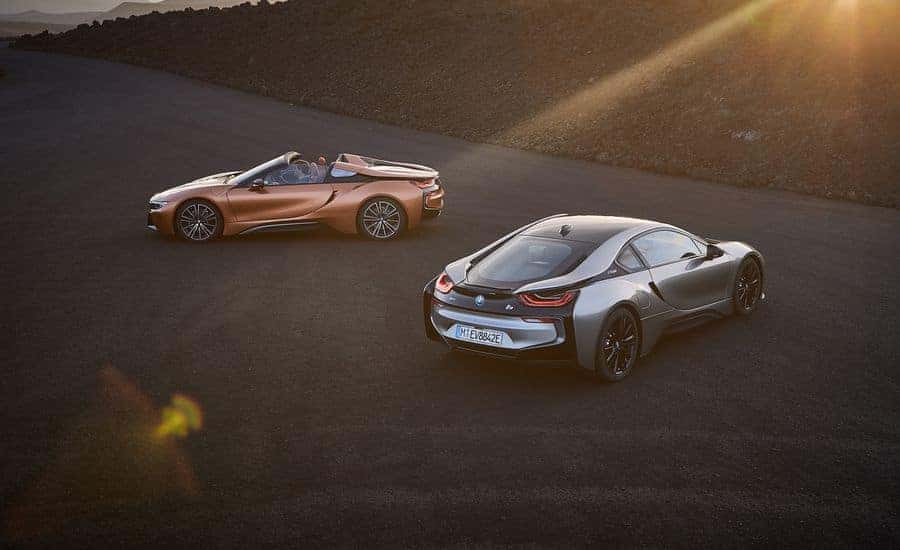 2019 BMW i8 Coupe
Starting price for this new vehicle begins at $147,000 MSRP with a BMW TwinPower Turbo 3-cylinder engine with high-precision direct injection that delivers 369 horsepower and 420 horsepower when coupled with the lithium-ion battery pack. The engine that provides 228 horsepower by itself, but the provided lithium-ion battery pack has increased to 11.6-kilowatt-hour capacity and provides the additional 141 horsepower and 184 lb-ft of torque.
There's no doubt owners will enjoy being able to go from 0-60 mph in only 4.2 seconds and yet be able to hit up to 65 mph on electric power alone, getting up to 75 mph in eDrive mode. The 2019 BMW i8 Coupe edition is a revamped version of their 2017 model, which had no 2018 model. This model has greatly improved in many areas starting with charging. With a BMW i Charging Station, supplying 7.2 kW of power to charge, owners can have their 2019 BMW i8 fully charged in less than just three hours.
Inside of the cabin, with seating up to 4, the 2019 BMW i8 has the latest iDrive infotainment system has a 8.8-inch touchscreen and a head-up display. The interior is sleek with Tera World Copper interior trim featuring premium cloth and leather upholstery with heated seats. Crisp sound is provided with a 12-speaker Harman Kardon audio system and drivers will appreciate the three driving modes (eDrivem, Comfort, Sport and Eco Pro) as a standard feature.
LED headlights, LED accent lights and LED brake lights are standard along with start/stop button, Active Driving Assistant with Frontal Collision Warning and Pedestrian Protection, however the cargo room of the vehicle only provides a measly 5.44 cubic feet of space.
2018 Tesla Model S  
The starting price begins for the 2018 Tesla Model S starts at $74,500 for the 75D base model, which is considerably less than the new 2019 BMW i8 Coupe base model. The high end P100D, which costs $135,000, which delivers a better motor and upgraded interior features. With 518 horsepower combined, the electric engine provides unequaled battery-electric performance getting up to 92 city and 105 highway MPG.
Charging the battery in the Tesla S takes just 76-96 hours to charge at 110 voltage and around 8.5 hours to 10.72 hours with 220 volt charging, the fastest option is the 440 volt charging that can have the entire battery at 100% in just over an hour and a half. The 2018 Tesla Model S provides an incredible range of 249 to 315 mile range from the battery alone.
Inside the interior, the 2018 Tesla Model S has seating up to five, the Tesla Model S has the largest standard 17-inch touchscreen available. Soft-touch surfaces and leather seats are available features. A quiet ride and cabin with a spacious ride, providing 31.6 cubic feet of cargo room. That makes the Model S way more spacious and generous for cargo storage over the i8.
Where to Go For a Rewarding Car Buying Experience
Whether you're looking for the most luxurious ride or the most convenient and affordable, we have many options from top of the line brands at Driver's Auto Mart. We are always helpful for our customers and want to ensure you find the vehicle you're looking for.
If you're selling your current ride, we'll buy it! Don't wait for your vehicle to become any older. Come see the difference at Driver's Auto Mart today!