Luxury SUV Comparisons: G Wagon v. Cayenne v. Range Rover v. Tesla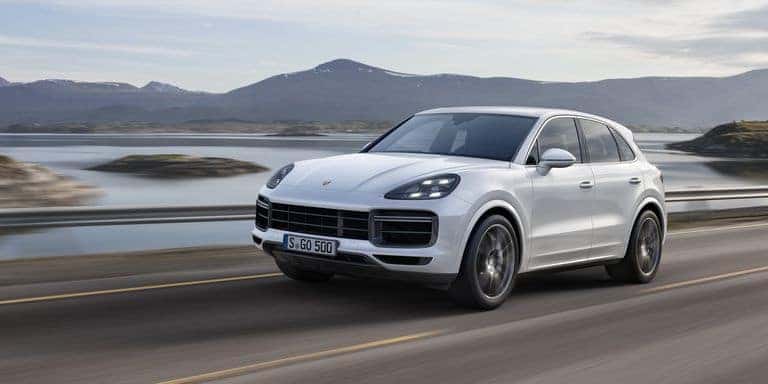 The SUV market has a lot of options for consumers. There's few vehicles that are better suited than SUVs to provide a capable off-road experience with top level luxury. But that's exactly what you can find in all of the SUVs listed below. We'll highlight what makes them different, weighing out their pros and cons and how they have grown to become so popular. Let's take a closer look.
Porsche Cayenne
The Porsche Cayenne has been a popular choice in the luxury SUV market because it's known for high-end and skilled craftsmanship. Offering top-level performance and speed, the Cayenne goes from 0-60 mph in an impressive 5.9 seconds and it has a top speed of 152 mph. With very comfortable seating for five, Porsche Connect allows drivers to hook up their smartphones to the infotainment system and works with Apple CarPlay as well. Bose speakers and the available Sound Package Plus sound systems provide amazing crisp audio.
With ample space, including 60.4 cubic feet of trunk capacity and exactly 26.3 cubic feet with the seats up, drivers have enough space for any extra cargo. This is the SUV for those that want to get anywhere in style, quickly and effectively with premium features to enjoy along the way. Not just fast and stylish, the Porsche Cayenne has offered drivers reasonable fuel efficiency with an average of 18 mpg in the city and 24 mpg on the highway.
And don't think of Porsche as just fast performance, know that with the Cayenne, you're set to go off road should you need. Since 2002, the Porsche Cayenne has been the all-performance SUV on the market. Not only is the powertrain strong in a Cayenne, there's ample ground clearance and available adjustable air suspension offered with the Cayenne.
Land Rover Range Rover
The Land Rover Range Rover is a staple among luxury SUVs. The ever popular Range Rover is the higher class of 4×4 utility vehicles offered by Land Rover, a British manufacturer. Ever since production began in the United States back in 1987, the Range Rover has become the ultra-premium SUV for Americans to love.
More than just elegance inside and out, the Range Rover has capabilities more so than most full size SUVs. Range Rovers are known as highly capable off-roading vehicles, there's a clear cut luxurious interior in every Range Rover vehicle. Partnering with Meridian Digital Sound, the Land Rover brand has worked on adding crystal clear highs and rich bass sounds with standard 10.2-inch touchscreens to amp up their infotainment game. Range Rovers are also known for having better-than-average market fuel economy of 22 mpg in the city and 28 mpg on the highway.
Mercedes Benz G-Wagon
The Mercedes-Benz G-Wagon, a part of the G-Class series, is not just ritzy, it's also capable of conquer extreme driving challenges. From off-roading capabilities to providing luxury seating, a Mercedes Benz G-Wagon has strong fanfare for good reason. With a unique boxy look that has become safer and more efficient year in and year out, the driveability has never been an issue with the G-Wagon. The base model of the current generation G-Wagon is equipped with a twin-turbo 4.0-liter engine that provides 416 horsepower and 450 lb-ft of torque. Designed to handle off-road terrains with independent front suspension, set with three off-road driving modes to provide help with driving over different terrains. In a Mercedes-Benz G-Wagon, your drive will remain impeccable while driving over any terrain. The G-Wagon however boasts poor fuel efficiency, however, offering only 13 city and 14 highway MPG.
Tesla Y
While all of these SUVs mentioned above have their place among the best luxury SUVs on the market, a new challenger is approaching, the Tesla Y. Tesla's first attempt at making an SUV was the Model X, which offers 91 MPGe in the city and 95 MPGe on the highway MPG, and 518 horsepower. But, the latest Tesla Y has been kept under wraps. Don't expect it to come out any time soon however, as production is scheduled for November 2019. With Tesla, there's no doubt this SUV will provided be an economic, fuel efficient and off road capable vehicle decked out in style. Another no-brainer is millions will be produced and sold.
Where To Find Your Own Luxurious SUV?
Wondering about what SUV you should get next? We offer luxurious SUVs and everything in between at Driver's Auto Mart. Located in Davie, Florida our customers always come first as we invite you to reach out to us at (954) 945-7618 or stop by and see us at 5355 S University Dr, Davie, Florida. We buy cars in cash and can help you buy or sell your vehicle with us at Driver's Auto Mart. Our friendly staff provides a no hassle shopping experience will ensure you leave home happy and fulfilled, hopefully with a vehicle you'll love. Stop by for a test drive today!