New York Is Saying "No" To The Sale Of Gas-Powered Vehicles By The Year 2035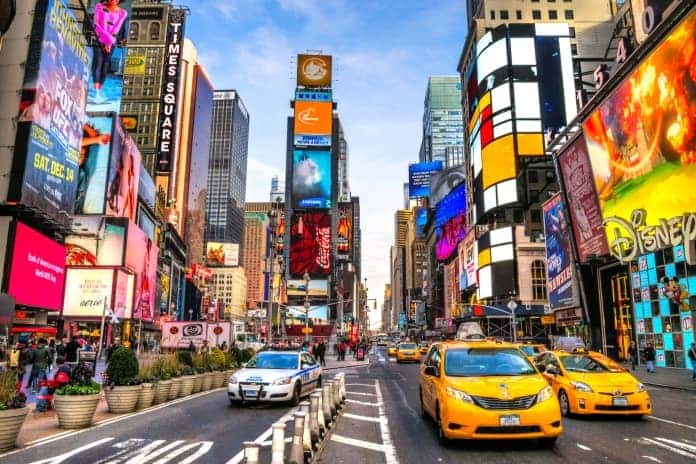 There are some big changes being made in the Big Apple, specifically regarding the city's transportation sector and efforts being made to reduce climate pollution. Kathy Hochul, New York's first female governor (recently as of August of this year), signed a new legislation, earlier this month, that will ban the sale of new gasoline-powered vehicles in the city by 2035.
As maintained by an announcement given by the Governor's press office, this law is requiring that all new passenger vehicles and small trucks that are sold in The Empire State to have a higher sale of zero-emission vehicles by 2035. The types of vehicles that are deemed acceptable encompasses battery-powered electrics, plug-in hybrids or hydrogen fuel-cell electric cars.
"New York is implementing the nation's most aggressive plan to reduce the greenhouse gas emissions affecting our climate and to reach our ambitious goals, we must reduce emissions from the transportation sector, currently the largest source of the state's climate pollution," Governor Hochul said in a statement.
This new act, which was first brought to our attention by New York state senator, Pete Harckham, will also require that new medium-duty along with heavy-duty trucks that are sold must fall under the zero emission guidelines by 2045.
This reason behind this legislation is partly due to New York's larger efforts to bring down the level of greenhouse gas emissions to 85 percent by 2050. It also aligns with President Biden's intent to see that electric vehicles make up for half of the new car sales in North America by 2030.
"The new law and regulation mark a critical milestone in our efforts and will further advance the transition to clean electric vehicles, while helping to reduce emissions in communities that have been overburdened by pollution from cars and trucks for decades," added the Governor.
Interesting enough, the city that never sleeps isn't the only state with the goal for massive electrification. U.S. regions like California and Massachusetts have also revealed their plans to ban the production of new gasoline-powered vehicles by 2035. At the same time, on other sides of the water, the United Kingdom and Europe are making similar enforcements.
While our generation still may be used to these drastic changes in the automotive industry, there will be plenty of new luxury electrics for drivers to choose from. A large list of automakers, such as Mercedes-Benz, McLaren, Bentley, Audi, and Volvo, are giving Tesla a run for its money by performing a complete refashioning of their platforms. Many of these companies are trying to offer an electric alternative to all of their gasoline models, likely making a complete transition as an EV-only platform altogether.
Drivers Auto Mart
While New York has a long way to go before the sale of vehicles goes fully electric, Driver's Auto Mart is packed with EVs, plug-ins, and hybrids from various manufacturers, such as Volkswagen and Toyota. Simply sift through our online pre-owned inventory until you find something you like. Once you see a car that piques your interest, chat with one of our representatives for further assistance.
Photo Source/Copyright: Shutterstock via photographer Luciano Mortula – LGM