SUVs or Minivans: Which One Suits Your Lifestyle?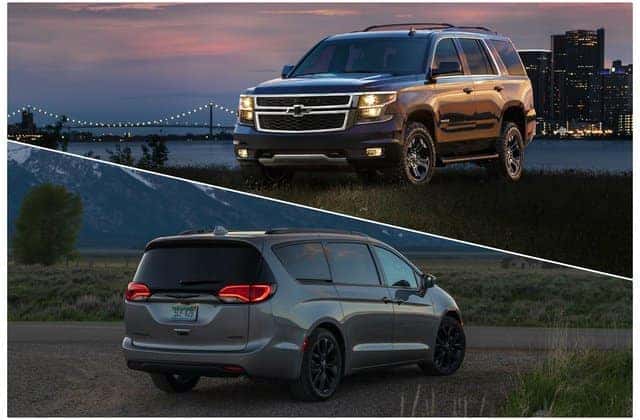 Minivans and SUVs are two of the most useful types of vehicles in the automotive market. Their ability to accommodate a large crowd of passengers and cargo are the reasons why those with families or are simply frequent travelers prefer them. There are pros and cons with both of these vehicles, specifically in regards to cost, design, features, and overall capability. Ultimately, when deciphering between getting a minivan and an SUV, it comes down to a particular preference on their similarities and differences. Let's explore a bit more about just what those are.
Advantages Of Minivans
Minivans can be incredibly convenient for those who frequently have to haul a lot of people or cargo. The third row has easy access and when it's not in use, one can fold down the seats for additional storage space. These types of cars usually have sliding center doors that can be controlled by either a button on the driver's key or from their seat, they can close the door for everyone once all of their passengers are in. Additionally, in the back of these vehicles, there are deep cargo pits, providing about an extra 10 cubic feet of storage. 
A common recommendation for minivan lovers is Chrysler Pacifica, this vehicle has the most standard safety features in the industry, so you'll definitely get the most bang for your buck. On top of this, it has a plug-in EV/hybrid version, which saves a lot of fuel.
Another suggestion is the Honda Odyssey, which has a middle seat in the center row that comes out in order to create captains chairs when needed. Also, the Toyota Sienna is considered a fan favorite since it has a superb combination of features and is the only minivan that has AWD (until the 2021 Pacifica is released), as well as reclining seats with footrests.
Advantages Of SUV
One big advantage that the SUVs often have is their ability to combat difficult terrain and weather conditions, and thanks to their AWD drive, there is no need to fear about sliding off an icy road. Also, these compacts usually have a much higher ground clearance compared to minivans, which further enhances its off-road capabilities. 
Some suggestions for an all-capable SUV include the best-selling Ford Explorer, the spacey Honda Pilot, the Chevy Tahoe with their advanced motors, and the all-around enjoyable Nissan Pathfinder. All of these models have a third row and great storagee. Moreover, the Tahoe allows buyers to pick between AWD, 2WD, or 4WD, increasing fuel economy while also providing capability at crucial moments. 
Another advantage of SUVs is its impressive towing abilities. While the high maximum towing capacity of most minivans are about 3,600 pounds, a large Expedition or Suburban significantly outranks these figures with about 8,000 to 9,000 pounds. Shoppers that are looking for a vehicle that can tow a large trailer or boat would certainly prefer an SUV. 
Similarities
SUVs and minivans are known for offering a plethora of tech features, especially entertainment options like built-in Wifi and Bluetooth. Another perk to these amenities is that rear-seat passengers have access to additional apps like navigation, so drivers won't have to hear the annoying "Are we there yet?" question. They can also enjoy games or movies on these apps.
Another comparison is the vast amount of interior space and great comfort. However, minivans are known to be a bit more comforting than SUVs, meanwhile, SUVs have a reputation for being far more luxurious on both the inside and outside.
Driver's Auto Mart
Finally, the last comparison between SUVs and minivans is that they are usually both reasonable with their fuel economy and overall pricing. Speaking of which, Driver's Auto Mart carries a wide range of these types of vehicles and from many different brands. Whether one wants a Chevy Tahoe or Dodge Caravan, our dealership has it all and for incredibly affordable prices.
Those who are interested in any of our models can simply view our online pre-owned inventory and chat with a representative for further assistance.
Photo Source/Copyright: cars.usnews