The 2016 Tesla Model X Is Driver's Auto Mart's Used Car of The Week!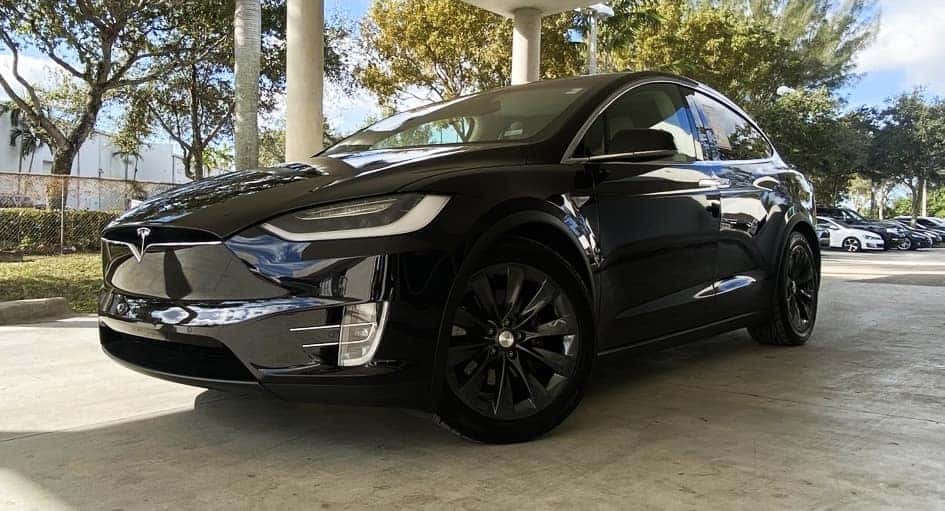 The 2016 Tesla Model X mid-sized electric crossover first wowed us during its debut with its incredible emissions-free driving abilities, semi-autonomous skills, and overall mighty powertrain. The car's supercar-like proficiencies are exactly why it's been chosen as our Used Car of The Week!
Engine and Drive
Each and every 2016 Model X SUV is powered by two AC electric motors and a lithium-ion battery pack, with the choice of selecting the 75-kWh, 90-kWh, or 100-kWh.  The base 75-kWh horsepower has a  sturdy 328 horsepower with 387 lb-ft of torque, then it only gets better from there with the 90-kWh upgrading to 417 horsepower and the 100-kWh maxing it out with 532 horsepower and 713 lb-ft of torque. All models are paired with a single-speed transmission and have all-wheel-drive as a standard. 
According to the automaker, using a standard 240v 48-amp wall connector to charge will take about eight hours. However, one can decrease this number to five hours by using a 72-amp wall connector, then only one hour using the company's Superchargers.
Driving any of these models will provide a ride that is comfortable and highly energetic. The steering has a weightless feel to it and the SUV is surprisingly light on its feet. The ride quality is an understatement, and especially with the silent thrust that one can only get from an electric motor. Of course, the high-tier 100D model will be enticing to purchase for its top-notch performance, but the base trim still will leave buyers feeling more than satisfied.
Exterior
A first glance, it may be easy to confuse the 2016 Model X with that year's Model S sedan. The sleek and low raising crossover has a refined and sloped appearance, with voguish design elements that add to its futuristic manner. This model year pioneers the front shape for its successors with its horizontal V-shape outline at the nose. The winged doors then provide the highlight of the outer body, as this falcon-like feature is something unique and distinctive, even still in 2021.
Interior and Standard Features
Inhouse, the SUV also shares some design elements from the Model S sedan, such as a less emphasis and buttons controls and more on digital ones, specifically found on the large touchscreen in the center of the dashboard. The quality reaches from the technology to the materials all throughout the cabin, seemingly of a high-grade. It has a standard of five seats. Additionally, rear seats don't fold flat, but simply slide up and push against the front seats.
As far as the comforts are concerned, it doesn't matter much which trim you opt for, because Tesla is generous in each and every one. Standard goodies include all-wheel drive, navigation with real-time traffic, free charging on Tesla's Supercharger network, LED headlights, power-folding, heated outside mirrors, keyless entry, power Falcon Wing rear doors and a power rear liftgate.
Driver's Auto Mart
The 2016 Tesla Model X SUV is incredibly modern and still outranks other new cars in its segments for its incredible quality and overall efficiency. This Used Car of The Week is selling for about $51,000 at Driver's Auto Mart with many premium options available like adaptive cruise control, heated/cooled seats, navigation system and much more!
Those who are interested in any of our vehicles can simply view our online pre-owned inventory and chat with a representative for further assistance.
Photo Source/Copyright: Driver's Auto Mart