The 2017 Audi A3 Is Driver's Auto Mart's Used Car of The Week!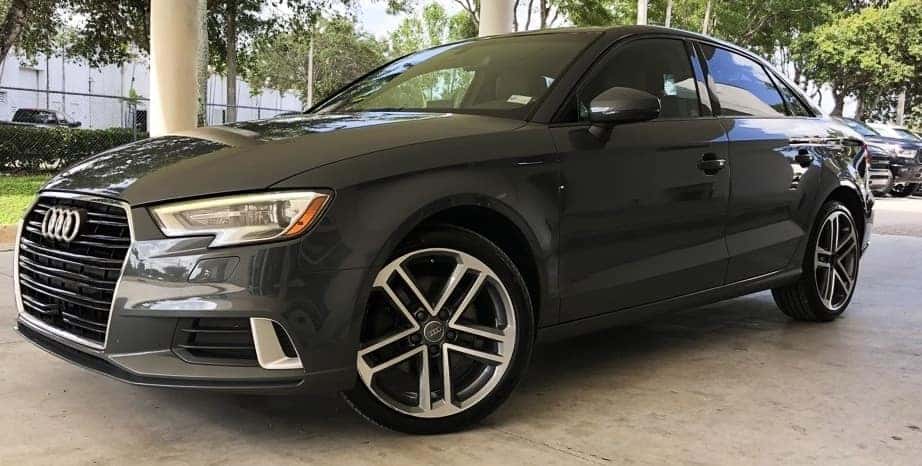 The 2017 Audi A3 are for fans of the brand who are on a budget. This subcompact has many enticing qualities such as its highlighting Band and Olufsen audio system, and its Adaptive Cruise Control system with stop-and-go. There are also various powertrain options to choose from, with one even involving an electric motor. This car guarantees any buyer that they'll get their money's worth, which is exactly why it's been chosen as Driver's Auto Mart's Used Car of The Week!
Engine and Drive
There are four engine options to work with the 2017 Audi car. The first is a front-wheel-drive (FWD) 2.0-liter turbocharger with 4-cylinders. This engine has an output of 186 horsepower with 221 lb-ft of torque, it also comes with a dual-clutch 7-speed automatic. Next, is the 2.0-liter's all-wheel-drive (AWD) model, which upgrades its output to 220  horsepower and 258 lb-ft of torque. This powertrain uses a 6-speed dual-clutch automatic.
Third on the list is another 2.0-liter, but this one is exclusive to the S3 trim, and that's because it's heavily augmented with 292 horsepower with 280 lb-ft of torque. This car sends its power to all four wheels, and along with the higher A3, requires premium fuel. 
The last engine is a 1.4-liter turbo that's paired with an electric motor for the Sportback e-tron model. It almost has the least amount of pep with 204 horsepower and 258 lb-ft of torque, but it's still better than the base-level FWD.
The standard entry-level Audi offers a respectable performance, while the S3 puts a bit more athleticism into its ride. The Cabriolet model acts like a traditional roadster with its open-air concept, while the Sportback e-tron plug-in has the best economy of the bunch with 37 mpg for the highway. Overall, the ride is smooth and controlled, with a quiet cabin at sporty speeds. 
Exterior
This 2017 Audi is still hot and happening in 2021, as its standard bi-xenon headlights, large sunroof and 17-inch aluminum-alloy wheels make the car look nothing short of expensive. The larger 18- and 19-inch wheel-and-tire advancements help to really spruce things up, while the S3's stand out with their sporty aesthetics. Trunk space amounts to 12.3 cubic-feet, while AWD's are further diminished to 10 cubes. Obviously, convertible models will offer two doors, and a fresher exterior when their power soft-tops are lowered.
Interior and Standard Features
Audi always outdoes itself with its interior, and this A3 car is no different. It does a superb job on the materials, pristine fit and finish all throughout. It has a clean look and fierce look, with old school audio and climate controls. It also has a 7-inch audio/MMI infotainment system for the driver to enjoy.
Standard features on all trims encompass a rearview camera and rear-parking sensors, along with heated mirrors and windshield-washer nozzles. Other features include leather seats, a panoramic sunroof, bi-xenon headlights, dual-zone automatic climate control, 12-way-power driver's seat with power lumbar, LED tail lights, Bluetooth with audio streaming, 10-speaker audio with single CD player, automatic windshield wipers and headlights sensors, along with the MMI system. The more advanced S3 not only gives you more power and AWD, but a flat-bottom steering wheel, and a sport-tuned suspension. Another feature on the S3 is a Bang and Olufsen audio system, which has 705 watts going through 14 speakers. It's considered a must-have through and through.
Driver's Auto Mart
The 2017 Audi A3 wows us with its stellar powertrain options, advanced comfort features, and progressive style. This Used Car of the Week also rocks premium options, such as exterior parking camera rear, Bluetooth, front fog lights, remote keyless entry, leather seating surfaces, power driver seat, push-button start, rain-sensing wipers, power moonroof, and high-intensity discharge headlights (Xenon Plus).
Driver's Auto Mart is selling the Premium A3 with 2.0-liter 6-speed automatic, all for around $20,000. Those who are interested in this vehicle or any of our other models can simply view our online pre-owned inventory and chat with a representative for further assistance.
Photo Source/Copyright: Driver's Auto Mart