The 2017 FIAT 500L Is Driver's Auto Mart Used Car of The Week!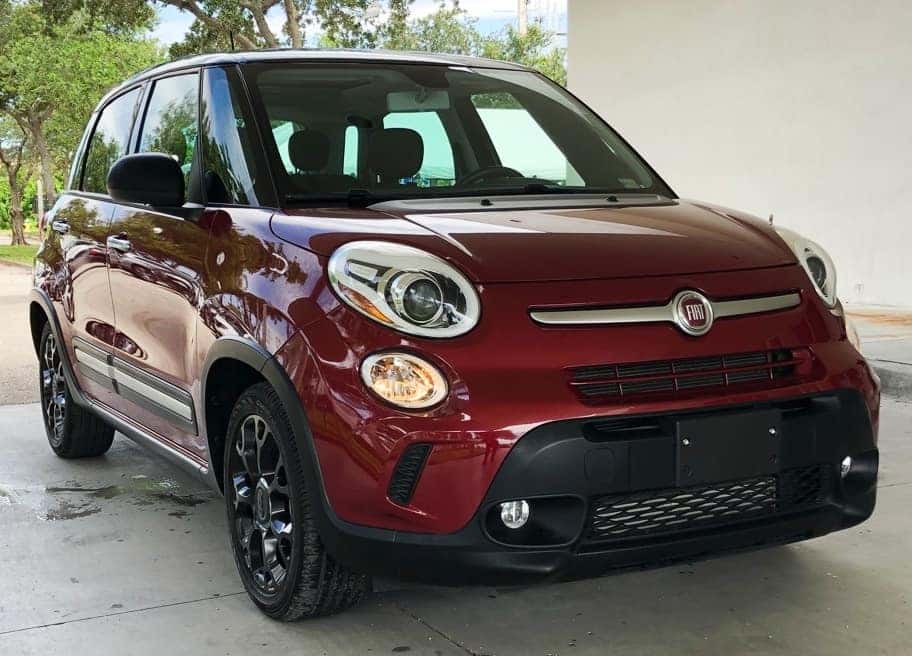 The FIAT (now Fiat Chrysler) company is known for being the largest Italian automobile company for over a century and still remains so, especially with its classic miniature compacts. One FIAT model worth look at is the 2017 FIAT 500L. Despite its small size, it still has an interior that is quite roomy and has much usefulness, as well as ease of handling. Above all, the 500L's impressive fuel economy and incredibly low price are exactly what makes this compact the perfect candidate for Driver's Auto Mart's Used Car of The Week!
Engine and Drive
On all trims, the 2017 Fiat 500L models are powered by the small but effective 1.4-liter turbocharged 4-cylinder engine with front-wheel-drive, it also comes with a standard 6-speed automatic transmission. This engine can make use of 87-octane gasoline, but its recommended to use premium 91-grade.
Driver's will quickly find that the tiny Fiat car has quite a bit of pep in its step as they cruise along the highway. It also has excellent gas mileage, more specifically 22 for the city and 30 for the highway. 
The car certainly proves that looks can be quite deceiving, as the 500L is more than capable of carrying plenty of items, like groceries, especially when the rear seats are down. This vehicle is mainly ideal for singles or perhaps couples since this vehicle isn't as accommodating as an SUV might be for those with children.
Exterior
The 500L comes as a four-door and 5 passenger seater. Its taller side-view and shapely back-end already make its usefulness obvious than the perhaps uncomfortable 500 model. The large and gentle "headlight eyes" can make anyone melt from its sheer charm. 
As always, the signature "floating" roof and winged grille FIAT logo add to the car's distinctiveness. For a slightly more intense type of look, the Trekking trim has a tougher appearance due to its brawnier front design and larger 17-inch wheels, which also includes matte-black accents with the Urbana Appearance Package.
Interior and Features
As previously mentioned, the 2017 500L is more practical than the 500, since it can carry 5 passengers as opposed to just two. The FIAT MPV 3-rear bench is more than adequate for fully-grown adults and also has quite a bit of legroom to work with in that area. In terms of adaptability, the rear seats can recline, slide, and flip forward for extra cargo. Additionally, there's no need to worry about bumping your head onto the ceiling, even for taller passengers. 
There is also much visibility to work with, especially due to the front pillar split glass and windows that wrap around the rear.
All three trims (Pop, Trekking and Lounge) come with impressive standard features like 6-inch alloy wheels, tilt/telescoping steering column, cruise control, and basic Uconnect telematics system with 5-inch touch screen, Bluetooth streaming audio, text-message reader, and a 6-speaker AM/FM/CD player with USB/auxiliary inputs on the Pop. Then 17-inch wheels and a 2-tone interior, heated front seats, leather seating and BeatsAudio system on the Trekking trim while the top-dog Lounge models include 17-inch wheels, chrome mirror caps, a 115-volt outlet, rearview camera and rear parking sensors.
Driver's Auto Mart
The 2017 FIAT 500L is perfect for drivers who are looking for overall adaptability and practicality in their vehicle, it also provides more than enough space, cargo space, and provides a spectacular fuel economy. Lucky for you, Driver's Auto Mart is currently selling the 2017 500L Trekking model for an incredibly low price of around$14,000.
Photo Source/Copyright: Driver's Auto Mart