The 2017 Maserati Ghibli S Q4 Is Driver's Auto Mart's Used Car Of The Week!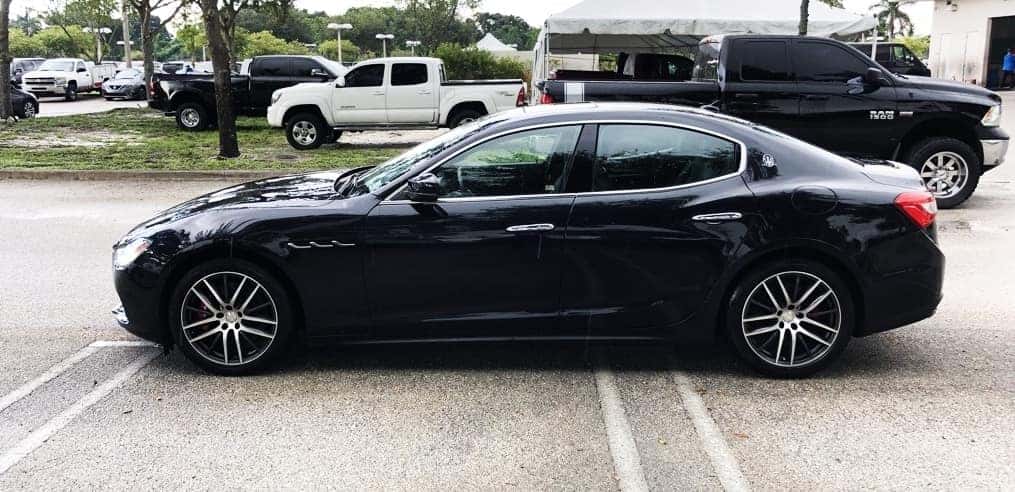 The 2017 Maserati Ghibli sporty sedan provides that delightful allure that can only be given from the Italian luxury automaker. Simply put, this car is the epitome of style and class, but with a little bit of sass. The mighty and powerful 3.0-liter powertrain options are perfect for making a nice and clean getaway in little to no time at all. Thanks to Driver's Auto Mart, this vehicle doesn't have to stay exclusive to the rich, because our dealership is currently selling the Ghibli S Q4 model for just around $37,000. Not to mention, it's also our Used Car of The Week!
Engine and Drive
There are two engine options used for the 2017 Ghibli sedan, both using the 3.0-liter twin-turbo V6, but in slightly different makings. The base Ghibli and S model take advantage of the first V6, which already gives out a power-hungry 345 horsepower with 369 lb-ft of torque. Then in the AWD Q4, the second V6 pushes out 404 horsepower with 406 lb-ft of torque. Both engines are paired with an 8-speed automatic transmission, as well as paddle shifts and multiple shift modes, ensuring buyers get the peak performance.
It doesn't matter much which engine that the buyer selects because either choice will "will ensure a ride that is quick, and handling that is nothing short of sensational. Drivers and passengers might be surprised just how quiet it actually is on the inside, which likely due to the soundproof dual-pane glass. The only time it may get a little noisy is when the Sport button is activated. 
Exterior
The Maserati's hot body already becomes a winner in our book due to its great shape, and this design can be further enhanced by the various ways of being able to customize the vehicle. There are over about thirteen color selections to choose from, as well as selections regarding the brake calipers, steering wheel, and tires. The front of the car also displays the traditional brand logo on its grille, barring some comparableness to the larger Maserati Quattroporte. 
Interior and Features
The inside of the cabin is decked out with attractively designed leather seats and other detailing. These seats are well-padded, providing much comfort for all occupants. The front seats are the easiest to get settled into, as they have good lumbar support. There's also plenty of room for passengers of all shapes and sizes, so one shouldn't worry about it being too snug.
As one should expect, the Ghibli is filled with high-end features, both standard and optional. Standard features to look forward to include a power sunroof, Italian-leather upholstery, heated and 8-way-power front seats, navigation, dual-zone climate control, keyless entry, Start & Stop, Blind Spot and Cross Path alert, power trunk lid w/free hands functioning. A highlighting entertainment feature is the Android Auto and Apple CarPlay that couples up with an 8.4-inch touch-screen infotainment system supported by a powerful Harman Kardon audio system.
The optional Sport Package tacks on 20-inch alloy wheels, red brake calipers, Skyhook Adaptive Suspension, 12-way-power sport seats, and a sport steering wheel. The Luxury Package includes 19-inch alloy wheels, black brake calipers, Zegna Edition Silk, and 12-way-power comfort seats. Also available is the Bowers and Wilkins Premium Surround system, which includes Clari-Fi, giving the system the ability to scan digital music and bring back details that may have been lost from digital compression.
Driver's Auto Mart
Any buyer of the 2017 Maserati Ghibli will find that it's an absolute joy to ride, mainly due to its highly efficient powertrains, superior styling options, advanced technological features, and all for a wallet savvy price. Those who are interested in our Used Car Of The Week can simply view our online pre-owned car inventory and chat with a representative for further assistance.
Photo Source/Copyright: Driver's Auto Mart