The 2018 FIAT 500e Is Driver's Auto Mart's Used Car Of The Week!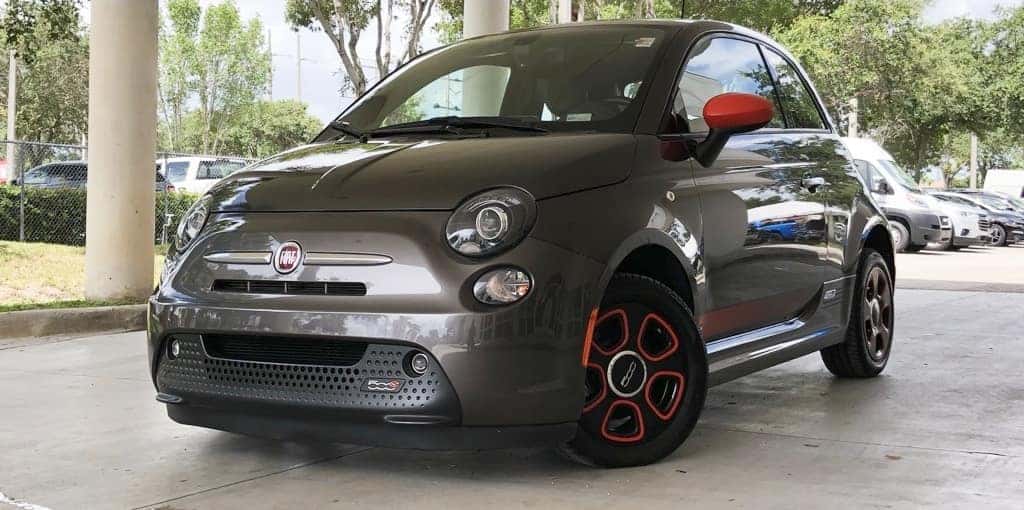 Although the rise of SUVs continues to prosper, while the favoritism of sedans, small cars, and coupes seem to diminish, one shouldn't be so quick to rule out their benefits. With the FIAT 500 drivers get to enjoy affordable pricing, ease of with parking, and inexpensive maintenance. It also includes plenty of exciting features such as its smart convertible top and a dynamic turbocharged engine. It's affordable price and overall convenient characteristics are exactly why the 2018 FIAT 500e is Driver's Auto Mart's Used Car of The Week!
Engine and Drive
The 2018 FIAT 500 has three engine options. The first one is the standard 1.4-liter turbocharged 4-cylinder engine, which makes use of the brand's MultiAir system. This technology alternates intake-valve timing and lift. The base engine has two power levels, which are Pop and Lounge; They both use 135 horsepower (150 lb-ft).
The second Abarth engine option is essentially the same as the base except that it boosts 160 horsepower and has more torque (170 lb-ft). The third engine option is the electric 500e, which musters up 111 horsepower (147 lb-ft of torque). A single-speed automatic is used for this engine, while either a 5-speed manual or 6-speed automatic is used for other engines.
The horsepower on all three engines provides a delightful ride in the lightweight vehicle. The 500 is great for making its way around the 15 miles per hour grannies during rush hour traffic, as well as other obstacles when passing. The car's small size is also very suitable when driving in cities and makes parking a breeze. The steering proves to be highly accurate and quick, it also stays pretty sturdy while still keeping the ride comfortable. The 6-speed automatic is likely the best choice when tackling heavy traffic, but for those who insist on a faster ride with the Abarth, it's recommended to pair up with the manual. Of course for the eco-activists, they should find joy with the 500e, as it will get you up to 87 miles on a single charge.
Exterior
The 2018 FIAT 500 looks like a modern version of its original 1957 model but has a bit more space. The two-door vehicle keeps its famous sloping shape on both the front and rear. Buyers have the option to purchase a 4-door model, which would make life much easier for driving family and friends around. One can also choose between a coupe or convertible form of the vehicle, although the 500e is only available as a coupe.
Exterior details regarding wheels, fascias, and particular body trims will vary between the models. For example, the Pop Cabrio Sport package brings on 16-inch hyper-black allow wheels and black-trimmed lights.
Interior and Features
Inside of FIAT's cabin, some will be surprised how spacious the front seats are. Similar to the exterior, the design has an unconventional but stylish look to it. Additionally, the materials and overall build of the seats are pretty comfortable. The exhilarating Abarth presents an optional tone leather-trimmed seats, you can also select between either white or red body-side stripes.
The base 500 Pop comes with a leather-wrapped steering wheel, 16-inch aluminum wheels, a 5-speed manual transmission, air conditioning, cruise control plus power windows, power locks, and power heated side mirrors. Bluetooth, a rearview monitor is also included, as well as a 6-speaker 5-inch touch-screen audio system with a USB port for portable music players.
The Abarth trim includes a 276-watt Alpine audio system, 16-inch hyper-black wheels, sport-tuned suspension and a leather-wrapped dashboard. Seven airbags and hill-start assist are among the standard safety features.
Where To Purchase The 2018 FIAT 500e
Driver's Auto Mart's Used Car of The Week ideal for those who often travel light and without a lot of companions. It's also well within a reasonable price range of under $13,000, especially with its eco-friendly engine. Those who are interested in this miniature wonder can simply view our online pre-owned car inventory and chat with a representative virtually for further assistance.
Photo Source/Copyright: Driver's Auto Mart