The 2018 Jeep Renegade Sport Is Driver's Auto Mart's Used Car of The Week!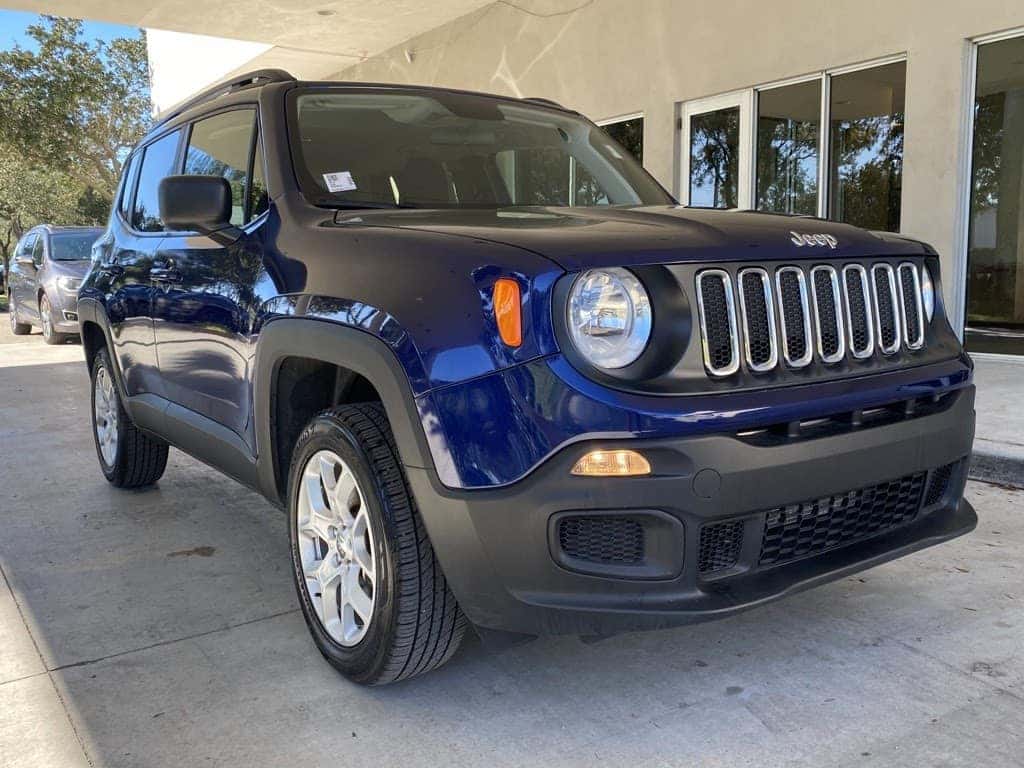 The 2018 Jeep Renegade subcompact is the perfect vehicle for those who are looking for an affordable SUV. This miniature crossover is certainly an adventure seeker, while it's great for a quick trip to the grocery store, it still likes to get down and dirty in different weather conditions as well as terrain. It only gets better from there with the automaker's 4WD system, as the car becomes equipped in a variety of different conditions. Driver's Auto Mart is selling a Sport 4WD model for just under $15,000, with a steal like that, it's no wonder why it's been chosen as our Used Car of The Week!
Engine and Drive
The 2018 Renegade has two engine options, the first is the 1.4-liter turbocharged 4-cylinder, it musters up a respectable 160 horsepower with 184 lb-ft of torque. You'll find this particular model on the Sport and Latitude trims. Meanwhile, the more advanced 2.4-liter engine is optional and comes standard on Limited and Trailhawk models. The larger engine musters up 180 horsepower and 175 lb-ft of torque. 
The 1.4-liter comes solely with a 6-speed manual transmission, while the 2.4 uses a 9-speed automatic. Either way, fuel economy is almost identical. Overall, many buyers will prefer the 2.4-liter, due to its horsepower, 9-speed automatic, and the performance that comes with those elements. Acceleration and handling are quite strong and its maneuverability and handling help gain the SUV serious brownie points.
Exterior
The Renegade keeps its classic elements that you're familiar with such as its round headlights, seven-slotted vertical grille, and rugged but stylish design. The short overhangs are also another favored characteristic due to its ability to aid in rock climbing. Those who really follow the company and its history may see it as a combination of the Wrangler and the Grand Cherokee. However, the SUV has some unique elements of its own with its modern black trim and curvy design. 
Interior and Standard Features
Inhouse, comfort is made a priority for five passengers first by proving good legroom. Then, it's a party in the back with 18.5 cubic feet of cargo space behind the rear seats, which only increases to over 50 cubic feet when the rear seats are flooded. Nearly all models even allow front-passenger seats to fold and take in longer items. 
Each of the four trims (Sport, Latitude, Limited, and Trailhawk) has something to offer. Starting off, the base Sport model has basic features such as AM/FM radio with USB input, 6-way-adjustable driver's seat, a rearview camera, power windows and door locks, and 16-inch wheels. Those who upgrade to the Latitude can enjoy features like a 7-inch Uconnect touch-screen infotainment system and fog lights. Technologies or other additives on higher trim levels aren't standard but can still be a fun complement.
Driver's Auto Mart
The 2018 Jeep Renegade is the perfect affordable compact SUV that can easily cut corners both on and off the main road. It has plenty of exciting features performance-wise and for the interior. Best of all, it costs next to nothing at just under $15,000 at Driver's Auto Mart. This car also has premium options such as a rear back-up camera, Bluetooth, remote keyless entry, and much more.
Those who are interested in buying this Used Car of The Week or any of our other used cars can simply view our online pre-owned inventory and chat with a representative for further assistance.
Photo Source: Driver's Auto Mart