The 2018 Mitsubishi Outlander ES Is Driver's Auto Mart's Used Car Of The Week!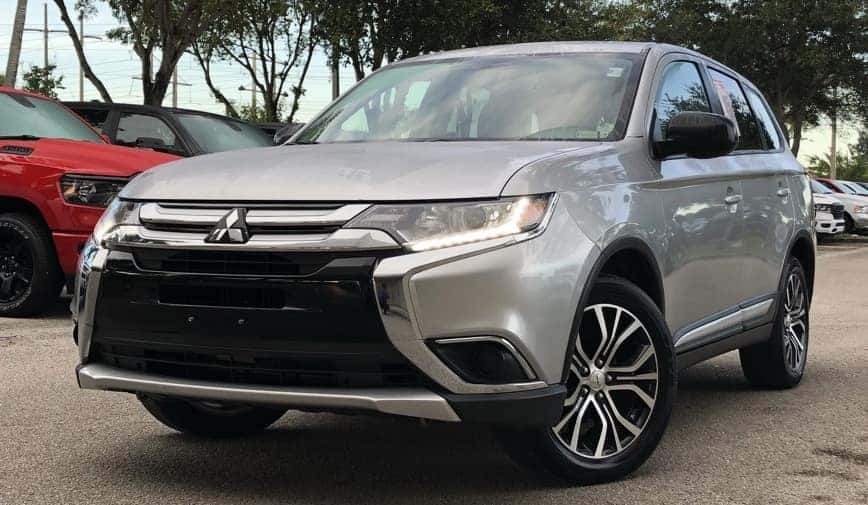 Since what feels like the beginning of time, the Mitsubishi Company has more than earned its reputation for being one of the top manufacturers when it comes to dependability and overall security. The 2018 Mitsubishi Outlander in particular was honored as the Top Safety Pick and also earned a high safety rating from the Insurance Insurance Institute of Highway Safety. This car also comes with a top-rate warranty and an extensive list of features for safety and infotainment. The MSRP for this model is around $25,000, but Driver's Auto Mart gives you a steal of around $15,000 for their Used Car of The Week!
Engine and Drive
Excluding the Outlander GT, all trims of the 2018 model make use of a 2.4-liter 4-cylinder engine, it pushes out 166 horsepower with 162 lb-ft of torque and also comes in either front (FWD) or all-wheel-drive (AWD). The base ES model is paired with a standard AWD system while its much cooler siblings sport Mitsubishi's Super-All Wheel Control (S-AWC) setup. The 2.4-liter engine uses regular-grade gasoline while the GT's 3.0-liter V6 engine uses a more pricey premium gasoline which helps to power this bad boy with 224 horsepower and 215 lb-ft of torque. Every Outlander has an automatic transmission as its friend and comes in either as either a CVT in 4-cylinder kind or 6-speed automatic when used with the V6. 
The overall ride is stable, quiet, and even a bit cozy. However, for those who are looking for a better kick will be much happier with the Outlander GT model. Besides, the highest trims will always have the best and the most features, so it's hard to beat.
Exterior
The overall look of the 2018 Outlander is simple, clean, and attractive. Although this SUV is big and hefty enough, its doesn't try to come off as intimidating, though it might if you dare call it a minivan. It rocks features like the electric windshield wiper de-icer that aids in preventing ice and snow from heaping up on the window, as well as power-folding side mirrors and standard 18-inch wheels.
Interior and Features
All trims of the 2018 Mitsubishi Outlander accommodate seven passengers as a standard. One should have no trouble finding comfort in this cabin. The materials are appealing to the eye, and similar to its outer shell, the look is clean and simple. Controls are user-friendly and the bamboo-like accents helps to provide an upscale type of vibe, as well as the black-gloss finish found on the center console.
As expected with most buyers of an SUV, space is a must-have, and the Japanese works well in accommodating this request. The second-row seats can flip and fold with ease, this can either make for a more seamless entrance for passengers to the third row or over 63 cubic-feet of cargo space. 
Standard features on base ES models include a 7-inch touch screen, rearview camera, dual-zone automatic climate control, keyless entry, Bluetooth, heated side mirrors and 18-inch alloy wheels. One might appreciate the SE trim a bit more, as it comes with Apple CarPlay and Android Auto smartphone integration, dual USB ports, heated front seats and push-button start. Another suggestion is the LE model, which has a sunroof and safety features like blind-spot monitoring with rear cross-traffic alert.
The SEL has pretty similar features to the LE model like its price, but it also includes an 8-way power driver's seat, leather interior, power tailgate and auto-dimming rearview mirror, however, it does lack the LE's sunroof.
Finally, the GT model sports a better and faster engine, and also includes a Rockford Fosgate audio system, auto on-off headlights, power-folding mirrors, rain-sensing wipers and paddle shifters.
Driver's Auto Mart
Our Used Car of The Week has a wide range of features, a handsome and clean design, as well as a sportier GT engine option which helps make the 2018 Outlander a great vehicle, but nothing can ever compare to its top safety rating and 10-year/100,000-mile powertrain warranty. Best of all, our dealership is selling the Pre-Owned 2018 Mitsubishi Outlander ES for only about $15,000 and as a 4WD! If that's not an absolute bargain, then I don't know what is.
If you are interested in purchasing this vehicle, simply view our pre-owned inventory and chat with an online representative for further assistance.
Photo Source/Copyright: Driver's Auto Mart