The 2018 Subaru WRX Base AWD Is Driver's Auto Mart's Used Car Of The Week!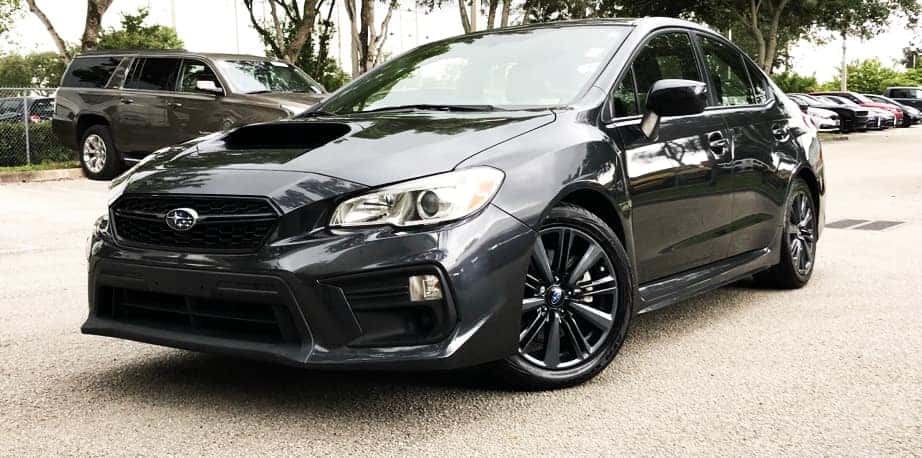 The 2018 Subaru WRX sporty sedan is quite a steal with its high-functioning engines, all-wheel-drive and top-notch driver-assist technologies. This model has two options to choose from, which is the base WRX that powers up to an already impressive 268 hp and the WRX STI, that powers up to an even more impressive 305 hp. Both of these trims provide an energetic and even an animalistic feel. This sedan also has modern and trendy styling, enhanced handling, and a high level of safety and comfort. Driver's Auto Mart is selling the Base AWD model for only about $25,000 and that's exactly why we've chosen this model as our Used Car of The Week!
Engine and Drive
Believe it or not, the hood scoop isn't just there for its looks, it actually provides functionality by supplying air to the intercooler. This chills out the intake charge before it accesses the WRX's fully-aluminum 4-cylinder engine, thereby adding horsepower. The car's STI engine expands to 2.5 liters and the same as its output, bringing its horsepower from 268 from the 2.0-liter engine to 305 with the 2.5-liter engine. Both models are supported by a 6-speed manual transmission and all-wheel-drive, however, the CVT automatic transmission is only accessible on the WRX Limited trim. 
The loudmouth turbocharged 4-cylinder makes its presence known to your jealous neighbors from just a few blocks away. With the mighty 2.0-liter version, the aid of the standard 6-speed manual can accelerate the car from 60 mph under 6.0 seconds. Then, with the added power of the STI's 2.5-liter engine, you'll quickly jerk from 0-60 mph in just about 4.7 seconds. Despite all the noise from the big talker, the thick side glass will help keep all of the noise at bay. On top of this, both cars are unexpectedly comfortable and ideal for your daily commute, and of course, just plain fun!
Exterior
For the 2018 WRX, it has a large horizontal lower grille that provides a great balance to the smaller upper grille as well as the hood scoop. Both the base and STI model come with flared fenders, a defused rear bumper and four large exhaust pipes, but the high-tier Subaru is the only one that gets 19-inch wheels and with a large rear spoiler, which the automaker claims to help with downforce and stability. The STI also is gifted with Brembo brakes joined by cross-drilled rotors and calipers coated in yellow.
Interior and Features
The interior of the WRX uses insulation and a has made the side glass on the thicker side in order to keep the noise afar. The available heated Recaro sports seats are responsible for making wheel hoggers quite comfortable and also has a great hold on drivers as they cut corners. Moreover, visibility is more than ideal and high enough to look over the WRX's large hood scoop. This car seats five people and also includes a standard tilt-and-telescopic steering wheel.
Other than all-wheel-drive, this 2018 sedan includes features like automatic climate control, cloth upholstery, a leather-wrapped flat-bottom steering wheel, a rearview camera, Bluetooth, a 6.2-inch touch screen, a second 5.9-inch information screen, and 17-inch wheels and tires. The STI comes with significantly more amenities such as dual-zone climate controls, heated front seats, red seat belts, LED steering-responsive headlights, auto on/off headlights, and a more comprehensive infotainment system with a 7.0-inch touch screen. 
Driver's Auto Mart
The 2018 Subaru WRX is a match made in heaven for you and your mid-life crisis. Best of all, its incredibly low price almost guarantees that you won't break the bank. Its incredibly extensive standard features and dynamic engine performances make it clear that anyone who drives this bad boy is getting much bang for their buck. Driver's Auto Mart is selling the 2018 WRX Base model for nearly $25,000. Those who are interested in this model can simply view online pre-owned inventory and chat with a representative for further assistance.
Photo Source/Copyright: Driver's Auto Mart