The 2019 Hyundai Sonata Is Driver's Auto Mart Used Car Of The Week!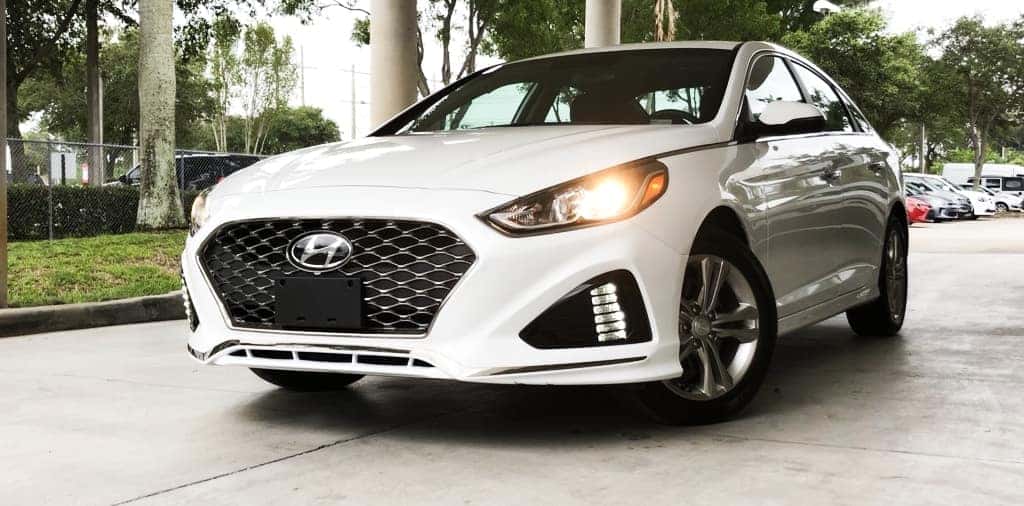 The Hyundai Sonata is one of the company's most popular models to date, one of the main reasons being that it provides a trendy style at an affordable price. Those who opt to purchase the Sonata will be awarded four engine options, including the Hybrid version. Drivers will also get a lot of bang for their buck with a wide variety of features, a highlighting attraction being the tech package that is included in the Limited trim. The icing on the cake, of course, is Sonata's guaranteed 10-year powertrain warranty, which is exactly why the 2019 Hyundai Sonata is Driver's Auto Mart Used Car Of The Week!
Engine and Drive
The 2019 Hyundai Sonata provides shoppers with five different drivetrains to choose from, each making use of four cylinders. The standard 2.4-liter inline-4 engine provides a decent fuel economy with a nice easy drive of 185 horsepower with 178 lb-ft of torque. The Sport 2.0T and Limited 2.0T version comes with a bit more kick as they push 245 horsepower with 260 lb-ft of torque from its 2.0-liter turbocharged engine, they also include an 8-speed automatic transmission. The Eco-friendly Sonata decreases its horsepower to 178 but has better torque than the standard 2.4-liter with 195 lb-ft, it also comes with a standard 7-speed dual-clutch automatic.
Lastly, the Sonata Hybrid and Sonata Plug-in are both powered by a 2.0-liter gasoline engine bettered by a battery-operated electric motor. The plug-in version will get drivers up to 27 miles of electric-only range and are gifted with a 6-speed automatic transmission.
Overall, no matter the model, each and every 2019 Sonata provides a ride that is firm and great with handling, as well as comfortable. Starting from the base trim and going up, acceleration is more than satisfactory and the transmission on the 6-speed automatic on the Hybrid models are quite smooth as they shift.
Exterior
The grille on the 2019 Sonata makes for a great dominant feature. The body is well-defined and precise. The LED running lights are attractive and all the more memorizing when seen at night. Sports models are made with a more distinctive grille and front fascia, as well as dual-exhaust tips. The Sonata Limited comes with a standard panoramic sunroof.
Additionally, this Hyundai includes a little magic trick involving their logo; otherwise dubbed the "Smart Trunk". Simply press on the spot that is located below the logo's ring and above the "H" in order to open the trunk. Pretty cool huh?
Interior and Features
The Sonata's interior has a look that is simple and clean, with a standard black color. It comes with advanced controls and a touchscreen that has been raised in order to make it easier to reach. Buttons and knobs are placed strategically in wide horizontal rows, controls for the navigation and audio are placed just below the screen with the climate controls falling beneath. Although the Sonata's standard 3-spoke steering wheel has a charming look to it, the Sporty model takes it up a notch as they've flattened the bottom of the wheel and have also included cloth seats with leather blisters and contrast stitching.
Standard features on the base SE trim include cloth seats, a folding rear seat, a 7-inch touch screen, a 6-speaker audio system, Bluetooth and USB smartphone connectivity, a rearview camera, and Apple CarPlay and Android Auto compatibility. Tagging along the SEC and Sport models is a mesh grille, dual-zone climate control, a wireless phone charger, and a heated steering wheel. The top Limited trim includes all of our previous prizes alongside automatic emergency braking, lane-keep assist, and smart cruise. All trims consist of seven standard airbags, Sonatas boast air conditioning, power windows, heated side mirrors, blind-spot detection, and a tilt/telescope steering wheel.
As previously mentioned, a highlighting optional feature is Sonata's Tech Package, it includes automatic emergency braking, lane-keep assist, smart cruise control, an electronic parking brake, a wireless phone charger, automatic high-beam assist, a mesh grille, and a heated steering wheel.
Driver's Auto Mart
The MSRP for Hyundai Sonata is $24,300, (plus destination fee) but Driver's Auto Mart is selling our Used Car of The Week for an amazing price of about $17,000. Those who are interested in this model can view our online pre-owned car inventory and chat with an online representative for further assistance.
Photo Source/Copyright: Driver's Auto Mart