The 2019 Infiniti Q50 Is Driver's Auto Mart's Used Car of The Week!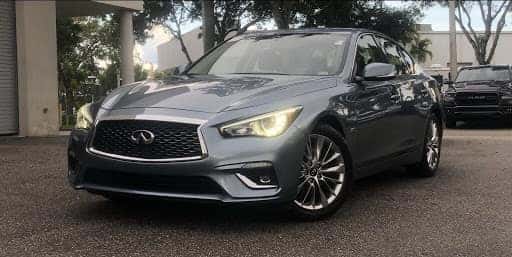 The 2019 Infiniti Q50 is one of the most affordable vehicles in its class of premium-compact, luxury-sports sedans and has a significant advantage over its the competition while in its 3.0t form. A lot of high-end cars have desirable features like advanced driver assistance, forward-collision mitigation with emergency braking and the Q50 certainly mirrors this, also offering Apple Car Play, Andriod Auto integration, and so much more. All of these reasons make the 2019 Infiniti Q50 the obvious choice for Driver's Auto Mart Used Car of The Week!
Engine and Drive
The 2019 Q50 comes in swinging with its dynamic turbocharged 2.0-liter 4-cylinder engine from the 2.0t Pure trim and 208 horsepower with 258 lb-ft of torque. A RWD is standard while an AWD is optional with the help of a 7-speed automatic transmission from the Sport mode and rev-matched downshifts. 
Top succeeding trims like the 3.0t Sport and the Red Sport 400 share a turbocharged 3.0-liter V6 engine, with the 3.0t pushing 300 horsepower (295 lb-ft of torque) and the highest trim driving in the fast lane with 400 (350 lb-ft of torque). These trims also have a 7-speed automatic transmission and have the AWD as an option. The 3.0t Luxe trim also has the same type of engine as the Sport and Red Sport 400 with 300 horsepower and 295 ft-lbs of torque.
As far as the drive goes, it doesn't take rocket science to know that the Red Sport 400 will give you the best driving experience but it might cost you an arm and a leg for roughly $60,000, (plus destination fee). The 3.0t (Luxe and Sport) still provides a strong and powerful ride with its 300 horsepower V6 engine, the ride is energetic but stable at the same time, and it has a much better price around $40,000.
Exterior
The best way to describe the 2019 Q50's exterior design is curves, curves, and more curves. All of the shapes, lines, and proportions are pleasing to the eye throughout. 
The Q50 comes with four standard options to choose from for exterior colors like Black Obsidian, Graphite Shadow, Liquid Platinum and Pure White. The 3.0t Luxe trim adds on Hagane Blue, Majestic White, Midnight Black, and Mocha Almond. The 3.0 Sport adds on Majestic White, Midnight Black and Iridium Blue. Finally, the Sport 400 adds on Iridium Blue and of course, Dynamic Sunstone Red.
Interior and Features
On the inside, the seats are so comfortable you'll practically want to sleep in it…but don't. A driver easily glides into his or her seat and fits like a glove. Rear-passengers have even more space than the driver. It also has an impressive performance-theme gauge cluster and a digitally refined dual-screen center stack.
As always, the Inifiniti is packed with plenty of advanced features like rain-sensing wipers, keyless entry/ignition, 8-way power-adjustable front seats, dual-zone automatic climate control, dual-display infotainment system with 8-inch and 7-inch touch screens, HD/satellite radio, and forward-collision mitigation. The 3.0t Luxe adds on 18-inch alloy wheels while the 3.0t Sport and Red Sport 400 add on a power moonroof and maple wood trim.
Driver's Auto Mart
Overall the 2019 Infiniti Q50 wins us over for its dynamic engine, giving you power for less money, as well as its high-end features. Luckily for you, affordable luxury is just a click away. Driver's Auto Mart has a 2019 Infiniti Q50 3.0t engine that produces up to 300 horsepower with 295 ft-lbs at 1500 rpm, and all for an incredibly low price at roughly $24,000, (plus destination fee). Visit our website and view our online used car inventory, then chat with an online representative for assistance.
Photo Source/Copyright: Driver's Auto Mart