The 2019 Kia Sorento Is Driver's Auto Mart's Used Car of The Week!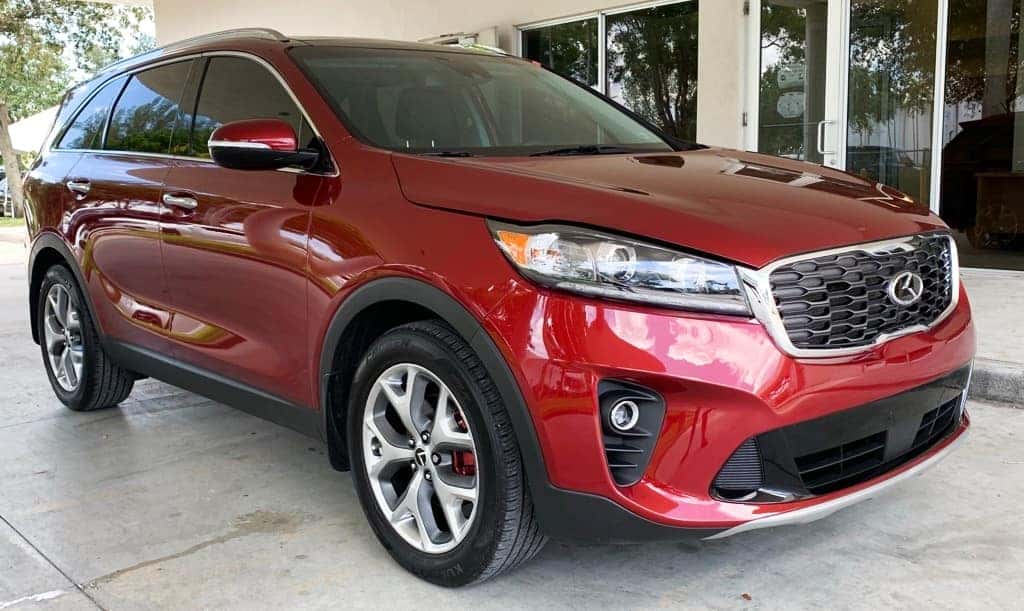 The brand known for giving its customers exceptional reliability and value came out swinging with its 2019 Sorento SUV. This mid-size crossover accommodates 7 passengers thanks to its third row, and also wows us with its highly efficient V6 engine, high-quality interior, and a slew of comfort features. With highlighting technologies like automatic emergency braking and Apple CarPlay/Android Auto integration, it's obvious why Driver's Auto Mart has chosen this vehicle as its Used Car of The Week!
Engine and Drive
This particular model year involves two engine options, the first being the 2.4-liter powertrain with 4 cylinders. It's also paired with a 6-speed automatic transmission, while more advanced trims have the far more impressive 3.3-liter V6 matched with an 8-speed automatic transmission, it also has an output of 290 horsepower and 252 lb-ft of torque. Regardless, any buyer can opt for all-wheel-drive (AWD) rather than front-wheel-drive (FWD)…except for drivers riding in the base L. This car also has a tow rating between 2,000 and 5,000 pounds, contingent on the engine and drive setup.
The Sorento L has just enough power to keep you satisfied, and while it doesn't offer the best horsepower, it has the best fuel economy; Specifically, 29 and 26 mpg's (FWD/AWD) for the highway fuel economy. However, if speed is in fact what you desire, then the V6 will treat you to a thrilling driving experience and is also more adept in acquiring smooth transitions.
Overall, buyers should expect exceptional steering, suspension, and handling. This is especially true with AWD's that have Torque Vectoring Cornering Control made to augment traction and cornering stability by giving power and torque when they are needed the most.
Exterior
The 2019 Sorento SUV is incredibly handsome, with an upscale look on the front and rear fascia, as well as its charming headlight configuration. Higher trims are only further enhanced with aspects like the stainless steel bumper, dark metallic grille, and chrome roof rails. Some models can be found with roof rails, while others have the acoustic glass and shark-fin antenna. Wheels also will be found in sizes ranging from 17 to 19 inches.
Interior and Standard Features
Stepping inside in any model of this 2019 SUV will award you with a 3-row setup. Then, if you're a family that often deals with your fair share of messes from the tiny tots, rather than select the leather interior, choose YES Essentials. This type of material is made to be resistant against stains, and even odors. On top of this, there is a great deal of space and comfort for passengers in the first and second row, however, the third row is better suited for those who aren't so tall or aren't tagging along for the annual road trip. Moreover, cargo space isn't so dramatic, but when the seats are folded down, it's much easier to work with.
Standard features in the base L model include keyless entry, cruise control, stain-resistant cloth upholstery, 17-inch alloy wheels, rearview camera and a 7-inch touch-screen infotainment system with Apple CarPlay and Android Auto smartphone integration and Bluetooth wireless connectivity. Moving up to the LX will give you so much more other than AWD, such as two rapid-charge USB ports, blind-spot monitoring, and an acoustic windshield. Then, at last, the LX will give you the strongest engine, along with the power driver's seat and dual-zone automatic climate control. 
Driver's Auto Mart
The 2019 Kia Sorento SUV has everything you need with its wickedly impressive V6 powertrain, accommodating interior, and fun-filled technologies. 
Moreover, this Used Car of The Week has premium options like a rear exterior parking camera, blind-spot detection, heated/cooled seats, front fog lights, power liftgate, remote keyless entry, leather seat trim, power driver seat, push-button start, rear air conditioning, remote start and power moonroof offered at Driver's for the EX Sport model.
If you're interested in this vehicle or any of our other models, simply view our online pre-owned inventory and chat with a representative for further assistance.
Photo Source/Copyright: Driver's Auto Mart