The 2020 Ford Mustang Is Driver's Auto Mart's Used Car of The Week!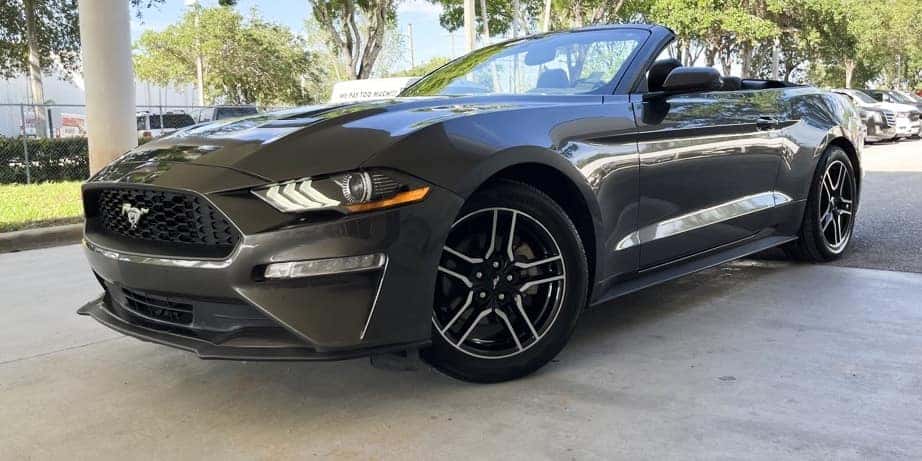 Likely one of the most recognizable and eye-catching vehicles out there, the 2020 Ford Mustang invites onlookers with its distinctive shape and attractive body, while its energetic engine keeps owners wanting more. This legendary pony car is being sold at Driver's Auto Mart for about $22,000. With premium options like rear camera parking, Bluetooth connectivity, and leather seats, it's no wonder why it's been chosen as the latest Used Car of The Week!
Engine
The 2020 Ford Mustang has several powertrain options: a base 4-cylinder 2.3-liter turbocharged, 5.0-liter V8 for the GT, another V8 for the Bullitt, a 5.2-liter V8 for the GT350/GT350R, and a 5.2-liter supercharged V8 for the GT500.
The base 2.3-L turbo already has an intense output of 310 horsepower with 350 lb-ft of torque. Its fuel economy also has respectable figures, precisely 30 mpg for the manual and 32 mpg for the automatic.
Then comes the roaring 5.0 V8s. The GT's version has a thrilling output of 460 horsepower with 420 lb-ft of torque, only for the Bullitt model up the ante with 480 horses.
The Shelby GT350 and GT350R Mustangs produce an inviting output of 526 horsepower with 429 lb-ft of torque from the 5.2-L V8, but the GT500's take with the 5.2-L's supercharged motor. This power god possesses 760 horses and 625 lb-ft of torque, resulting in a driving experience you'll never forget.
The entry-level EcoBoost has a 6-speed manual shifter, while the higher GTs brings a rev-matching setup. The GT350/350R has a 6-speed manual distinctive for these models. Meanwhile, a 10-speed automatic transmission with paddle shifters serves as an option in the EcoBoosts and GTs. For all that, all of these cars have rear-wheel-drive (RWD).
Interior and Standard Features
The Mustang car has more than enough space for those occupying the front seats, with most of the controls easily within each. In regular models, rear accommodation isn't as roomy, though Shelby models eliminate the rear seats to save weight.
Trunk space is also accommodating, measuring 13.5 cubic feet, while the convertible has 11.4. The rear seats also have the ability to split and fold.
The entry-level 2020 Mustang EcoBoost Fastback has many standards like a push-button start, 17-inch alloy wheels, high-intensity-discharge (HID) headlights, 4-way manually adjustable driver's seat, selectable settings for the steering such as Comfort, Normal, and Sport. It also comes with Track Apps showing performance parameters like lateral acceleration. It has a basic audio setup that involves AM/FM radio, a CD player, Bluetooth, and two USB ports.
Moving up to the Mustang Premium will add the Sync 3 infotainment system, 18-inch alloy wheels, rear spoiler, and dual-zone automatic climate control. GT models also bring along that exhilarating 5.0-liter V8, tougher brakes, and a line-lock feature to spin the rear wheels practically made for the race track.
Driver's Auto Mart
This Used Car of The Week is all that and more, with its dynamic engine options, timeless style, and in-car comforts. If you're interested in purchasing this vehicle, be sure to check our online pre-owned inventory. We sell an extensive range of cars from various brands like Chevy, Nissan, Toyota, and of course, the one and only Ford.
If you find something to your liking, feel free to chat with one of our online representatives for further information and assistance.
Photo Source/Copyright: Driver's Auto Mart