The 2020 INFINITI QX80 Is Driver's Auto Mart's Used Car of The Week!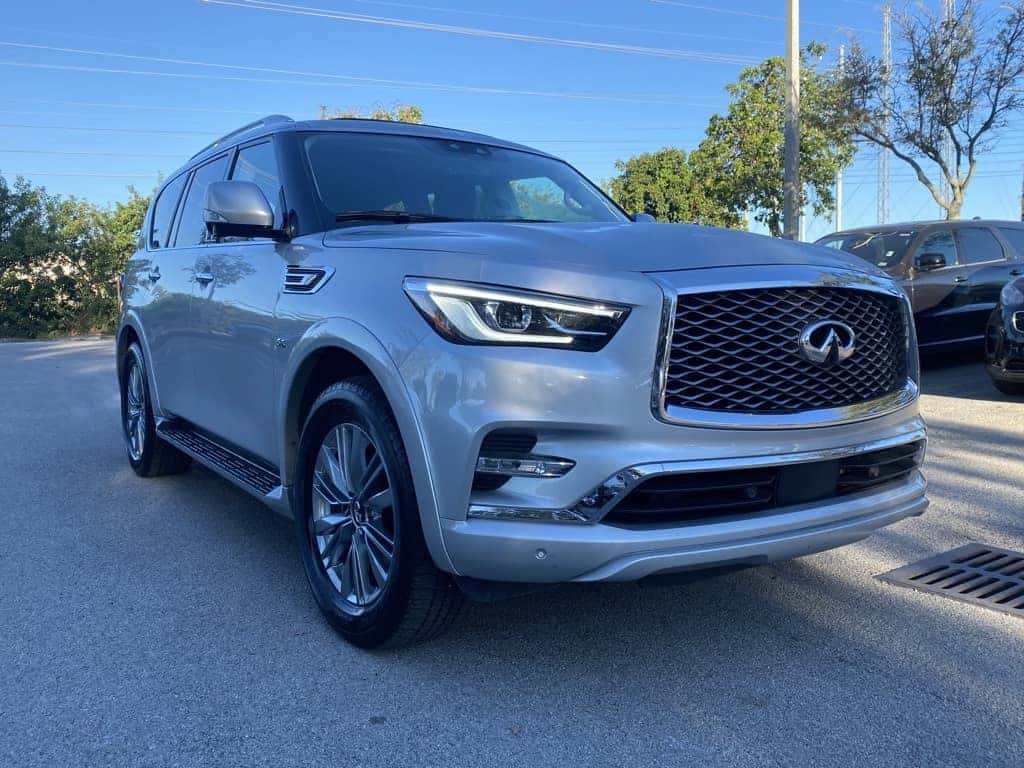 The 2020 Infiniti QX80 has all of the power, luxury, technology, and strength that one could ever need and all for a great price. The exterior styling on this SUV is incredibly bold and daring, just like its energetic V8 engine. This flagship provides a slew of driver assistance features that ensures the safety of drivers and their passengers. All of these excitements make up all the reasons why it's been chosen as Driver's Auto Mart's Used Car of The Week!
Engine and Drive
The 2020 QX80's full-size SUV has one engine and one engine only for this model year, and that's regardless of opting for either a rear (RWD)- or all-wheel-drive system (AWD). Nevertheless, this motor is more than enough to satisfy most buyers with its incredibly animated 5.6-liter V8 that has an output of 400 and 413 lb-ft of torque. The engine is also paired with a 7-speed automatic transmission and is also well equipped to handle up to 8,500 lbs for towing
All driving systems are geared with Hill Start Assist and Snow Mode to keep you driving effectively while riding on slippery roads. However, the AWD system will provide the capability to shift into a 4LO mode should road conditions prove to be considerably rough. On top of this, the interior is silent owing to the smooth engine and insulated cabin. The ride brand's Hydraulic Body Motion Control technology also adds that extra layer of comfort.
Exterior
This 5-door Infiniti car is nowhere near yesterday's news, as it has a fresh and handsome design with its muscular features all around and menacing front grille. This big and bad SUV is 75.8 inches tall, 210.2 inches long, and 79.9 inches wide. Other features like the extended tailgate and fender vents give the QX80 a little extra flavor. One thing that's for sure, this vehicle was meant to stand out.
Interior and Standard Features
Like with most luxury vehicles, the exterior is just a slight preview of what awaits them on the inside, and with the 2020 QX80, that means upscale and swagger on fronts. Starting off, the seats are not only comfortable, but ritzy with high-class quilting and piping, they're also stain-proof. Rear-seat passengers are then welcomed by an infotainment system, while front-seat passengers get to enjoy a dual-screen setup. Apple CarPlay and Android are also included with this technology.
Standard gear on each QX80 model involves leather seating, navigation system, a power liftgate, tri-zone climate control, moonroof, heated front seats and steering wheel, power tilt/telescoping steering wheel and Around View Monitor with Moving Object Detection. That's not even encompassing ritzy features like power-folding mirrors, a leather-wrapped instrument panel, and 2nd-row captain's chairs.
Standard safety features include forward emergency braking, lane-departure warning, rear cross-traffic detection and blind-spot monitoring, as well as rear door alert.
Driver's Auto Mart
The 2020 Infiniti QX80 has all of the class and upscale features that one could ever want with its design and features. The V8 engine is incredibly powerful, and interior features so exciting that one may not actually want to arrive at their destination. 
This Used Car of The Week is being sold at Driver's Auto Mart for a discounted price of just under $44,000. Those who are interested in this SUV or any of our other used vehicles can simply view our online pre-owned inventory and chat with a representative for further assistance.
Photo Source/Copyright: Driver's Auto Mart