The 2020 Mercedes-Benz GLC 300 Is Driver's Auto Mart's Used Car of The Week!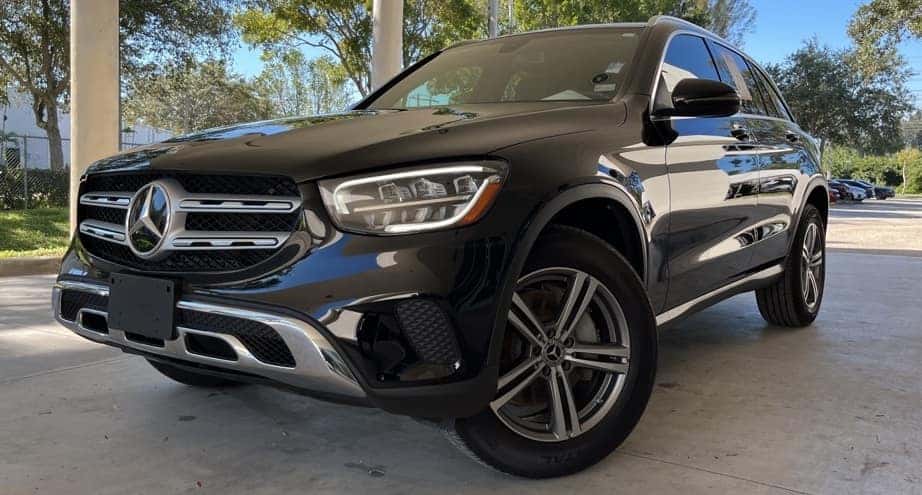 The 2020 Mercedes-Benz GLC is a luxury SUV that is still funky and fresh for clients of today. The quality of the engineering allows this vehicle to provide an incredibly sporty drive, resulting in a delightful mix of a daredevil sports car and a composed crossover. Its incredible driving behavior and design are exactly why it's been chosen as Driver's Auto Mart's Used Car of The Week!
Driving Experience 
One shouldn't let this cool and collected 2020 SUV fool you, as it proves that it has a wild side by asserting its dominance by zooming from 0 to 60 mph in 6.1 seconds. The 9-speed automatic also shows that it's a master of itself as it shifts and shows control during various driving scenarios.
One of the most appealing driving features of the GLC 300 is how it harmonizes with the driver, particularly when it's turning tight circles, and provides great responsiveness while steering. It also weaves in and out of traffic seamlessly.
Another cool driving feature of the 300 SUV is the Driver Assistance package, which has various levels of semi-autonomous capabilities, which is something you'll likely be thankful for while making your way towards the brutalizing rush hour traffic.
Visual Charisma
This particular GLC model has some snazzy aesthetic features and important in-car features such as standard LED headlights and a  10.3-inch infotainment screen on each and every model. The exterior also has an intensive look with standard 18 wheels (20 on other models). Some models may also have AMG styling packages that come with AMG twin 5-spoke-style wheels, sport-brake upgrade, and gloss-black exterior accents.
As one should expect in most Benz vehicles, the interior has a welcoming and captivating aura about it. The cabin is chic and voguish, especially with some models including certain level and wood trims. The seats are also easy to get comfortable in, with an open view for drivers to revel in. This GLC seats 5 occupants and is spacious enough for families and their cargo.
Impressive Engine Choices
The 2020 GLC gets its power from a turbocharged 2.0-liter engine with 4 cylinders. This motor has an excellent output of 255 horsepower with 273 lb-ft of torque. With the 4Matic system installed, the 9-speed automatic transmission will transfer this power to either the rear wheels (RWD) as the default setup or all four (AWD).
The second engine on the 350e 4Matic is a plug-in hybrid that enhances the 2.0-liter turbo, implementing an electric motor, resulting in a total output of 315 horsepower and a mighty 516 lb-ft of torque. You'll get pure electric range between 28 to 30 miles, with the assistance of a 9-speed automatic transmission.
A valuable feature of the GLC 300 is the Dynamic Select technology There are five different driving modes available on this system, and they offer various behaviors regarding the throttle response, steering, and shift points. The Eco Mode will save some gas and is the least aggressive in its drive, while the Comfort Mode embraces its name with a more relaxing ride. The Sport and Sport + modes are contained within the performance settings. The Individual Mod even allows drivers to tailor their own response choices to their liking.
Driver's Auto Mart
The 2020 Mercedes-Benz GLC 300 is being sold at Driver's Auto Mart for $43,629. Those who are interested in this Used of The Week or any of our other models can do so by viewing our online pre-owned inventory. Once you find something that feeds your interest, feel free to chat with one of our representatives for further information.
Photo Source/Copyright: Driver's Auto Mart