The 2021 Ford Bronco Big Bend 4WD Is Driver's Auto Mart's Used Car of The Week!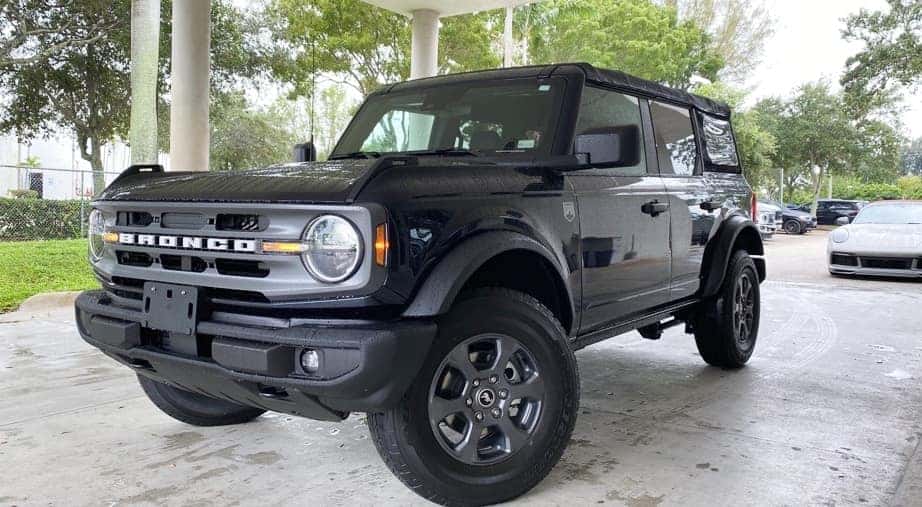 In 2021, the Ford Bronco came back strong owing to its cultivated and vintage design, along with its creative features, and proficient off-road capabilities, even landing a spot on Kelley Blue Book's 2021 Editors' Choice list.
Extra excitements include two- and four-door body styles, and even best-in-class ground clearance, suspension travel, and crawl ratio.
With all of these dynamic elements in play, it's no surprise that it's been selected as Driver's Auto Mart's Used Car of The Week!
Engine and Performance
The 2021 Ford Bronco features a standard 4-cylinder 2.3-liter turbocharged engine that has an impressive output of 275 horsepower (300 using premium fuel) and 315 lb-ft of torque (325 using premium fuel). Meanwhile, the optional EcoBoost turbocharged V-6 shoots out 300 horsepower with 400 lb-of torque.
Both engines team up with a 10-speed automatic transmission, although the 7-speed manual can only be matched with the smaller 2.3-L. Each Bronco model sends power to its four wheels. At the same time, its independent front suspension is much more refined than the front stick axle that Jeep possesses. Other top driving features entail 35-inch mud-terrain tires, beadlock-adept wheels, electronic locking front and rear differentials, and a sway-bar-disconnect feature.
You'll be astounded at just how smooth and controlled the ride is when it's ON the road. Its steering is incredibly precise and has overall better handling than the Wrangler. Its large tires and smooth suspension makes it possible to brake smoothly and remain disciplined, while its body-on-frame setup is quite conspicuous. It's also highly capable when tackling difficult terrain when off-roading.
Exterior
The exterior frame of this car brings an element of nostalgia as it reminds us of the Bronco's models from the mid-60s, especially with the round headlights and rectangular grille. Another cool element is Ford's emblem on the left side of the rear tailgate styled in the same fashion as the 80s and 90s.
The 2-door models consist of a segmented hardtop, while the 4-door has either a soft-top or segmented hardtop. Removing the pieces of the hardtop is a breeze and the soft top can also be removed. The quick releases of the aluminum doors make their removal seamless, while the side mirror stays put. The 4-door model also allows extra room to stash the doors on board.
Interior and Standard Features
The interior is a bit more minimalistic, with spunky lines and physical buttons well within reach. Before you go off-roading, get yourself familiar with buttons such as the differential lock and traction control, which are placed on the top of the dashboard. Some models will come with either an 8-inch navigation screen or a 12-inch.
Other conveniences include wireless smartphone charging and Apple CarPlay/Android Auto connectivity, vinyl seats (leather on others), and a mounting bar for smartphones. Furthermore, this Used Car of The Week comes with an exterior rear parking camera, blind-spot monitoring, Bluetooth, heated/cooled seats, remote keyless entry, push-button start, and a remote start.
Driver's Auto Mart
The 2021 Ford Bronco Big Bend 4WD blows us away with its off-road capabilities and conventional styling. This hot ticket item won't stay on the market for too long, so get it while you can at our dealership, Driver's Auto Mart!
Those who are interested in the Ford Bronco can simply view our online pre-owned inventory and chat with a representative for further assistance.
Photo Source/Copyright: Driver's Auto Mart