The 2021 Volkswagen ID.4 Is Driver's Auto Mart's Used Car of The Week!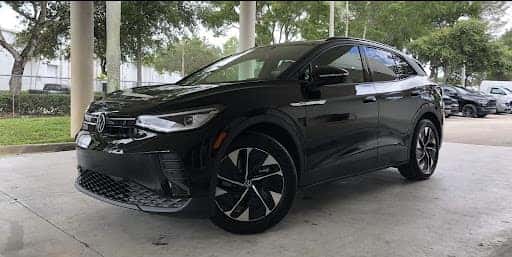 The 2021 Volkswagen ID.4 is the alluring compact SUV that you just can't live without. This stud is perfect for customers looking to crossover into the electric side of vehicles. Sporting an incredible 295 horsepower for its AWD model and 260 miles of range, as well as 2,700 lbs of towing capacity. Its extensive list of entertainment and safety features are an additional bonus on this incredibly flavorful Used Car of The Week!
Engine and Performance
This year's ID.4 has two powertrain options to work with, the first being the permanent-magnet electric motor with a 82-kWh lithium-ion battery pack. It has a satisfying total output of 201 horsepower with 228 lb-ft of torque. Its range reaches 250 miles and 260 on the Pro model. 
Then, there are two permanent-magnet electric motors, with one sitting on the front and the other on the rear. Together they muster up an energetic output of 295 horsepower and an estimated 350 lb-ft of torque. The estimated range also amounts to 249 miles.
When it comes to charging at a public DC fast-charging station with 125kW, a charging percent from 5 to 80 percent should amount to 40 minutes. Owners of new vehicles should also get three years of unlimited charging at Electric America DC Fast Chargers at no cost to them (remember this is still technically a new vehicle).
Driving wise, you'll find that the ride is very tranquil and peaceful, which you should usually expect when driving a car with an electric motor. There are also several drive modes to choose from, which encompass: Eco, Comfort, Sport, and Custom. 
The Sport mode will give the Volkswagen SUV a little pep in its step with its sharper throttle and steering, along with extra weight and precision. Then, the Eco mode changes its behavior with less aggression and lighter steering. According to the automaker, the power output is limited to create a slight increase to the range. The overall drive does a great job at handling and has a smooth feel.
Exterior
"Pretty Volkswagen, walkin' down the street…" Is the song everyone will be singing in their heads when the pass by this phenomenal beauty. Somehow the brand managed to make the perfect blend of modern and sheer with rugged and athletic. 
Interestingly enough, there is no grille in the front, but a dominant new VW logo is illuminated in the center. Two side vents fused in the front bumper are for a couple of air curtains that center air smoothly around the front tires, while the lower grilled area of the front end makes room for air to cool the battery pack.
Interior and Standard Features
The car company says that their intention with the cabin's design was to create a minimalistic theme, but still showing off its high-end technologies. The dashboard certainly looks delightfully uncluttered, somewhat due to the many of the controls dealt with on either the steering wheel or large central touchscreen.
Moreover, the overall quality in terms of the materials and aesthetic is undeniably pleasing and without needing the theatrics to make an impression.
There is also plenty of room to work within the front and rear rows. The designers also did a great job at discouraging the fixed-glass panoramic roof, with a power-retractable sunshade, which does not reduce ID.4 headroom from reducing any headroom.
Standard features in the base model include heated seats, a heated steering wheel, heated washer nozzles, rain-sensing wipers, a navigation system, 19-inch alloy wheels, a wireless smartphone charger, wireless Apple CarPlay/Android Auto, and the 10-inch central touchscreen.
All 2021 ID.4's come with automated emergency braking with pedestrian detection, lane-departure warning with lane-keeping assist, and adaptive cruise control with semi-autonomous driving mode.
Driver's Auto Mart
The 2021 Volkswagen ID.4 is relevant for decades with its incredible powertrains, slew of entertainment and safety features, and voguish style. Driver's Auto Mart is selling this Used Car of The Week with Premium options like an exterior rear parking camera, Blind-Spot detection, Bluetooth, front fog lights, power liftgate, heated front seats, remote keyless entry, leather seats, memory seat, navigation system, power driver seat, rain sensing wipers, and a moonroof.
Those who are interested in this vehicle or any of our models can simply view our online pre-owned inventory and chat with a representative for further assistance.
Photo Source/Copyright: Driver's Auto Mart