The 2022 Ford Bronco Is Driver's Auto Mart's Used Car of The Week!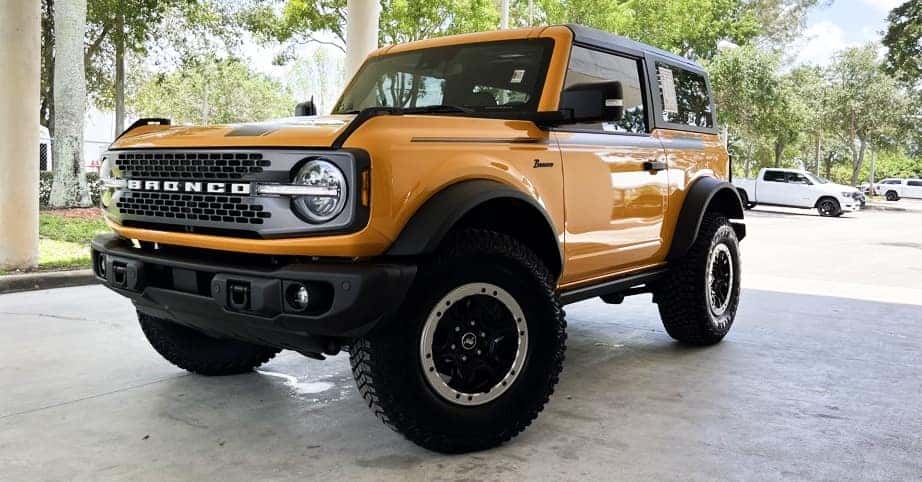 The Bronco SUV is one of the first vehicles developed by the Ford company and the first automobile that was called a Sports Utility Vehicle. This American classic was popular for its ease in maneuverability, along with its short wheelbase which made it convenient for off-roading adventures.
The 2022 Bronco does well with its top-notch rock-crawling talent, award-winning design, and different choice of body styles. It's why it's been chosen as Driver's Auto Mart's Used Car of The Week!
Engine
The base 2022 Bronco is powered by a turbocharged 2.3-liter 4-cylinder, producing a speedy output range between 275 and 300 horsepower together with 315 or 325 lb-ft of torque. Higher figures may be achieved by filling up your tank with premium gasoline. This engine is mated to a standard 7-speed manual transmission.
A step up from this is the twin-turbocharged 2.7-liter V6, producing 310 or 330 horsepower and 410 or 415 lb-ft of torque (dependent on Octane). This motor is matched with a 10-speed automatic transmission and can also serve as an option on the base engine.
All 2022 Ford Broncos have a max towing ability of 3,500 pounds.
Exterior
Not long after its release, this Bronco model received critical acclaim and accolades, such as the Design Gold Award. This is quite an impressive feat for any new model. Even more so since besides the cultivated grille and headlights, the mid-sizer has a relatively simple design.
One of the highlighting exterior features is the grille, which is based on the original 1960s model. The only differentiating factor is that rather than saying "Ford," it says "Bronco" in uppercase letters.
On top of this, the removable doors are made of aluminum, which means they are exceptionally light and easy to manipulate. The side mirrors are fixed to the frame, making them useful when they're not in place. The 4-door model also offers a slide-out gate.
Interior
The interior can best be described as simple and practical…even washable. There are some versions that have rubberized flooring with drain plugs, allowing for muddy spots to be hosed back to their clean and pristine state.
The top of the dashboard is where one can mount miniature cameras and smartphones. Going further, you'll find a row of rubberized buttons that control functions like traction control and a differential lock.
The 2-door version accommodates up to four occupants, with a pretty good 35.7 inches of rear legroom, just like the same as the Jeep Wrangler. It also has 22.4 or 52.3 cubic feet of cargo space, depending on whether or not the rear seats are folded down.
The longer 4-door version of the SUV brings on a small middle back seat that maximizes legroom to 36.3 inches and increases cargo space to 38.3/83 cubic feet. This is large enough to stash all the removable doors.
Driver's Auto Mart
The 2022 Ford Bronco is full of excitement like standard LED headlights, keyless entry/ignition, remote start/lock/unlock, cloth upholstery, power windows, tow hooks, and single-zone air conditioning.
This Used Car of The Week is being sold as a 4WD Bedland model for $65,961. Those who are interested in this vehicle can do so by going through online pre-owned inventory on our dealership website.
Photo Source/Copyright: Driver's Auto Mart