The Best Automotive Tech of 2018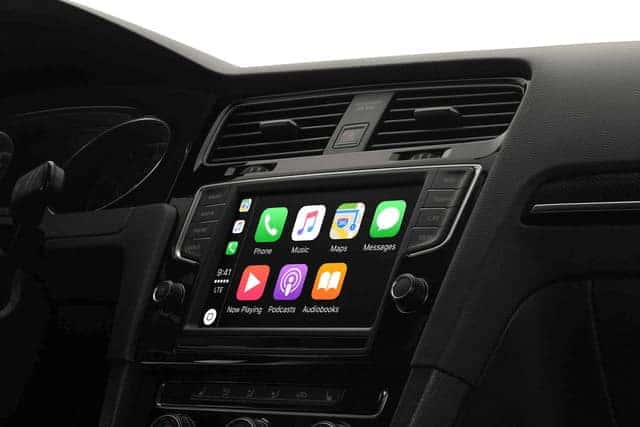 Back in the day car buying was all about examining what's under the hood, but nowadays it's  checking out all the latest technology that appears to be a potential buyer's main priority. Sure, powertrains matter, but drivers and vehicle occupants are deeply interested in interacting with increasingly sophisticated automobiles. Here are 10 of the best and latest automotive technologies for those looking to buy a new car this year.
Mobile Apps Connectivity
It's not a stretch to say that smartphones have transformed our lives during this last decade – including completely changing the way we interact with cars. Almost every single automaker currently offers some level of smartphone app connectivity that allows owners to remotely lock and unlock the doors, remotely check the fuel and tire pressure, and even remotely start the car to cool it off on a hot South Florida afternoon.
360-Degree Camera
Talk about visibility – a 360-degree camera system is designed to make life easier by giving drivers a virtual top-down view of their surroundings. A large part of insurance claims come from easily avoidable low-speed crashes and the 360-degree camera system was designed with this in mind – it can easily show drivers whether there are any obstacles in their garage, how well they've managed to line up their cars in any given parking spot, and most importantly, a 360-degree camera can provide invaluable assistance to those who struggle to parallel park.
Teen Driver Technology
This clever new tech is providing some much-needed peace of mind for parents that are just beginning to hand over the car keys to their teens. While this technology is relatively new and only a handful of models offer it as a standard feature, it can notify parents when the car goes over a predetermined speed, disable the stereo if seat belts aren't used, and even have a volume limitation for the stereo (no full blast here) to keep teens from becoming distracted drivers. Chevrolet's Teen Driver feature is so advanced that it even generates a report card that'll let parents know if any other safety features – such as forward collision alert or lane departure warning – were triggered.
Automatic Emergency Braking
Automatic Emergency Braking (AEB) is a safety feature that uses a variety of strategically-placed sensors to determine if a forward-facing collision is imminent. If the sensors trigger the AEB then the automobile will automatically apply the brakes to lessen the severity of the accident or avoid it entirely. Keep in mind that the system is intended as a last resort and should not be a crutch for distracted drivers. The automotive industry agreed to make AEB a standard feature by 2022.
Lane Departure Warning
Just like the above-mentioned AEB, the lane departure warning system is designed to help cover the gaps of distracted drivers. The lane departure warning system uses cameras to determine if a car drifts across a marked lane – if drifting is detected, the automobile will engage the driver with a visual and audible notification. More advanced versions also offer a vibration through the seat or steering wheel to let drivers know they've moved too far out of their lane. The system automatically disengages when drivers use a directional to signal an intentional lane change so there's no need to worry that it'll become a nuisance when switching lanes.
Adaptive Cruise Control
Perfect for a long road trip, the adaptive cruise control system uses many built-in sensors that match the speed of whatever car is up ahead to make using the classic cruise control feature seamless. Adaptive cruise control takes the pressure off drivers that constantly find themselves hitting the gas and brake pedals while on the highway. In fact, some systems are so advanced that they're able to come to a complete halt and then resume driving automatically – gone are the days of automatically disengaging the cruise control with just the tap of the brake pedal.
Rear Cross-traffic Alerts
Like we mentioned earlier, a large part of insurance claims stem from avoidable low-speed crashes, and many often happen in parking lots. Designed to ward off accidents, the rear cross-traffic alert systems rely on built-in sensors to detect if there are any approaching vehicles, shopping carts, or even pedestrians that rearview backup cameras tend to miss. Alerts tend to come in the form of loud beeps, but some cars offer a system so advanced that it can automatically brake before a collision occurs.
LED/Xenon Headlights
Headlight tech is constantly evolving as the best way to avoid nighttime collisions. LED bulbs that almost never need replacing are becoming the norm, while slightly older but still-excellent xenon systems in luxury cars even offer swiveling bulbs that turn with the road to illuminate those pesky corners. Other systems include automatic high beams that use sensors to dim the lights and keep from blinding other drivers while maximizing visibility when possible.
Apple CarPlay and Android Auto
Automotive infotainment systems do it all nowadays, but some can be confusing to use if they're not user-friendly. Enter Apple's CarPlay and Google's Android Auto to save the day. Drivers and passengers alike can enjoy a simplified control scheme to access music, maps, and the phone's built-in voice-command features by simply plugging in their smartphone and all while enjoying a system that's familiar to the user. Every manufacturer has committed to making vehicles that support at least one or both Apple and Google's systems, but these connectivity capabilities will not be standard and will most likely be available depending on the trim level.
USB Ports
A vehicle full of people is a vehicle that's brimming with devices – devices that are going to need to be charged at some point. USB ports also customarily serve as the connecting port for Apple CarPlay and Android Auto capabilities as well. With that said, it's a no brainer that USB ports are a hot commodity. Newer vehicles tend to bring at least one or two ports, but some – like the Chrysler Pacifica – are designed to go above and beyond to cater to larger crowds with up to nine ports available.
Even moderately priced cars enjoy many of these perks as the automotive market innovates to make these features standard across all lineups. If you're in the market for a new car with these invaluable features, check out the latest inventory here at Driver's Auto Mart. Follow Driver's Auto Mart on social media to stay up to date with automotive technologies.
Photo Source/Copyright: Digital Trends