The Chevrolet Suburban Says "Call My Agent" as it gets the Hollywood Walk of Fame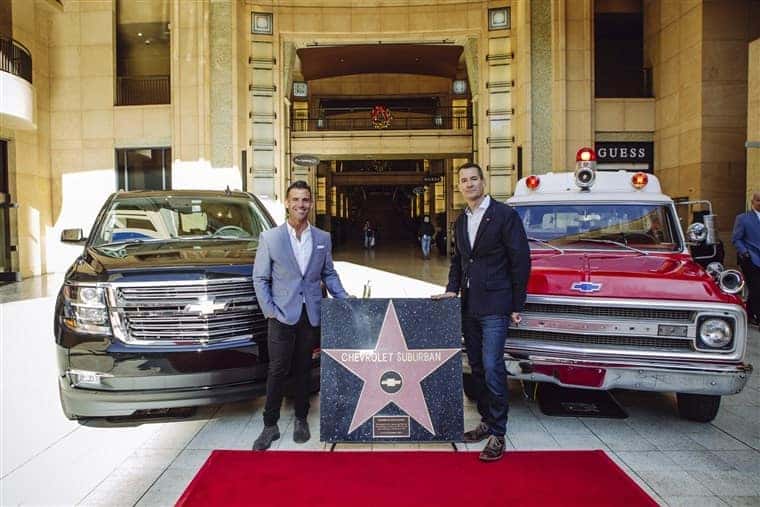 Hollywood Walk of Fame
For the first time in nearly 60 years in the entertainment industry, a vehicle has been honored with a star on the Hollywood Walk of Fame, one of the most famous tourist attractions in Tinseltown. The Chevrolet Suburban is now among the same likes of Charlie Chaplin, Louis Armstrong, and even fictional characters like Donald Duck and Mickey Mouse.
Thursday, December 5th, at the Hollywood Chamber of Commerce, the accolade was presented to the famous SUV. Since 1952, the Chevy Suburban has appeared in more than 1,750 films and TV shows and is the first automobile to get its own star.
"There's really nothing else like the Chevrolet Suburban in this business, for two reasons," said Dennis McCarthy, Hollywood picture car coordinator. "First, it's one of the most versatile vehicles in the business, able to fit with any type of character."
The Suburban also gives a scene added importance, said McCarthy.
"When a convoy of black Suburbans appears on screen, you know that's not the time to leave your seat to buy popcorn," said McCarthy.
Extensive Resume
For six decades the Chevy Suburban has had an incredible career that only a handful of character actors and even fewer leads could have. The SUV has been in at least one film every year since 1960, including 30 nominated for an Academy Award. It's also been in at least one TV show on a yearly basis since 1956.
Although it's often featured in the genre of action and adventure, it also has a diverse range of work, such as films like "The Brave One, "Transformers: Dark Side of the Moon," and even though animated means like the Pixar's "Cars" series.
How A Car Can Get Nominated
So how is an automobile able to get a Hollywood star? Remarkably, anyone can make a nomination, as long as the "celebrity or his/her management is in agreement with the nomination. If there is no letter of agreement included from the celebrity or his/her representative, the committee will not accept the application," the Walk of Fame's official website explains.
On the contrary, it's not as easy as it sounds. Out of 300 applicants that are submitted each year, only 34 in 2019 have been selected thus far. Here's another catch- The "celebrity", their family or other representatives have to come up with $50,000 to cover expenses. It doesn't seem like that was a big obstacle for the Chevy.
2018 Chevrolet Suburban LT 4WD
Driver's Auto Mart currently has a 2018 Chevy Suburban for sale at a competitive price of around $36,000.
This 4WD has a cozy and relaxed interior, plenty of cargo space, a superb engine performance, and user-friendly features. It's ideal for large families, as it can seat more than 7 people, potentially lowering the cost of carpool.
Additionally, the 2018 Chevy has an impressive V8 engine as well as powerful towing ability.
For more information, please visit Driver's Auto Mart and call us (954)-556-8970 for any questions.
Photo Source/Copyright: NBC News