The Difference Between Used and Certified Pre-Owned Vehicles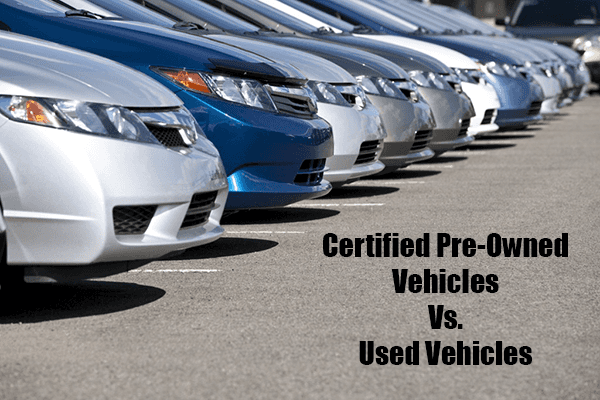 When purchasing a vehicle, consumers basically have three options – new, used, and certified pre-owned. While it's obvious what new vehicles look like, many consumers may not know the difference between a used and certified pre-owned vehicle. In order to make the best decision, we've explained the differences between both.
Used Vehicles
For starters, the biggest benefit of a non-certified or used car is the savings – the prices and savings of used cars can be negotiated. Used vehicles have not received a full 150-point inspection by the dealership, and a dealership warranty is not included. Keep in mind though, buying a used vehicle doesn't prevent consumers from purchasing an extended warranty – buyers are more than welcome to go down that route if necessary. Another benefit of buying a used car is depreciation. In the simplest of terms, car depreciation is the decline in the value of the car. Basically, when a consumer purchases a new vehicle, within the first 12 months of ownership, the value of the vehicle can drop by as much as 20%*. So what does that mean? Essentially, that drop in value is absorbed by the first owner of the car and the used car buyer does not lose value as quickly in their purchase.
Additionally, there are a number of ways to check a vehicle's history. Some of those include Autocheck, CarFax, and safecar.gov. Now, these websites aren't infallible, mainly due to the fact that a clean history report doesn't mean the vehicle hasn't been in an accident. So it's important to have a trusted independent mechanic to inspect the vehicle. RESEARCH IS KEY!
Certified Pre-Owned Vehicles
Certified pre-owned (CPO) vehicles are lightly used, thoroughly inspected (and repaired if necessary), and then covered by a manufacturer-backed extended warranty. Keep in mind, the included warranty is not the same as a new vehicles "bumper-to-bumper" coverage. Clearly, buying a CPO vehicle may be less of a headache, but again, it's important to have a trusted mechanic inspect the vehicle. CPO vehicles usually have lower miles, fewer issues, and require fewer repairs than a typical used car.
"CPO vehicles are often cherry-picked, have lower miles, and are cleaner vehicles with a clean history," says Anil Goyal, senior vice president for Black Book, an auto-industry data aggregator. "They're also protected against defects and expensive repairs by an extended manufacturer's warranty." CPO cars may also pass a multipoint inspection to check for systems or components that may be in need of repair.
According to Edmunds, CPO programs also offer additional benefits, which may include roadside assistance, free maintenance, satellite radio subscription, and trip interruption coverage – all depending on the program. So, is peace of mind worth a few extra bucks? It really depends on the consumers prerogative and what they value when making a big purchase.
So, in truth, there is no real difference between used and CPO – both are used. For those going down the non-certified or used car route, we've put together an inspection list to assist you in the process. At Driver's Auto Mart, we take pride in giving our consumers the best deal available. Stop by and visit us in Davie, FL to check out our entire used car inventory selection.
*Source: Carfax