Top 5 Cars with Highest Horsepower Under $200k
Of course, we would all love to go out and get any sports car without ever thinking twice about the price tag – but that isn't everyone's reality. In terms of automotive decisions, money most definitely plays a role and especially when shopping for a sports car, buyers want to get the best one they can get for those hard earned dollars. In order to assist in making the smartest decision, we've put together the top 5 cars with highest horsepower under $200,000. Let's take a look..
#1 – 2017 Tesla Model S P90D

With it's all-electric, high performance powertrain, the 2017 Tesla Model S P90D can easily be considered the world's fastest four-door electric sedan. With a starting MSRP at $103,000, the Tesla's unique, all-electric powertrain has the ability to go from 0-60 mph in 2.5 seconds. Standard equipped with Dual Motor All-Wheel Drive, the Tesla Model S P90D combines a high efficiency front motor and high performance rear motor to deliver exceptional acceleration. Driver's can charge the Tesla Model S utilizing three different connectors – Wall Connector 75 kWh, Wall Connector 100 kWh, and Supercharger 120 kW.
A huge benefit to driving an electric vehicle are the savings in fuel costs. Assuming that the national average of charge cost is $0.12 per kilowatt hour and gas savings is 21 mpg at $2.70 per gallon – if a driver commutes 30 miles a day, which approximately equals 52 minutes on all electric driving range, the charge cost will be $1.20 and total gas savings are $2.65.
The infotainment system is technology of the future. While combining a precise noise engineering and an incredibly silent powertrain, the Tesla Model S obtains the sounds of a recording studio within the interior cabin. The real eye-catcher in the interior is the 17-inch touchscreen, which is actually positioned towards the driver and controls the majority of the Tesla's functions. Some of these functions include, opening the glass panoramic sunroof, customizing the climate control, and changing the radio station – all done by a simple touch or swipe. Additional features within the touchscreen include Media, Camera, Maps, Energy, Calendar, Navigation and a handsfree phone system.
#2 – 2017 Aston Martin V12 Vantage S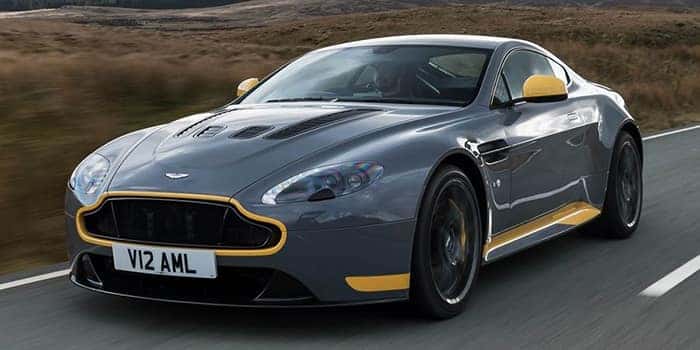 Combining the Aston Martin classic look, Monster V12 engine and a manual gearbox – its the perfect recipe to develop an exceptional high performance vehicle. Starting MSRP at $186,295, the Aston Martin V12 Vantage S produces 656 horsepower and 457 lb-ft of torque while having the ability to reach a top speed of 205 mph. The V12 Vantage S is equipped with a 5.9-liter V12 engine paired with a seven-speed manual transmission plus the available option of the seven-speed single-clutch automatic transmission.
So, the newest feature added to the 2017 Aston Martin V12 Vantage S is the dogleg transmission. A feature seen for the first time in a British  new car model, the dogleg transmission is basically a manual transmission whose shift pattern is not a part of the H-pattern of gears.
"The dogleg transmission is something of enthusiast lore. The term refers to a manual transmission whose shift pattern is such that first gear is not part of the H-pattern of gears. Like so many of the automobile's most interesting curiosities, the dogleg comes from racing. The addition of a fifth gear to race car transmissions meant that one gear would be outside the H. Since first was only used to get moving from a dead stop in pit lane, it was cast aside in favor of fifth, thus putting the gears used in the heat of competition within the quickly shiftable H." Says Jason Cammisa, editor at Motor Trend.  
The interior is definitely the focal point and functional. The Aston Martin Audio System includes, 8-inch LCD screen and satellite navigation which is redesigned around the driver. Additional in car entertainment features include, iPod and iPhone integration and USB playback, Bluetooth audio and phone streaming, and AM/FM Radio.
#3 – 2017 BMW M760i xDrive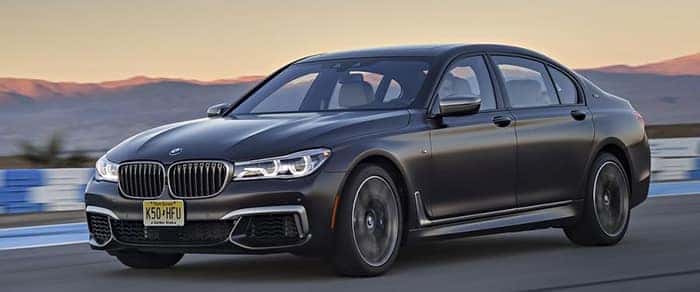 After decades of keeping the 7-series full-size sedan separate from the 'M' division. However, BMW has finally affixed an 'M' badge to their largest sedan – about 12 to be exact. Standing for Motorsport, the M division of BMW is basically the brands high performance line of vehicles. The 2017 BMW M760i xDrive is as high performance as it gets. With a starting MSRP of $150,000, this baby has a max horsepower of 601 and 590 lb-ft of torque. The xDrive is equipped with a 6.6-liter BMW M Performance TwinPower Turbo V12 engine paired with an 8-speed automatic transmission that hits 62 mph is 3.9 seconds.
The 2017 BMW M760i xDrive is a 5-passenger 4-door sedan with an All Wheel Drive drivetrain. The interior cabin reaches new heights in technology, comfort, and performance while combining all three into a luxury experience for both drivers and passengers. The interior cabin features, panoramic moonroof with fully automatic, 2-piece glass panel, power slide and lift control, wind deflector, and power interior sunshade. Plus, Advanced Vehicle & Key Memory includes most recently used climate-control temperature and air-distribution settings, exterior mirror and power seat settings, audio tone settings and radio presets, central-locking preferences and lighting preferences. The impressive infotainment system offers Harman Kardon 16-speaker surround sound with equalizer and a powerful 600-watt amplifier plus HD Radio, anti-theft AM/FM in-dash stereo CD/MP3 player with Radio Data System. The exterior grille offers an active aerodynamic fins that have the ability to automatically open when cooling is necessary, or stay closed to improve fuel efficiency.   
#4 – 2017 Nissan GT-R
Since launching just one year ago, the Nissan GT-R has had quite a number of updates. However, the one thing that's stayed the same is the Nissan's 3.8-liter twin-turbo V6 that maximizes the 565 horsepower and 510 lb-ft of torque, to another level on the high performance scale. Additionally, the dual-clutch 6-speed transmission – yes, that's right…two clutches. According to Nissan, inside are separate clutches for the odd and even gears. When in an odd-numbered gear, the adjacent even numbered gear is "pre-selected", ready to make the shift immediately.
At a starting MSRP of $111,585, the Interior cabin of the Nissan GT-R features a top-of-the-line infotainment system that includes an 11-speaker Bose audio system paired with aluminum speaker mounts. Another cool feature is the Active Noise Cancellation. This technology works with a small microphone located in the ceiling which is utilized to identify unwanted low-frequency engine sounds and neutralizes them with the sound waves of the opposite phase. As a result, drivers can have a quieter experience on the road while conserving the exhilarating sounds of the engine's performance.
#5 – 2017 Acura NSX

The 2017 Acura NSX has a starting MSRP of $156,000 with a 3.5-liter Twin-Turbo V6 that's paired with an AWD drivetrain and a 9-speed dual-clutch transmission – 1st gear is for the initial launch, 9th is for cruising and for in between, a close ratio 7-speed gearbox. This high performance engine outputs a maximum horsepower of 573 and 476 lb-ft of max torque while reaching 60 mph in 2.9 seconds and an approximate top speed of 191 mph. The 2017 Acura NSX has a Sport Hybrid SH-AWD Power Unit. The Sport Hybrid Power Unit allows for the front wheels to be mechanically independent from the rear power unit and the twin-turbocharged V6 gas engine gives power to the rear wheels plus a one direct drive motor and a 9-speed transmission.  
Even in a high performance sports car, active safety features are just as important. Some of those features include, Vehicle Stability Assist (VSA) with Traction Control, Anti-lock Braking System (ABS), Electronic Brake Distribution (EBD), and Multi-angle Rearview Camera with Dynamic Guidelines. The infotainment system includes a 7-inch Display Audio with High-Resolution electrostatic touch-screen and customizable feature settings. The audio system has 8 speakers including a subwoofer plus the option of ELS Studio premium audio system that includes 9 speakers and subwoofer. Additional entertainment features include Bluetooth HandsFreeLink, Bluetooth Streaming Audio, and MPS/AUX input jack. Used for direct connection to and to control some current digital audio players and USB devices (MP3, WMA, AAC), the USB Audio Interface feature also includes two USB ports inside the vehicle. 1.0 Amp charge capabilities and USB connection without Apple CarPlay/Android Auto connectivity and 1.5 Amp charge capabilities and USB connection with Apple CarPlay/Android Auto connectivity.
Stop by Driver's Auto Mart today located in Davie, FL to check out our wide selection of luxury used cars or visit our website to see our available used car inventory.
Photocred: caranddriver.com