Top Five Cars With The Highest Horsepower Under 100K
We all wish we could go out and purchase any sports car, no matter the price tag. For some of us, that isn't a reality, but for others, it is. Money most definitely plays a role regarding automotive decisions, and for those consumers shopping for a sports car, they certainly want to get the most out of those hard earned dollars.
#5 – 2018 Audi TT RS
As the ultimate embodiment of the TT lineup, the 2018 Audi TT RS adds even more performance swagger to the third-generation coupe's boldface. With a starting MSRP of $64,900 (plus destination fee), the 2018 Audi TT RS is powered by a 2.5-liter turbocharged five-cylinder engine that screams with the fury of 400 horsepower and 354 lb-ft of torque and hits 60 mph in just 3.6 seconds. For the 2018 model year, the TT RS has a Quattro all-wheel-drive system, based on front-drive architecture, that essentially adjusts and fine-tunes to maximize grip and overall control. The impressive 2.5-liter engine is matched to a seven-speed S Tronic dual-clutch transmission and, the previously mentioned, Quattro all-wheel drive.
The interior cabin of the Audi TT RS comes equipped with a virtual cockpit digital drivers display that includes MMI touch technology. This handwriting-recognition technology allows the driver to "write" their entry rather than selecting letters or numbers. It also allows the driver to navigate through maps a lot easier by moving a finger across the touchpad. Additionally, the Audi TT RS features an intuitive system called Audi connect, which integrates information like Google Earth, weather conditions, and traffic information.
#4 – 2018 Lexus LC 500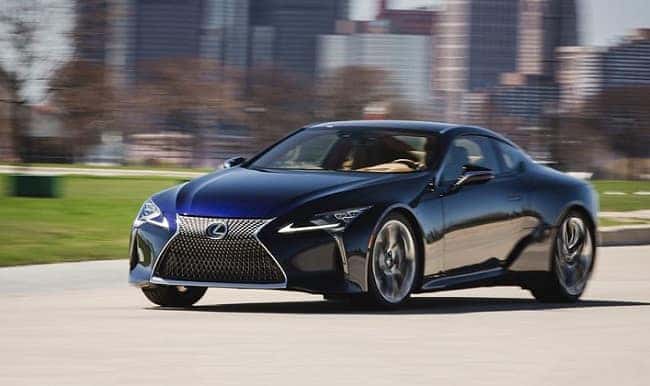 Photo credit/copyright: caranddriver.com
Comprised of a sophisticated interior cabin and show-stopping performance, the 2018 Lexus LC 500 is an outstanding luxury sports car. The Lexus LC 500 has a starting MSRP of $92,000 (plus destination fee) and is powered by a 471 horsepower 5.0-liter V8 engine. The Lexus LC 500 drives the rear wheels through a 10-speed automatic transmission with steering-wheel-mounted shift paddles. That combo is good enough for a run to 60 mph in under 4.5 seconds and a top speed of 168 mph. Standard convenience features include 20-inch wheels, LED exterior lights, automatic high-beam control, heated and auto-dimming mirrors, and keyless entry and ignition.
The 2018 Lexus LC 500 comes loaded with top-of-the-line entertainment features like a 10.3-inch central display, a navigation system, and a 12-speaker audio system with two USB ports. Additionally, a rearview camera, pre-collision warning system with automatic braking, and lane departure warning and mitigation are included for added safety.
#3 – 2018 Jaguar F-Type R Coupe
With an MSRP of just under our budget, the 2018 Jaguar F-Type R Coupe has a starting price tag of $99,900 (plus destination fee). For almost six figures, consumers get a 550 horsepower supercharged 5.0-liter V8 engine that is matched to an eight-speed automatic transmission that sends power to all four wheels via an all-wheel-drive system as well as a Torque Vectoring System and an Electronic Active Differential. Torque Vectoring is the next step in all-wheel-drive while having the ability to send power to any wheel almost immediately, without having to use the brakes or cut power. By using redesigned differentials that can distribute power to the wheel or wheels that have traction, Torque Vectoring means that wheels don't need to be stopped, and most importantly, the driver won't suffer from a sudden loss of power due to an unexpected decline in traction.
With a dominant car like the Jaguar F-Type R Coupe, having an open differential makes it hard to use all 550 horsepower, especially when the driver hits those sharp corners. Fortunately, an electronic active differential allows the drivers to lock and unlock the differential at any time – and even varies how tightly the differential locks. The interior cabin of the R Coupe is outfitted with aluminum and carbon fiber, as well as, synthetic suede accents and color combinations like pimiento-hue leather upholstery. Additionally, an 8.0-inch touchscreen includes Jaguar's InControl Touch software, a 380-watt Meridian-branded audio system, navigation, and a rearview camera – all included as standard.
#2 – 2018 Chevrolet Camaro ZL1
Dear fellow competitors, try to keep up. With a starting MSRP of $61,500 (plus destination fee), the 2018 Chevrolet Camaro ZL1 is powered by a supercharged 6.2-liter LT4 V8 engine offering 650 horsepower and 650 lb-ft of torque. The 6.2-liter engine is matched to a six-speed manual transmission with the available option of a ten-speed automatic transmission. Additionally, standard Brembo Brakes and Magnetic Ride Control optimizes handling and control. According to Chevrolet, Standard Magnetic Ride Control technology reads the road and can change damping or shock absorbing in just 10 to 15 milliseconds. As the driver plunges into a corner, a charge hits the patented suspension fluid, and the suspension is stiffened, reducing body roll instantaneously.
Inside the Camaro ZL1, standard equipment includes power front seats with heating and ventilation, a heated steering wheel, dual-zone automatic climate control, and a Wi-Fi hotspot with 4G LTE. Furthermore, the Camaro ZL1 comes standard with Chevrolet's MyLink touchscreen infotainment system that includes clear menus, large on-screen buttons, as well as, Apple CarPlay and Android Auto integrations.      
#1 – 2018 Dodge Challenger SRT Demon
Ah yes – the holy grail of the Dodge Challenger lineup, the 2018 Dodge Challenger SRT Demon. With a starting MSRP of $85,000 (plus destination fee), the SRT Demon was built to be an elite performance machine and is powered by a supercharged 6.2-liter HEMI SRT Demon V8 engine. With the capabilities to output 840 horsepower and 770 lb-ft of torque, the Demon can go from 0 to 60 in just 2.3 seconds and demolish a quarter-mile in 9.54 seconds. Every feature of the Demon was designed to optimize performance, especially when it's equipped with 315/40R18 Nitto drag radial tires and 18- x 11-inch lightweight aluminum wheels.  
For the Demon to output such an optimal amount of torque during every quarter-mile run, it all starts with the torque reserve. By closing off the 2.7-liter supercharged engine's bypass valve, the torque reserve system effectively holds onto 8 pounds by square inch (PSI) of boost from the engine. By closing off the bypass valve, the air is not circulated, and it's on reserve for launch instead. At that point, the fuel flow and spark timing allow the torque reserve to hold the engine between 950 and 2,350 rpm. To keep the car back from moving before the driver hits the gas is where the transbrake comes in. By locking three clutches in first gear and one clutch in second, the Demon's eight-speed automatic transmission holds the car in place before launch. Once the transbrake is engaged, the driver doesn't have to keep their foot on the brake.  
The interior cabin of the Dodge Challenger SRT Demon is genuinely sinister. From Dark Brushed II interior accents and a suede performance steering wheel, the Demon screams style. Furthermore, the Challenger SRT Demon comes standard with a single-seat but has the option of adding more passenger seating for just a $1 each. A standard 8.4-inch touchscreen display includes the Uconnect infotainment system, along with Bluetooth, available Wi-Fi hotspot, and Apple CarPlay/Android Auto integrations.
In the end, you can't go wrong with purchasing a high-performance vehicle and not have to spend over six figures. At Driver's Auto Mart, we offer all of the brands listed above and much more! Stop by our location in Davie, FL and check out our entire used car inventory selection today.