Toyota Camry and Nissan Altima go Head to Head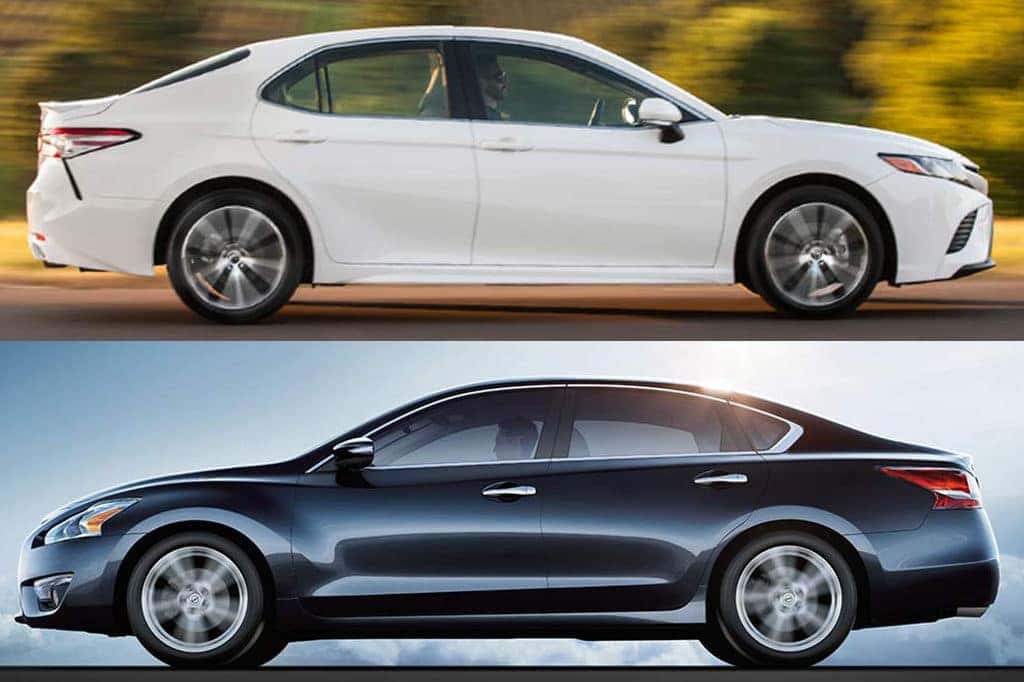 Crossovers and SUVs may be taking over as America's choice of family vehicles, but the midsize sedan segment still remains as one of the most competitive in the automotive market. The Toyota Camry and Nissan Altima have been bitter competitors over the years in this very segment as they offer somewhat similar features. Let's take a look at how these two highly popular midsize sedans are different and alike, or if either model is a standout.
Interior
Both models offer interiors that are functional and comfortable enough for long drives, but considering the Toyota Camry recently got a big update for the 2018 model year it's not a stretch to say that between the two vehicles it offers a sharper and much more modern design. The Nissan Altima is expected to undergo refreshing updates for the upcoming 2019 model year. A refreshed design in the Camry isn't limited to its beautiful center stack, as it's also got plenty of options for personalization that include red leather seats and trim, optional quilted leather, and wood trim interior as well. When it comes to legroom both vehicles have a winning factor: the Altima offers more legroom in the front, while the Camry has a slight advantage when it comes to rear legroom. There's nothing wrong with the Nissan's interior, it's just that the Toyota appears to be flashier because it is more modern – we'll withhold final judgment until the Altima receives its own update.
Exterior
Angular lines modernize the latest Toyota Camry attempting to shake off its reputation as a boring sedan, while the Altima's most recent facelift (2016) and other available appearance packages like the SR Special Edition and the SR Midnight Edition keep the model competitive. Special wheels and exterior accents offer ways for owners to add an edge to their sedans. As for size – both cars are very similar with all dimensions (length, height, and width) being within an inch of each other. When it comes to the exterior of these vehicles it all comes down to personal preference as neither aesthetic tops the other.
Mechanical Features
Both vehicles come standard with an inline-four cylinder engine under the hood and offer the option to upgrade to a V6 as well. Under the Camry's hood there's a 2.5-liter inline-four engine that generates 203 horsepower and 184 lb-ft of torque and a fuel economy of 29 mpg in the city and 41 mpg on the highway. Under the hood of the Altima there is also a 2.5-liter inline-four engine that generates a little less horsepower and torque than the Camry engine – it clocks in at 179 horsepower, 177 lb-ft of torque, and a fuel economy of 27 mpg in the city and 38 mpg on the highway. The mechanical differences between the two are so minuscule that it's not recommended it as a deciding factor in this case. Once again, it depends on personal preference when weighing the models overall – those that want to go just a little faster can opt for the Camry.
Safety Features and Tech
Nissan offers their Nissan Intelligent Mobility safety suite on their Altima models, with advanced features becoming more available as buyers work their way up the higher trims. The brand's safety suite offers semi-autonomous features to help prevent accidents such as intelligent cruise control, blind spot monitoring, rear cross-traffic alert, and automatic emergency braking.
Toyota offers its own safety suite called Toyota Safety Sense P that features a pre-collision system with pedestrian detection, lane departure alert complete with steering assist, automatic high beams and dynamic radar cruise control. Regardless of trim, all Toyota Camry vehicles include these features as opposed to being expensive add-ons. Once again, both vehicles break even as Nissan offers more advanced safety features, while Toyota offers their safety features as a standard.
The base trim of the Altima, the Altima S, offers a 5-inch touchscreen display with the NissanConnect infotainment system, Bluetooth streaming audio, a USB port, and a rearview camera, with additional features like leather seats and premium Bose audio on the higher-tier trims. Toyota, on the other hand, offers an available 8-inch touchscreen display (navigation is an optional upgrade), a nine-speaker JBL premium audio system, and a remote connect app that lets owners monitor the car if someone else is driving it. Both models can be similarly equipped in the midrange trims so once again it all depends on personal preference.
Looking for your next car? Search the Driver's Auto Mart inventory for a vehicle that suits your needs – be it a midsize sedan, an SUV, a pickup truck, or a crossover – we've got them all! Have car models you'd like us to compare? Let us know on Driver's Auto Mart social media.
Photo Source/Copyright: AutoTrader