Used Car Inspection Checklist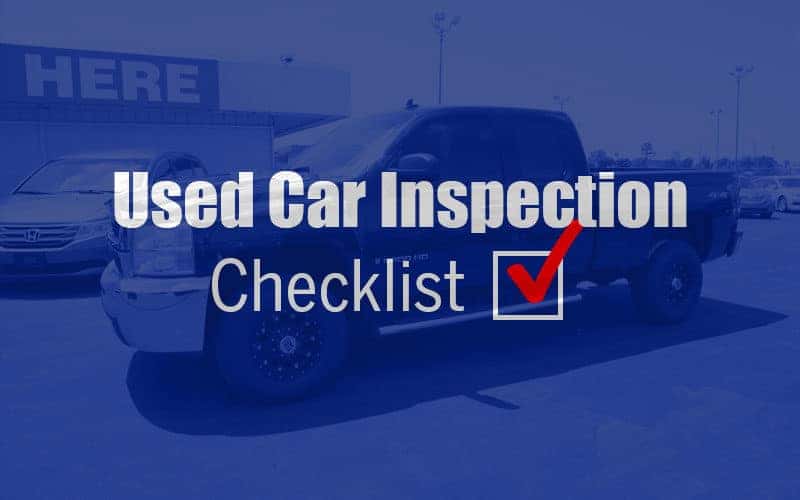 At Driver's Auto Mart, we ensure that our customers are receiving the best possible deal for their potential used vehicle. We know buying a used car can be a lengthy, and rather risky experience so we've put together a used car inspection checklist to assist in making the process a quick and painless one.
For starters, before you visit a used car dealer, make sure you have the following items:
Notebook and pen for taking notes and recording the vehicle identification number, mileage, and asking price
Paper towels for checking the engine oil
Flashlight for looking under the car for leaks and/or corrosion
Small magnet for detecting concealed bodywork
CD/AUX cable for testing car stereo
Auto history report, if possible.
Exterior + Tires
Windshield free of cracks
Trunk and driver-side door lock and unlock with key
Hazard lights work properly
Directional signals and headlights, including high beams, work properly
Body panel colors match
Magnet adheres to all steel body panels
Paint job that hasn't been compromised or done badly
Seams where the trunk and hood close are aligned
Doors and fenders are properly aligned
Free of body scratches and dents
Headlights and directional lights are intact and fully functional
Tires are a reputable brand name (Michelin, Bridgestone, Goodyear)
All tires are from the same brand
Tires are free of any cuts, bubbles, and/or cracks – use some soapy water if you can't tell by sight and if the dealership lets you. Bubbles will form with a little pressure where there's a hole.
Spare tire, jack, and lug wrench are included and functional
Spare tire inflated
Engine + Suspension
Free of fluid or oil leaks
Oil filler neck not coated with thick, black tar
Battery-free of corrosions
Oil stick free of dark, black oil
Engine is free of odors while running
Exhaust pipe emission is clear
Vehicles rest leveled
No creaking noises when bouncing inside the car
All corners respond the same when bouncing
Transmission
Automatic Transmission:
Fluid looks clean, not dirty or gritty
Transmission neither slips nor delays when driving
Manual Transmission:
Each gear shifts smoothly
No grinding noises when in reverse
Brakes + Steering
Vehicle steers straight and does not pull to one side when applying brakes
Parking brake engages and disengages freely
Brake pedal and/or steering wheel does not shake when brakes are applied
Wheels do not lock when applying anti-lock brakes
The vehicle does not drift to one side or the other
The vehicle is stable – no shaking or vibrations
No resistance in the steering wheel when turning
No clicking or clunking when turning
Interior
Seats are unworn and free of cracks
All doors open and close freely
Trunk opens and closes freely
All gauges work
No dashboard warning lights
Infotainment system works
A/C works
Heater works
Windshield wipers and fluid all work
All seats adjust properly and have functional seatbelts
Power windows operate properly
Sunroof works fine
Car alarm works – key fob or attempting to get into the vehicle while it's locked
Misc.
Car manual located in the glove box (When applicable)
Instructions included for any accessory
Service and repair records are available
Owner has title
It's important to keep in mind that when buying a used car, research is definitely key. If you feel like you aren't getting the best deal possible or you feel rushed while inspecting your potential used car, it's okay to say no thank you and walk away. As previously mentioned, here at Driver's Auto Mart, it's our job to ensure our customers are getting the best deal on a used vehicle. Visit our location today in Davie, FL or visit our website for more information on our entire used car inventory selection. Also, stay updated and follow us on social media today!
Photo Credit/Copyright: integrityautofinance.com