Used Car of the Week: 2015 Hyundai Genesis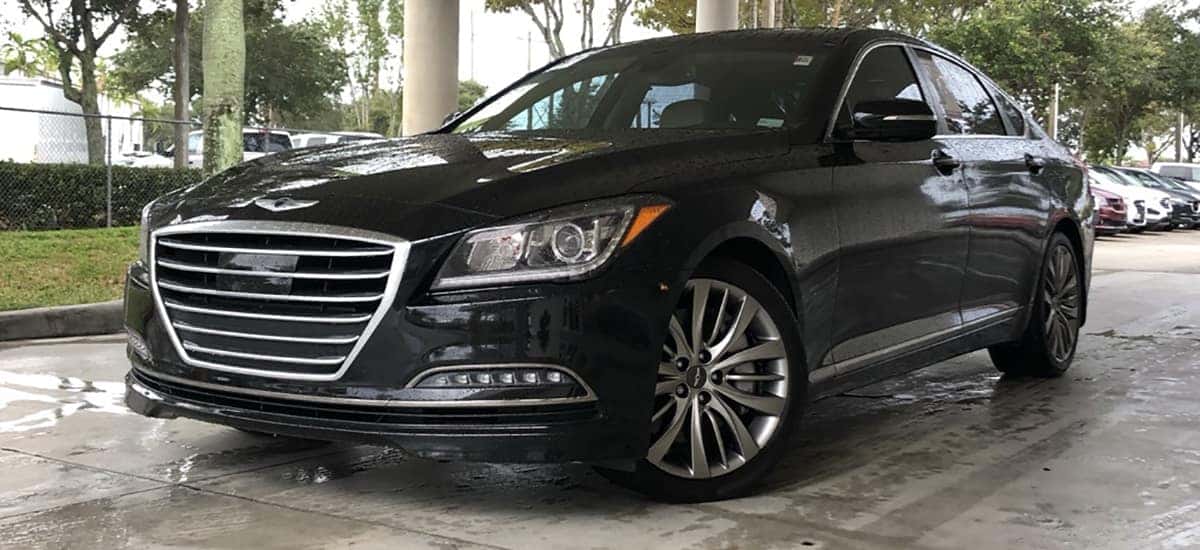 Among our luxurious car options, the quiet cabin and smooth acceleration that is provided for the 2015 Hyundai Genesis is worth mentioning. In fact, the perks of driving one are what helped this vehicle become our Used Car of the Week. A high-functioning multimedia system with the latest technology has made the Genesis remain a top-notch choice. The ride quality for this vehicle stands out amongst a crowded segment. Buyers have many choices for a luxury ride, but we're in the business of providing outstanding products at remarkable prices. This is a steal we currently are offering for our customers. 
Second Gen Genesis Builds On Prior Success
The 2015 Genesis has a new look that takes its level of a class to a higher place. A sharp, new grille provides a distinctive appearance. New for the Genesis includes a nice 9.2-inch touchscreen and navigation outfit. The 2015 Hyundai Genesis is the second model year of the second-generation Genesis. The South Korean vehicle has only gotten better since earning a plethora of awards in 2009, after the first year of the vehicle. Accolades included the 2099 North American Car of the Year, Cars.com New Car of the Year for 2009, the No. 1 ranked mid-size premium car by JD Power in their 2009 APEAL study and countless other awards. The 2015 Hyundai Genesis has built upon all the perks that made the previous generation so well-liked. 
More on the 2015 Genesis 
With the base Genesis, owners gain the Genesis 3.8, named for the 3.8-Liter V6 engine. The next trim, the Genesis 5.0, is also named after the 5.0-Liter V8 engine. Both vehicles are set with rear-wheel-drive and offer impressive horsepower, the V6 gets 311 horsepower with 293 lb-ft of torque. The V6 gets a solid fuel economy rating at 18 city mpg and 29 highway mpg. The 5.0-Liter V8 engine increases the number of horses up to 420 horsepower with 383 lb-ft of torque. The V8 provides 15 city mpg and 23 highway mpg. A responsive vehicle that provides plenty of strength for owners and adds high-tech safety features like blind-spot warning and Lane Keep Assist are reasons why owners are easy to embrace this vehicle.
Why Shop Pre-Owned Vehicles?
Vehicles like the 2015 Hyundai Genesis are special. Just because some time passes doesn't make their value disappear, but rather strengthen as long as the vehicle is well taken care of. On average, a new vehicle drops about 4% of the value from the moment it is driven off the lot, and the value continues to decrease substantially within just a couple of years. That's why our customers are smart and savvy to purchase from our wide selection of quality used vehicles. Think the 2015 Hyundai Genesis is the right choice for you? We have plenty of options for our customers to test-drive and explore with our help.
Make the Most of Your Buying Experience
At Driver's Auto Mart we have a fantastic selection of high-demand vehicles. Rush over to Driver's Auto Mart, where we have a wide variety from sedans to pickups, quality choices of crossovers and SUVs, as well as work trucks and more. Check out our pre-owned collection of quality vehicles. We have just what you're hoping to drive at an unreal price. 
Come by to see us now at Driver's Auto Mart. We can't wait to assist and complete the buying process with you today. We can also appraise your current vehicle, so feel free to see what else Driver's Auto Mart can do for you to end up in your next vehicle. Stop by today!