Used Car of the Week: 2016 Jeep Grand Cherokee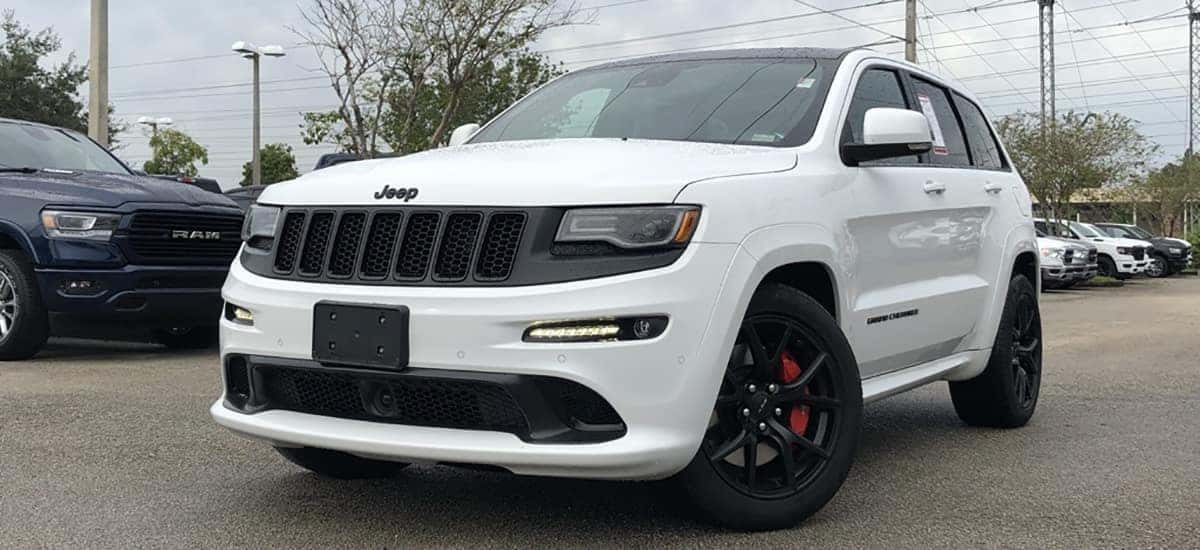 South Florida has one fantastic choice when it comes to buying used vehicles for a wonderful price; Driver's Auto Mart. Among our many choices, customers can opt for the fantastic 2016 Jeep Grand Cherokee. Within the SUV segment, few used vehicles can hold a candle to the 2016 Jeep Grand Cherokee. An accomplished vehicle that still looks as good as the first day it was made, find this Jeep staple at Driver's Auto Mart. What else makes the 2016 Jeep Grand Cherokee amazing? 
Fantastic Horsepower and Strength in the Premiere Jeep SUV
Want to be able to drive nearly anywhere? The 2016 Jeep Grand Cherokee affords all drivers with the ability to go wherever they want thanks to immense power and high-performance drivability. The base trim comes with the famed Pentastar 3.6-Liter V6 engine that has a new shift lever that was added. This is the powertrain that is added for all trims except the high-end SRT trim. The standard engine includes 295 horsepower, while the 6.4-Liter V8 engine that comes in the SRT supports an incredible 475 horsepower and an impressive 470 lb-ft of torque. The Limited, Overland, Summit trims are able to upgrade to the 5.7-Liter V8 engine that equips 360 horsepower and 390 lb-ft of torque and a 3.0-Liter diesel V6 engine that adds 240 horsepower with a strong 420 lb-ft of torque rating. 
The High-End Features of the Jeep Grand Cherokee
The 2016 Jeep Grand Cherokee carries an upscale interior, fantastic off-road abilities, and comfortable seating for all. Drivers gain a five-passenger mid-size SUV that comes in five various trims. The Laredo is the base trim, the Limited, Overland, Summit follow and the highest-trim is the SRT. Each trim provides rear-wheel-drive and four-wheel-drive options, with the exception of the SRT trim that only comes in the four-wheel-drive option. Drivers gain standard features that include the 17-inch alloy wheels, cruise control, keyless entry and start, automatic headlights, leather-wrapped steering wheel, Bluetooth capabilities, cruise control, a six-speaker sound system and a 5-inch touchscreen with a USB port and dual-zone climate control.
Fantastic Available Features In the 2016 Jeep Grand Cherokee
Available features that stand out most can be found in the famed SRT trim that adds 19-speaker Harman Kardon audio system, panoramic sunroof, V8 engine, 20-inch forged wheels real wood cabin materials in the interior and front parking sensors. The best part might be the active noise-canceling technology that keeps the cabin quiet. Count on Brembo brakes to supply the best stopping power money can buy with leather and suede sport seating and performance-tuned steering that gives a driver tremendous control while driving. Can't wait to find out what Driver's Auto Mart has to offer? Come take a look with our help today.
Find the Right Vehicle At Driver's Auto Mart
Don't wait any longer to get the right vehicle you need, including our used car of the week, the 2016 Jeep Cherokee. We have an amazing selection of choices we're ready to help you purchase. With a wide selection of choices, come to Driver's Auto Mart to add one of them with no hassle.
Begin by checking us out at Driver's Auto Mart. We can't wait to assist and complete the buying process with you. We can also appraise your current vehicle, so feel free to see what else Driver's Auto Mart can do for you. Try us at (954) 361-8518 to get started on your next vehicle purchase with us at Driver's Auto Mart. Check us out on social media for more information and let us know what you think about us!